There are a bunch of good marketplaces like Etsy, Amazon, and eBay. However, it's still a good idea for Creating Online Marketplace.
In this guide, we'll discuss how to develop an online marketplace. We'll discuss the required budget and how to increase your business.
How to Start an Online Marketplace
There are several steps you need to follow to develop a marketplace solution and reach success.
Step 1. Research the basis of marketplace business.
Step 2. Validate your website idea and analyze the market.
Step 3. Plan the development process and draw up your project requirements.
Step 4. Hire a reliable team to create your marketplace website.
Step 5. Develop an MVP of your marketplace with some basic features.
Step 6. Determine the final cost to creating online marketplace website.
Step 7. Consider a marketing strategy to reach success.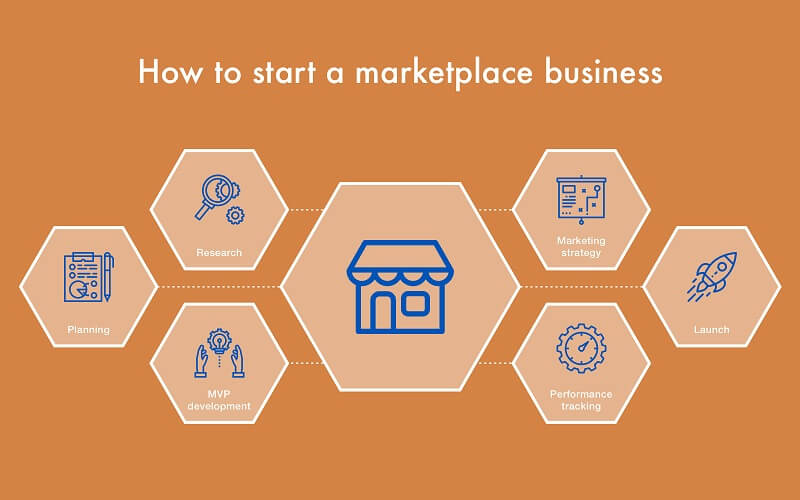 All these steps allow the development of marketplace software and reach success. Keep reading to find out the details.
Step #1. Conduct Market Research
Before starting the development, you should do market research. You need to find out the demand for the solution you want to make.
That's why you need to determine the value proposition for your potential customers. Speaking about marketplaces, they tend to solve real problems. For instance, Airbnb helps book cheaper apartments for travelers. BlaBlaCar deals with inflexible routes and schedules.
Knowing the problem, you need to consider the market leaders and competitors. Be ready that there is already a solution to a similar problem. Your task is to think narrower and focus on a particular niche.
After that, you need to define the target audience. Knowing their age, location, and income level, you can offer more personalized services. It allows gaining their trust and loyalty.
Step #2. Validate Your Marketplace Idea
Having a marketplace website idea, you need to validate it. Validation stands for the process of gathering users' feedback about your future project. Merely saying, you need to consider the customers' expectations from your solution.
Such research tends to be time-consuming. To give you a hint, below we've listed the questions you need to answer:
Would you like to use the product and how often?
What do the users expect from the product?
How well do they understand the product's purpose?
What is the size of the target audience?
Do you have external resources?
To answer these questions, you have to brainstorm, gain feedback through interviewing your potential customers, and do some manual research.
The planning stage is the foundation of your project's success. You should consider every detail during the planning to avoid possible pitfalls.
You need to fulfill the following tasks during the planning stage:
Gather the list of complete requirements. It has to be structural and logical.
Write the market research report and recommendations.
Prepare specification documents, including user stories, technical, functional, and usability requirements.
Create wireframes, basing on the specification.
Prepare a detailed estimate of the project. To make such an estimate, you need to consult with software developers, UI/UX designers, and project managers.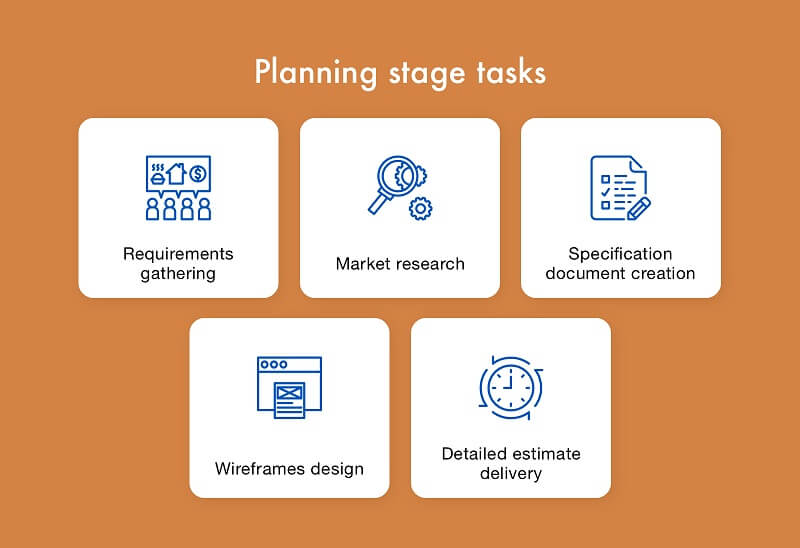 Step #4. Hire a Reliable Development Team to Build a Marketplace Website
These days, there are three popular hiring options to cooperate with software developers — hire freelancers, create an in-house team, and cooperate with an outsourcing company. Each option has pros and cons.
For example, freelance developers tend to have lower rates in comparison to in-house developers. However, it's complicated to test the code quality unless you're a tech guru. Also, freelancers usually fail deadlines. It's difficult to control the development process.
As for an in-house team, they have the highest hourly rates. Also, you need to pay for office rent, vacation, and sick leaves. On the other hand, by hiring an in-house development team, you can control the development process fully. Also, it's easy to change the project during development.
Outsourcing is gaining popularity these days. This option offers affordable rates along with the high quality of the final product. You can cooperate with the development teams from Eastern Europe that have a good reputation.
Step #5. Develop an MVP Version of Your Online Marketplace
There are toe options for creating an online marketplace — development from scratch and development using one of the existing marketplace platforms.
Of course, it's better to develop a service from scratch. In this case, you can integrate the required features. Also, such a solution allows following your business requirements.
An online marketplace needs to have the following MVP features:
User accounts and settings
Search and filters
Real-time chats
Payments
Ratings and reviews
Updating the product, you can add such advanced features:
Price comparison
Advanced sorting
Wishlist
Sharing via social media
Gift certificates
Push notifications
Step #6. Determine the Final Price to Creating Online Marketplace Website
Knowing the features, you need to find out the final cost of creating an online marketplace. It's complicated to find out the price since it depends on the features and vendors you cooperate with. The price can vary from $30,00 to $150,000.
It's required to consult with the development team. They can estimate the time required for the project building.
Step 7. Consider a Marketing Strategy to Reach Success
To reach success with your online marketplace, you need to create a marketing strategy. It may include ads, monetization models, promotions, and others.
First of all, you need to start forming the base of sellers. They can suggest goods or services for your online marketplace website. There are some options to find the sellers:
Contact the sellers that are active in competitive marketplaces.
Use business directories and Google search to find providers.
Look through online forums and Facebook or LinkedIn groups.

How to promote your marketplace? There are some tips:

Set up a pre-launch landing page to gather emails.
Participate in online forums, communities, and groups and start telling about your marketplace.
Cooperate with the influencers of your target audience and try to make them your ambassadors.
To sum up, creating an online marketplace or website tends to be challenging and time-consuming. You need to gather your requirements and cooperate with qualified developers to reach success.
Author's bio
Vitaly Kuprenko is a writer for Cleveroad. It's a web and mobile app development company with headquarters in Ukraine. He enjoys writing about technology and digital marketing.
Read Also – 25 Best Free Email Marketing Software of 2020