Usually, it takes a lot of time and money to create your own template library for web development. Especially if you work with multiple web projects with various design, structure, and purpose. At first, you have to search for products and then you must spend money on a separate product. And if it a one-time purchase and you will never use it? You may also find a better choice in a few seconds after downloading this template. Or maybe you missed some detail and this template doesn't work for you? Then you have to purchase a new template. Or you have to develop a website from scratch, yet this is a hard way that consumes a lot of time and money. Just imagine how much coding you need to create a base. And how much effort it takes to built-in all plugins and structure features. We are sure that many developers thought about a personal library with thousands of digital product for all web development projects. It could be an issue, but not anymore. ONE Subscription Service from TemplateMonster is here to save you.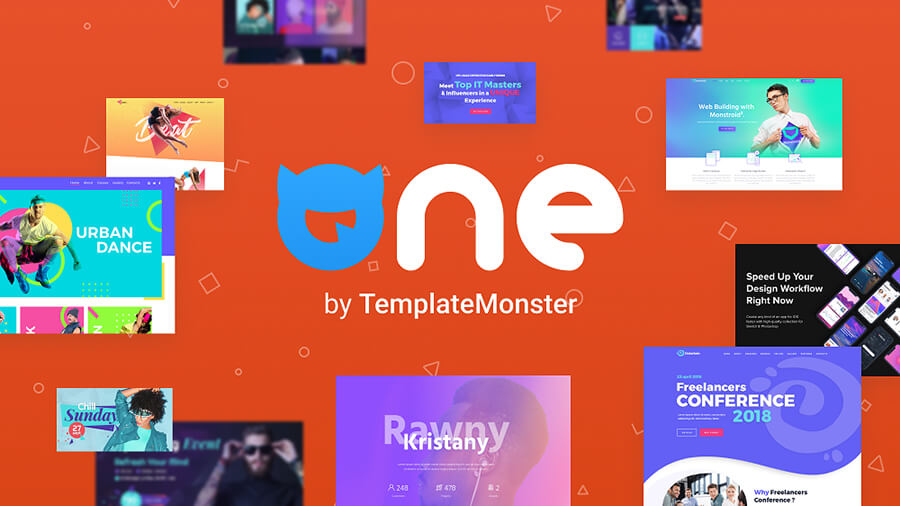 It became obvious that for web developers it is more profitable to purchase bundles of products, especially if they come with a discount. First, purchasing a pack of products allows you to find many elements for your website. In addition, it is a way to cover developers expenditure. And it came to our mind that it would be fine if there was a subscription for web developers. A place where you can find all you need. Yet, to create a website you need a lot of elements:
Quality templates, to get read of code issues. Due to a good template, you will have all the required coding for perfect work without issues. In the same time, a well-developed website template comes without redundant code. And it will be fast due to this feature.
Logos that are necessary to make your website notable.
You will also need visuals to decorate your web project.
Various plugins are required to improve website performance.
Fonts are used often to improve design and highlight website style.
And many other features. It is a good idea, yet it is a tough mission for technical support. It was like this before we gathered enough resources to provide our customers with such tools. And it can surprise you. When it came to a projects name there were many variants. At it was obvious that one template is not enough for a web developer. Yet, ONE subscription service will be enough even for a web development team.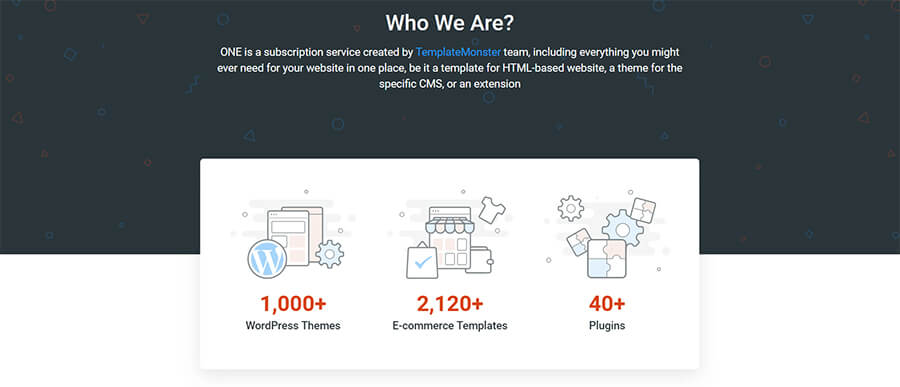 It is essential that any product needs advertising. And One is no exception. Yet, when it comes to advertising we strongly believe that this product can make itself popular. It is a unique and handy library that contains thousands of web development items in one place. This service will be a reliable tool for your projects. It is also simple in use and most importantly our 24/7 support team is ready to help you. But let's take a closer look at these features.
The most obvious One subscribe a service feature is a number of products. It includes more than 8500 products and this number keep growing each month. Our team cares about updates and you will always have something to choose. And of course, One includes our best products. You will find Monstroid2, Woostroid2, multipurpose themes, themes for photographers, and many more. You can choose among a variety of products and develop any type of website. Just follow the link and check our products by yourself.
At the time of writing One includes more than 1000 WordPress business templates, more than 2,120 E-commerce templates, 40+ plugins, 1000+ HTML & CMS Templates, 10+ Presentation templates 3140+ graphics items. And we tend to upload about a hundred products each month. It means that your subscription will give you more and more products with the time passing. You can follow the trends and use new updates to make your website better.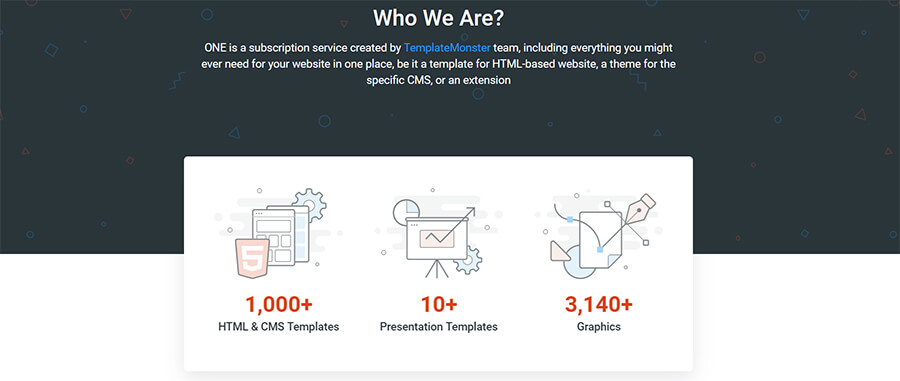 As it was mentioned, One already has tons of products included. Yet, if it is not enough for you or you found something special on our marketplace that is not included in One subscription, then you will be glad to hear about special benefits. You will get a 50% discount on all exclusive TemplateMonster's items.
You can also find any TemplateMonster plugin. You can download a JetBlog if you need a plugin for a blog or any other Jet plugin. Like JX Advanced Filter that allows customers to use a few parameters for a search. It will be a useful addition for any we developers library. You can apply them to extend customization, improve a design or add new features. It works especially good for web developers who often hear some additional wishes from customers.
Due to One subscription, you can download tones of graphics. It includes illustrations, PSD files, PowerPoint Templates, logos and many more. You can use them to boost your design when it comes to decoration. Some details can change the look of your website and make it unique. Or you can use them to highlight the most important parts.
If you need an e-commerce template then you can choose among all available CMS: Shopify, OpenCart, Magento, Woocommerce, etc. They all have some differences and specific functional and due to One subscription you can choose among them. You can check the demo before downloading and decide which CMS will provide comfortable shopping for your customers. You can also check the navigation, structure and delivery options in the live demo on every product page.
Another thing you will definitely like is unlimited installations. Until your license is active you can use any products from One. It is a simple approach to business. After you subscribe to One you can forget about license issues. It will be your library filled with pre-licensed products and you can use them for your projects.
And the biggest highlight is technical support. It is a heavy mission for anyone to provide support for such a number of products. Yet we managed to gather a team of experts and they are ready to help you with any possible issue. Moreover, this support is free and you can contact our support team any time. It is fast and works 24 hours 7 days a week.
In addition, we guarantee a refund. In case you purchased One and found nothing suitable to download for your project then we are ready to give your money back. We are sure in our new product and embrace you to join One subscriber's club right now.
It is easy to use One subscription service from TemplateMonster. It has fast and intuitive navigation. You can use a filter to search for a product by categories or by features. Moreover, you can find FAQs on the Pricing page and learn more about this service.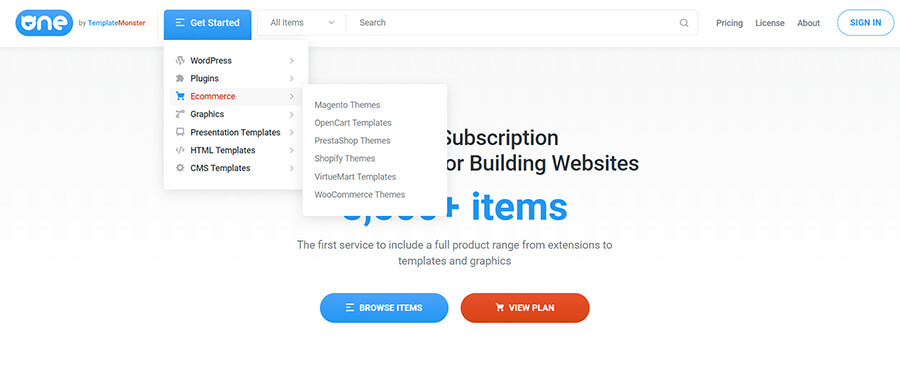 It is also easy to download products from our website. All you need to do is to sign into your account, then search for products via getting Started button, All items button or the search bar. O the product page you can check the demo or simply click the download button. And that's all. There is no additional registrations or e-mails. You can also share the link to this item.
Another important thing is the price. You can get all the products for 19$ per month. Even most templates on TemplateMonster marketplace cost more. Let us imagine you need a WordPress theme for your website. You can search for it on TemplateMonster marketplace. And if you found a suitable product then you are good to go. Yet, what if you have to build a few WordPress projects then One will save you a lot of money. For example, One includes 75$ templates and you can have them together with thousands of other products. Do you feel the savings? This subscription will save you time and money.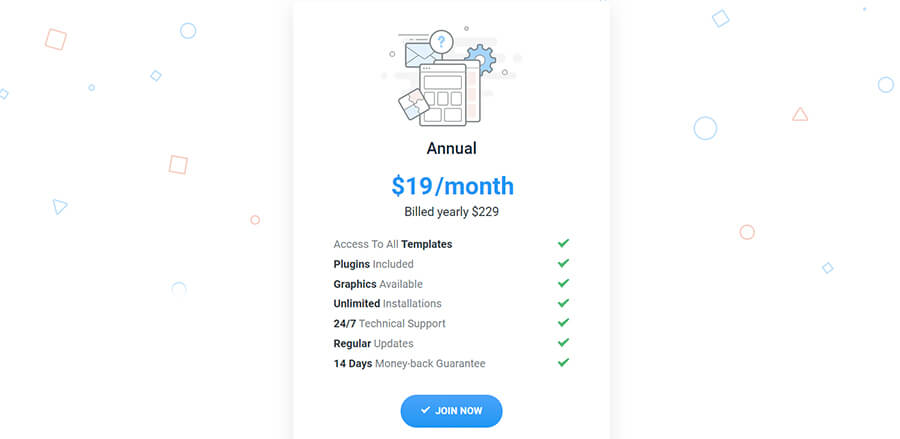 Conclusion
One by TemplateMonster was created especially for web developers and it worth your attention. After you subscribe to this service you will have a rich library of tools. You can use thousands of templates built for various purposes and based on different CMS. The main reason for purchasing One is the number of features you can install on the website. There are so many options that you will satisfy even the most demanding clients. Just imagine the number of features you can use for your project. It has:
Graphics
Templates
E-commerce plugins
Design elements and plugin
And other numerous features. Moreover, it comes for an impressive price. Only 19$ per month can make your life much easier and save tonnes of money. It is easy to use and we are always ready to answer your question. Talking about questions, do not forget about our 24/7 support service. We made sure that such a big project has a professional support team.
So do not waste your time and sign in to boost your web development business with advanced and fully responsive online library.