Are you a freelancer? Do you want to work on Fiverr? Or you have already started work on Fiverr but you are not getting orders. No worries in This article I will explain you.
What Is Fiverr ?
Fiverr was founded in 2010 and this is one of the best freelancer marketplaces where more than 1 million sellers are registered and giving those services. This is cheapest marketplace for digital services. On Fiverr approx, 10 million orders are producing in a single day. Fiverr Offers Digital Marketing, Graphics, Digital Marketing, Music, Audio, Programming, Business and many types of services. This is too much difficult for getting orders on Fiverr for new sellers. So how a new seller can get order? I am telling You Step By Step please follow these steps
Review Exchange on Fiverr
This is a very tricky point. You need to keep some budget for it and you need to purchase some orders or need t exchange some reviews. Please log in on Facebook and find bellow groups whereas you can find easily those peoples or sellers who can give you 5 stars on your Fiverr Gig.
In below facebook groups you will find some peoples who are working on Fiverr and ready to exchange reviews with you. For better understanding please see these groups of list
https://www.facebook.com/groups/Fiverr.Review.Exchange.And.Promotion.Asia/
https://www.facebook.com/groups/fiverrguru
https://www.facebook.com/groups/fiverr.reviews
https://www.facebook.com/groups/gutech.international/
Please join these groups first then see posts looks like this one "Lets Exchange Reviews?".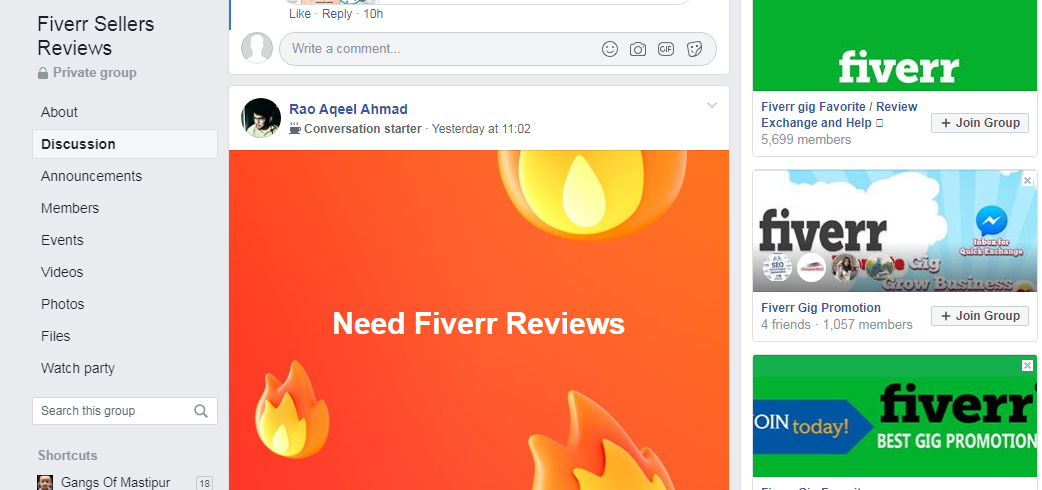 You can contact these types of peoples who upload posts. You can direct message or contact those. You need to pay $3 for it. For example, you give an order to someone for $5. Fiverr charge $7 ($2 Processing Fees). So You have to pay $7. On the other hand, another seller will order on your gig. After a successful order, you will get $4. Because Fiverr commission is $1. Please take 20 reviews for getting orders on a regular basis on Fiverr.
You can watch youtube video here for details in Hindi/Urdu language
Exchange favorites
This trick will improve your gig searchability. This is absolutely free. In the above Facebook groups, you can find favorite exchange sellers. You can mark another seller's gig favorite and then that seller will do the same. This trick will drive more traffic on your gig and you have to be more chances of getting orders.
Please exchange 100 Favorites. You will start getting orders after it.
Imressive HD images and description
Your profile pic should look like a brand also your gig detail should be unique. Please see top sellers' gig details. If you are selling logo design services then please read the top seller's service details and follow the description. In starting you need to keep the price as low as possible. Please create $5 service in starting so the user can order you direct. Please Make showcase images attractive.
Share gig on Social Media
Please share our gig Url in social media platforms like Facebook, Twitter, Whatsapp, Linked in and everywhere. It will make your gig high rank and the user will come into the gig and will give you orders. You can post your gig URL to the Quora and other forums. You can make gig related videos and can upload videos on Youtube. In video description, you can provide the link of the Fiverr gig.
Promote gig on your Website
If you are running a blog or website then it is easy to get orders. Please make creative banners of your services and put their advertisements on the sidebar. On clicking advertisements users will reach on the gig and will order you. If you do not have a blog then the blogger will help you. Please read more about on blogger.
If you have any queries in mind please write to me in the inbox. I will reply to you sure.