Bootstrap makes front-end web development faster and easier. It's made for folks of all skill levels, devices of all shapes, and projects of all sizes. We have listed here Free Bootstrap WordPress themes. You can choose any one Free Bootstrap WordPress themes from the collection and can use it to implement your site. These themes are multi-purpose so you can implement your site related to any sector.
Also See
NewStore – Free Bootstrap WordPress Themes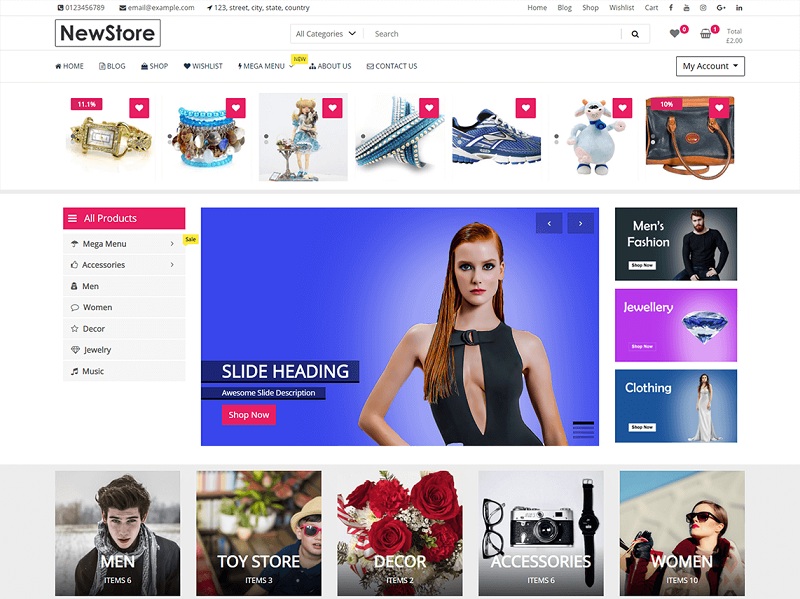 NewStore is a WordPress theme that helps you start sale online. it is the perfect free theme designed for your WooCommerce shop based on bootstrap. it supports WooCommerce shop. install recommended plugins and you will get an awesome store. you will be able to use it for clothing, electronics, Mobile, foods, and restaurants Store, interior store, gadgets store, home appliances shop, automobile, books store, photo store, movies store, jewelry and almost any kind of store.
BizCare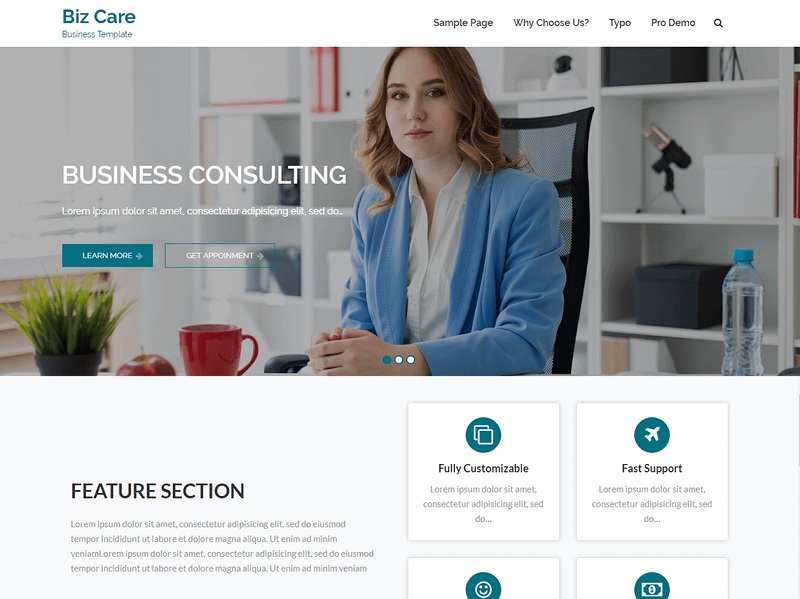 BizCare is a modern and flexible WordPress Business Theme that suits for the agency, blog, business, corporate, eCommerce, magazines, portfolios and many more. It's created by using the latest Bootstrap Framework with HTML5 and CSS3 techniques in accordance with the latest WordPress Coding Standards.
Mynote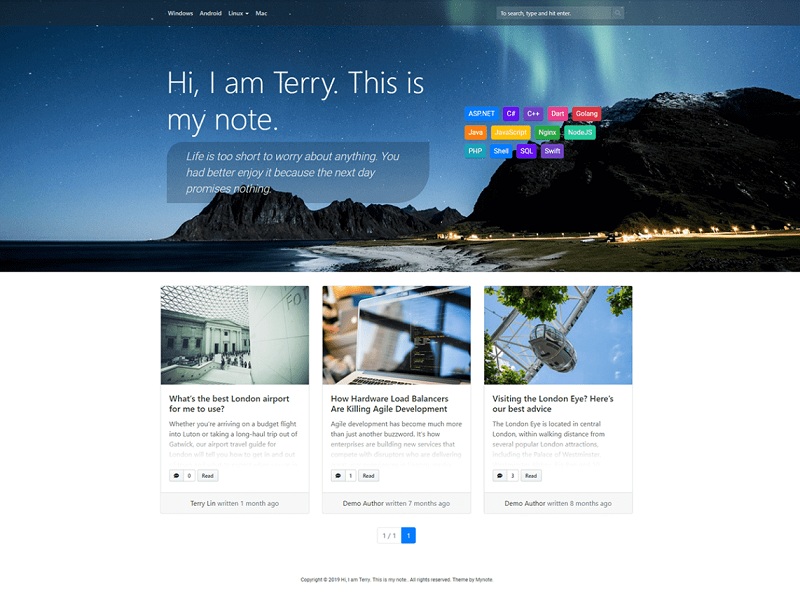 Mynote is a responsive, clean, Markdown friendly WordPress blog theme. It is based on Bootstrap 4 and Fontawesome 5. It is suitable for programming, business, technical, professional, niche and any kind of blogging sites.
TR iBlogger Lite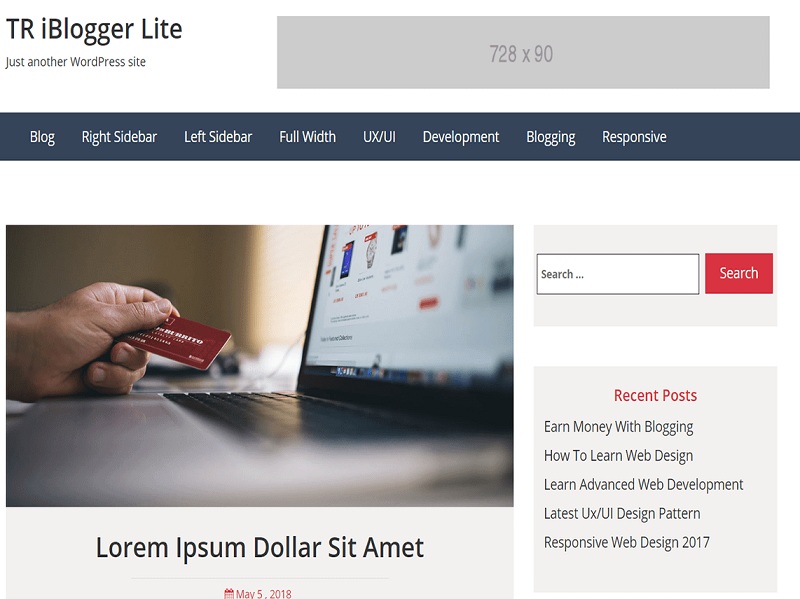 TR iBlogger Lite is a clean, super flexible and fully responsive Bootstrap based WordPress Theme (try resizing your browser), suited for any blog site especially for blogger, passive income coach and make money online niches.
Covfefe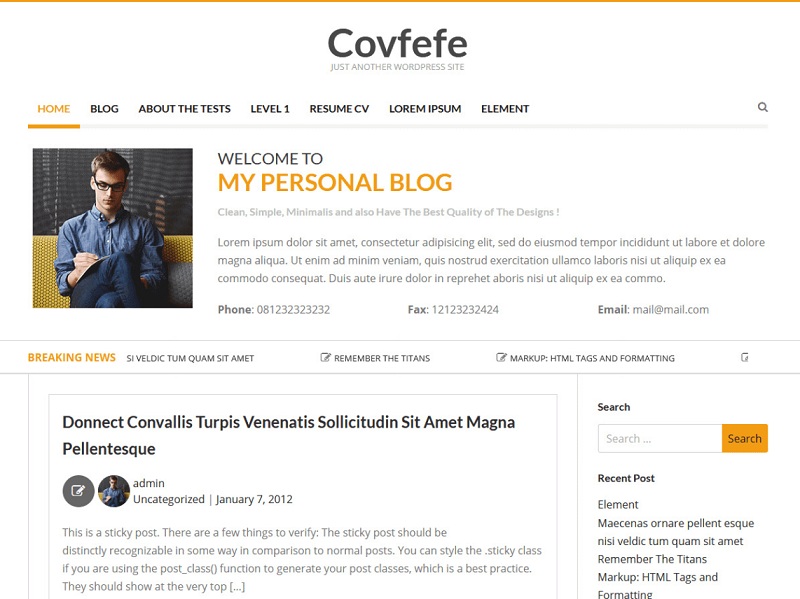 Covfefe is a magazine, personal blog, responsive newspaper WordPress Theme based on underscores. It uses Bootstrap CSS Framework and font awesome. It's a user-friendly theme with SEO Support using microformat. This theme suitable for blog and news website.
blogists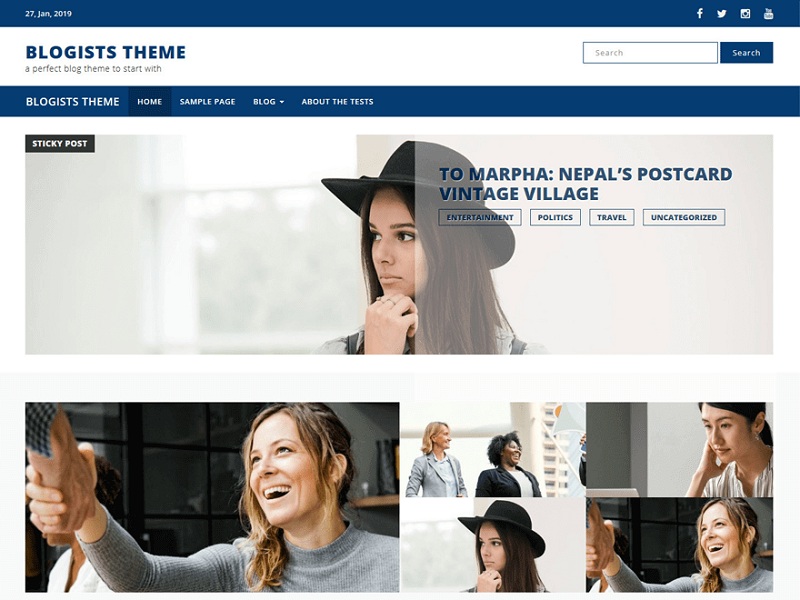 Blogists is a yet another clean, beautiful and minimalist WordPress theme truly designed for the bloggers, writers, and travelers. Based on Bootstrap Grid framework, it is Responsive and also included with Sticky Menu and Sticky Sidebar features.
ioBoot
ioBoot – WordPress Starter Theme Generator with Bootstrap CSS framework: http://iotheme.com | Feature: base on Underscores, Bootstrap CSS framework, mobile with the off-canvas menu, dash icons -the official icon font from WordPress, custom theme name, text-domain and more, update source from Underscores and Bootstrap every day. Thanks for everything!
Business Press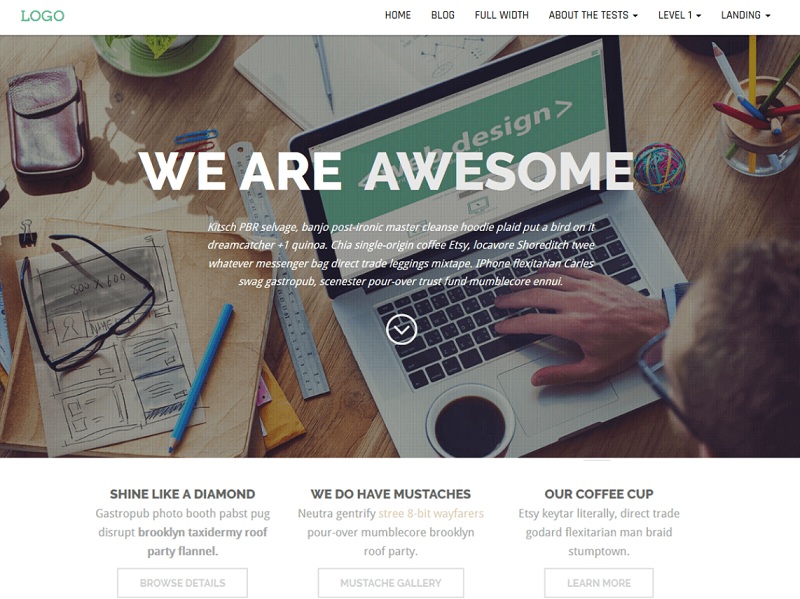 This is one of the most popular Free Bootstrap WordPress Themes. Business Press is a MultiPurpose, modern, greater than Responsive, fast to load, search engine optimization friendly and absolutely Customizable WordPress theme.
Bhumi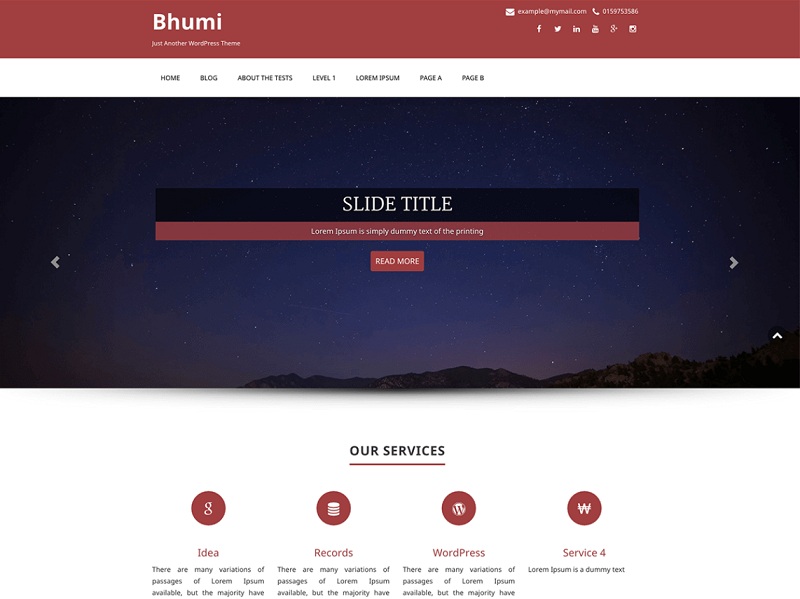 Bhumi is an incredibly superfine multipurpose responsive theme with WPML well-suited & designed with numerous care and love.
Aberration Lite
Aberration Lite gives a minimum design idea that offers you a number of open space, smooth lines, and modern-day style that is ideal for websites that target photo-based content material for natural running a blog fanatics.
Kyma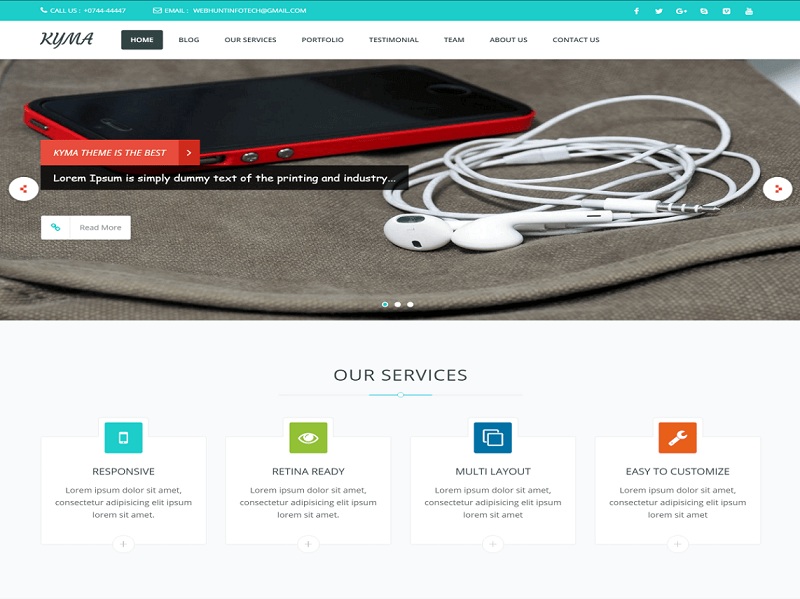 Kyma is a Responsive, Multi-cause, HTML5 / CSS3 theme for (desktop, pill, cellular cellphone…) – Kyma is Created with Twitter Bootstrap 3.3.2 Framework. Kyma is an outstanding design concept for the internet site of the innovative company, employer, agency Profile, Personal Portfolio, and more …
ElitePress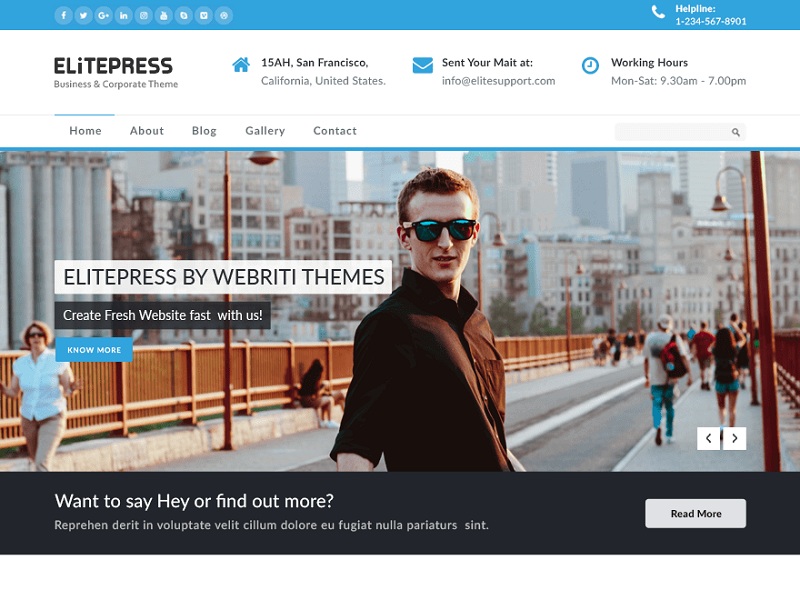 ElitePress WordPress theme is developed for the company enterprise. It affords you a simple and fashionable look. Already hundreds of users loving this theme because it is designed for more than one agencies like virtual company, freelancers, blogger, startup, portfolio, company and any sort of enterprise.
Corpbiz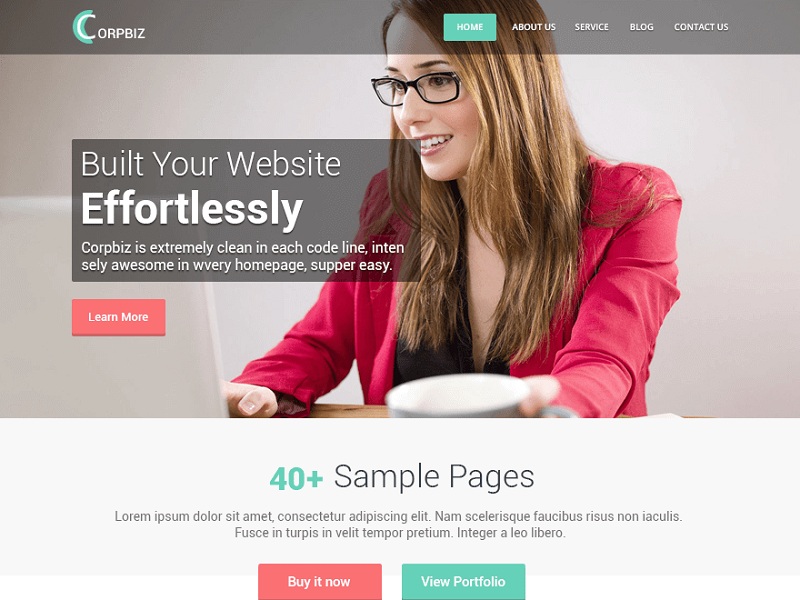 Corpbiz theme is very effective but smooth to apply and customize. This theme is a creative responsive WordPress theme for lots of purposes. Already thousands of customers loving this theme due to the fact it's far designed for more than one organizations like a startup, business enterprise, freelance, blog, startup, portfolio, training, corporate and any type of commercial enterprise.
Customizable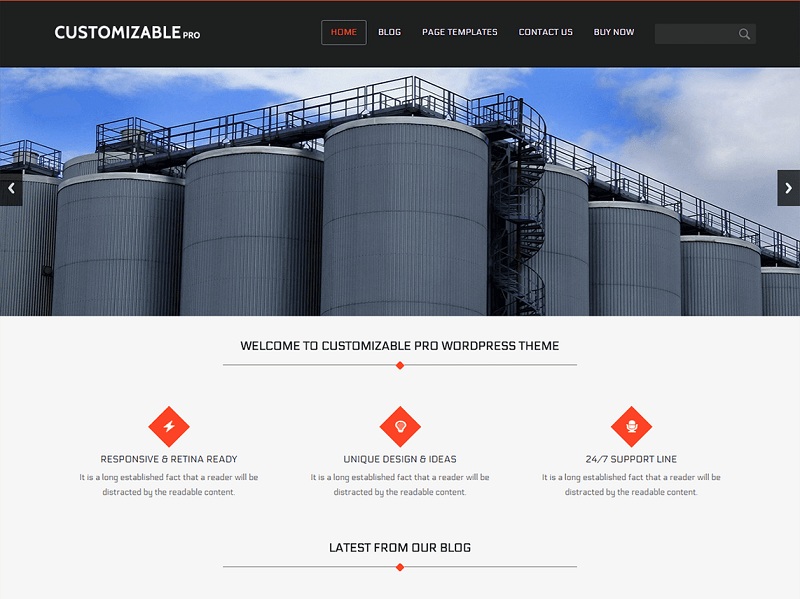 Customizable is a WordPress responsive cooperate theme based on a Twitter Bootstrap framework which may be used for personal or corporate websites.
Rambo
Rambo is a great WordPress theme for folks who wish to create an outstanding internet presence. Rambo is easy to apply, affords the whole thing you want to create a splendid looking internet site.
Multiloquent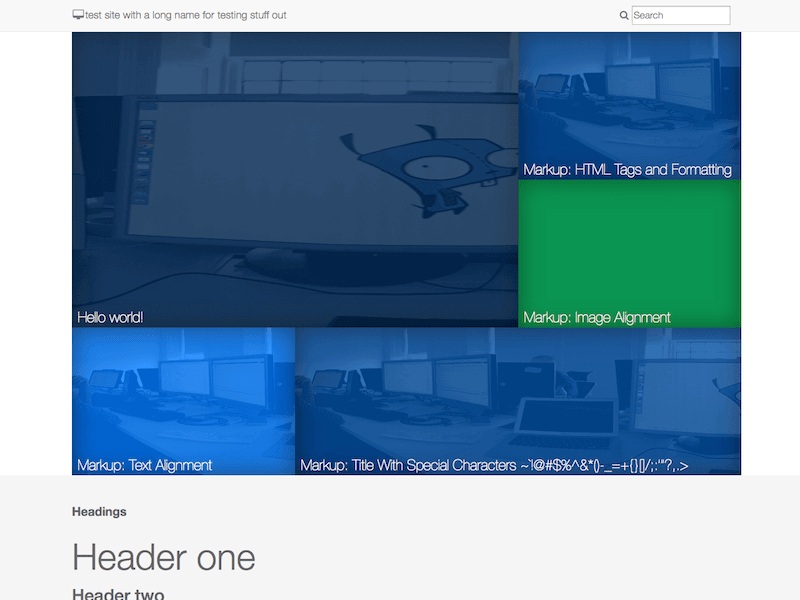 Multiloquent html5 / bootstrap theme – a theme with 10 dynamic sidebars in various locations the use of twitter bootstrap complete with the year related posts theme, dynamic top10 front web page featured posts, font awesome icons, category index page template, tag index web page template and 3 post templates.
Busiprof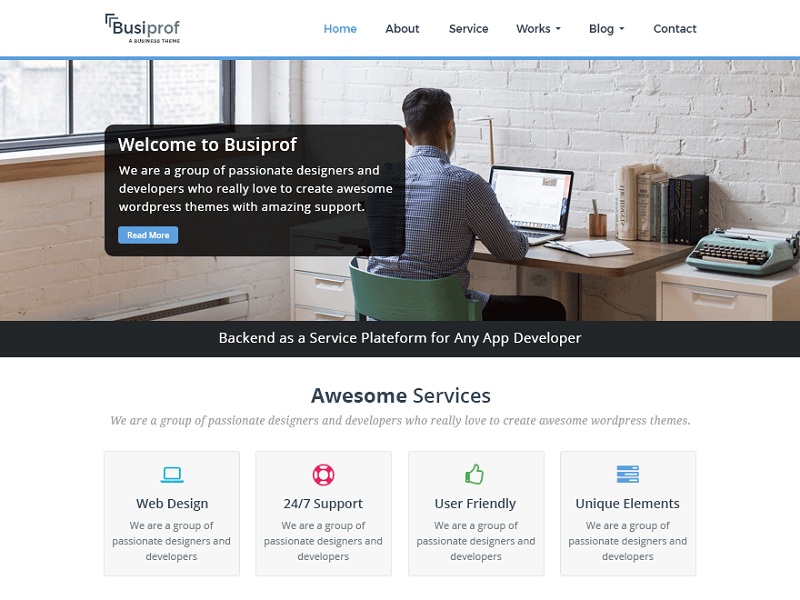 Busiprof is a business WordPress theme. Already thousands of users loving this theme due to the fact it's far designed for a couple of organizations like app touchdown page, product launching page, organization, freelancers, blog, startup, portfolio, corporate and any sort of business.
Fine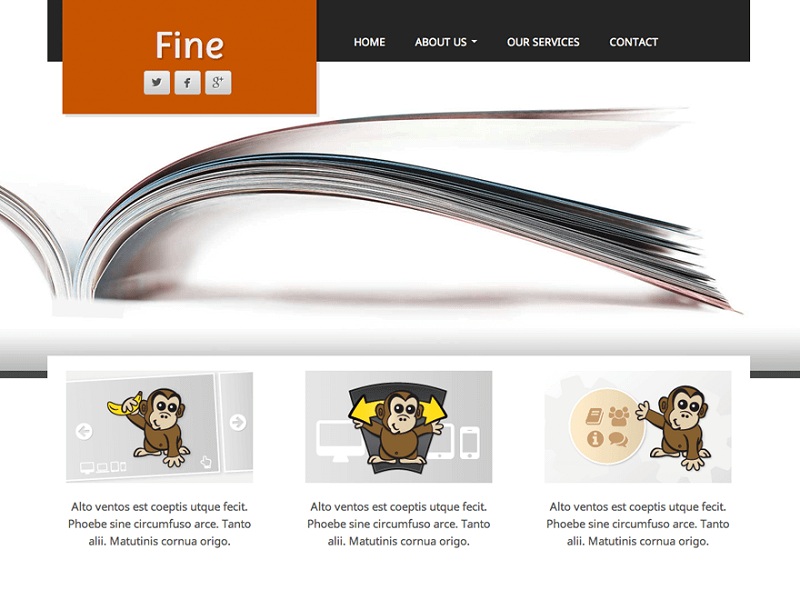 First-rate free is a Responsive WordPress theme imparting a laugh smooth to apply Drag & Drop device that provides the remarkable new capability to your WordPress internet site.
Neuro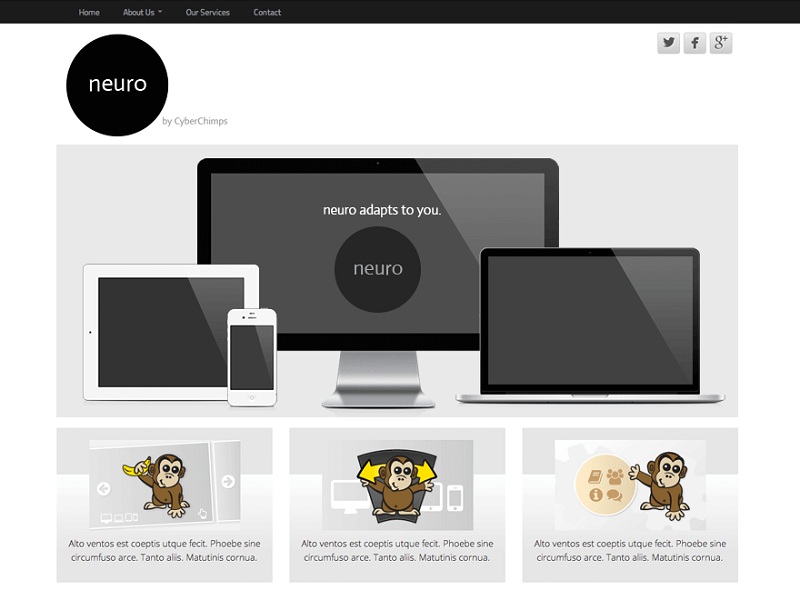 Neuro is the closing Responsive WordPress theme imparting an amusing smooth to use Drag & Drop system that adds first-rate new functionality to your WordPress internet site.
Ultrabootstrap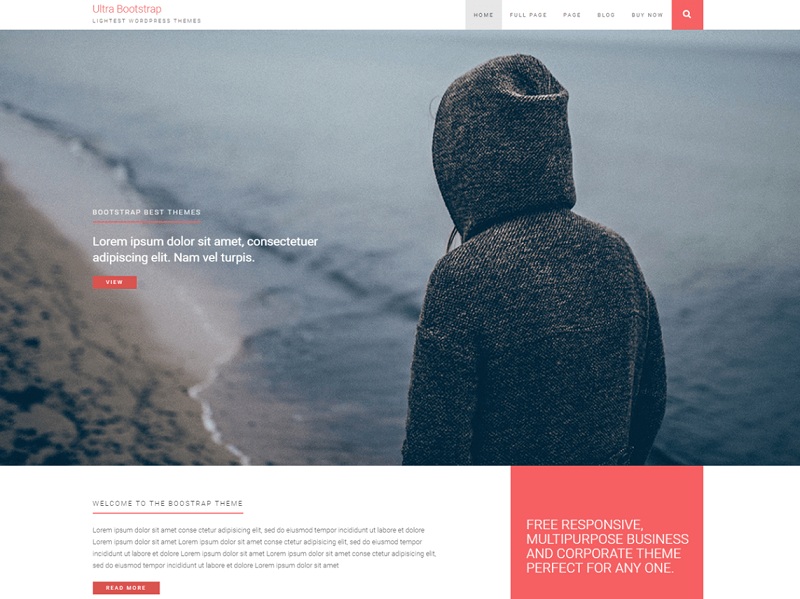 Ultrabootstrap is a multipurpose free WordPress theme for bloggers & artist. It includes Featured Slider, Featured Posts, custom historical past, custom coloration and welcome message in Homepage layout.
Resortica Lite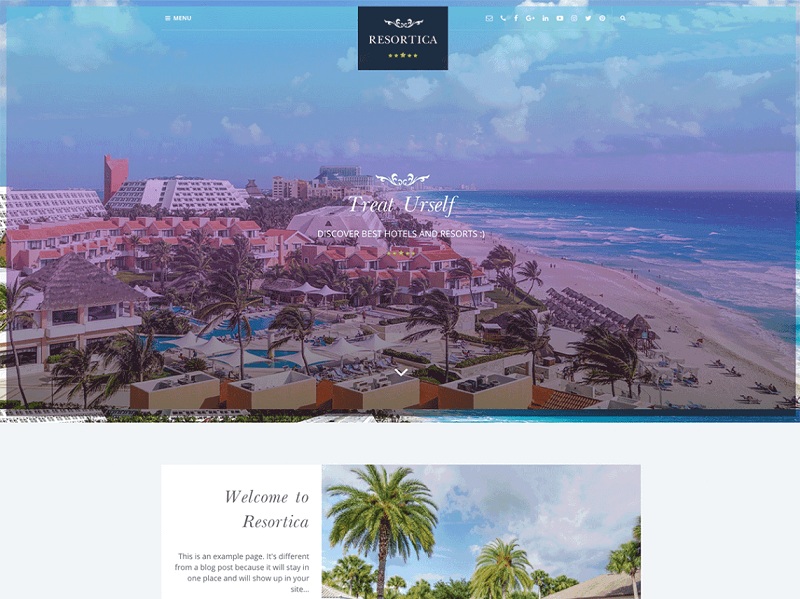 Resortica Lite is a simple but outlandish theme for motels or hotels of any type. The theme is absolutely responsive that's constructed in the bootstrap framework and embodies customizer API tool which makes it fairly customizable.
Connect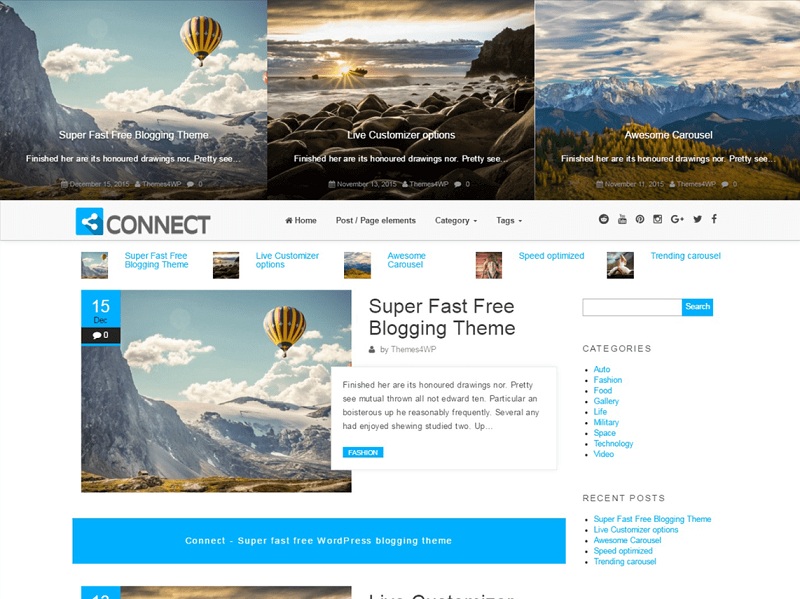 Join is a modern-day, responsive running a blog WordPress theme that has an attention-grabbing design. This theme perfect for any weblog or magazine.
Shopbiz Lite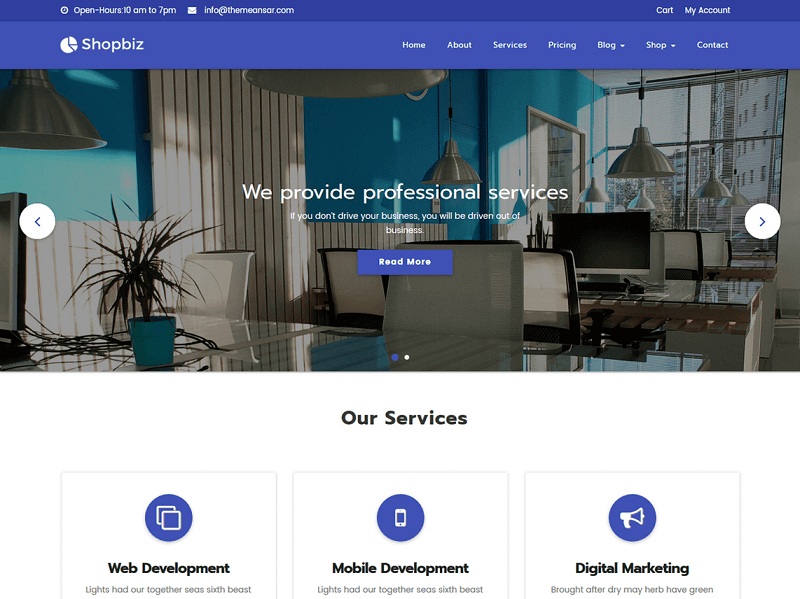 Shopbiz is an effective bootstrap WordPress theme for commercial enterprise companies or individuals. Shopbiz theme which can be used for net design corporations or any other corporate, business, corporations, BPO, consulting.
Eleganto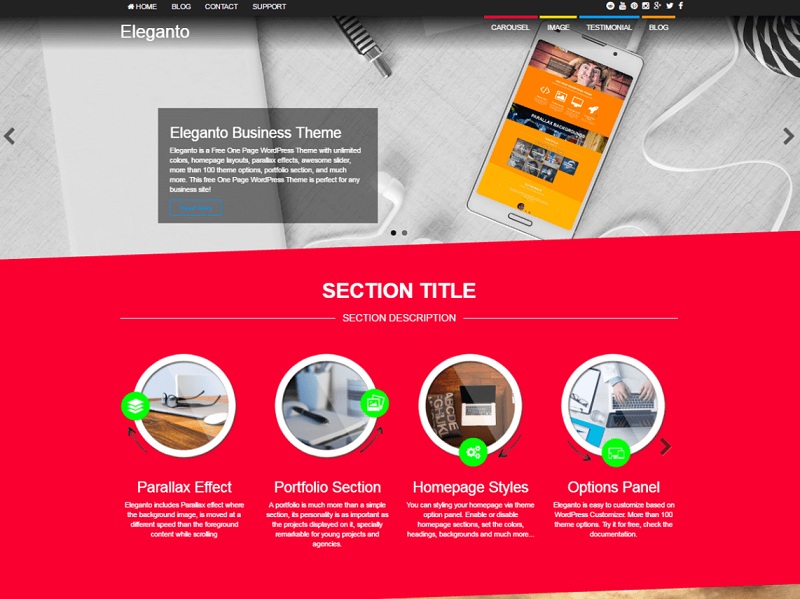 Eleganto is a stylish multipurpose theme for WordPress enterprise / corporate websites. One web page layout, portfolio, parallax outcomes, touch form, and fantastic animations make this unfastened OnePage Multipurpose WordPress theme best for any form of commercial enterprise, creative, corporate, pictures, touchdown web page, construction, journey, resort, real property, job board, and portal, earrings.
Polmo Lite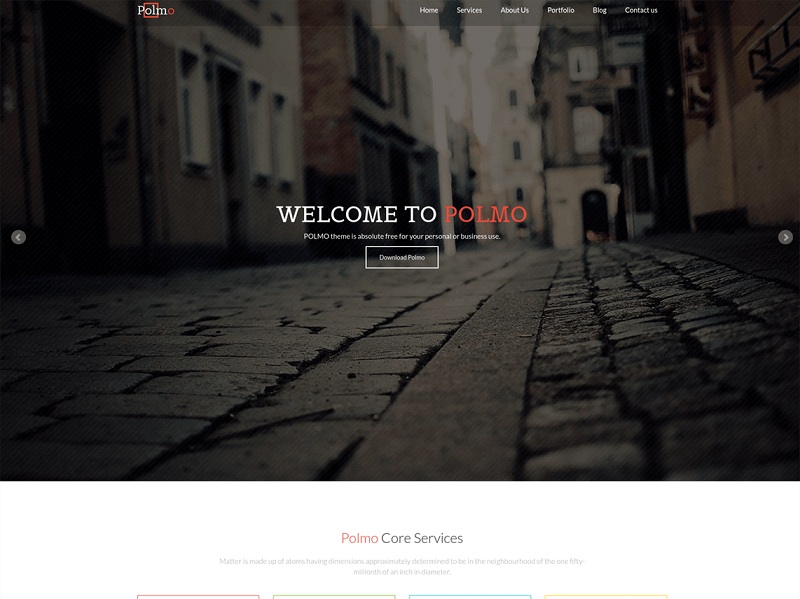 Polmo Lite is a Multipurpose, One page unfastened WordPress theme for business, organization, corporate, personal, parallax business, Portfolio, and of direction for freelancer's internet site.
PhotoBook
Highly recommended Free Bootstrap WordPress Themes out of the collection. A photobook is an image WordPress theme constructed with Bootstrap and is completely responsible for all of the screen sizes, mobile-friendly and Translation prepared.
WP Bootstrap Starter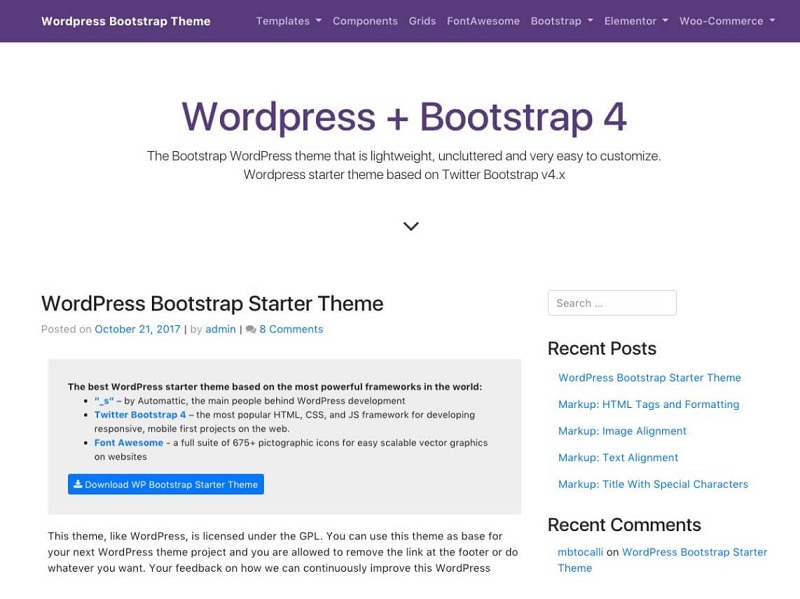 WordPress Bootstrap Starter theme or Bootstrap WordPress Starter theme is based totally on maximum powerful framework inside the global – "_s" through Automattic (the main people at the back of WordPress development) and Twitter Bootstrap (the maximum famous HTML, CSS, and JS framework for growing responsive, cell first projects at the web).
EdsBootstrap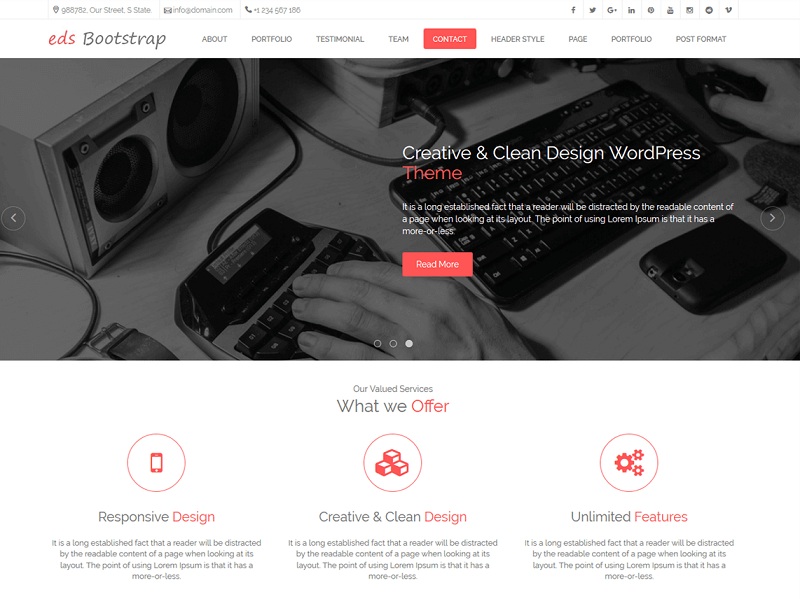 EdsBootstrap is a cutting-edge and elegant One-page WordPress theme with an ambitious look, ideal for innovative humans, appropriate for any kind of business, built for any needs. Each unmarried detail is carefully designed and crafted so that it will create an unbroken and extremely good consumer experience.
Bootstrap Basic4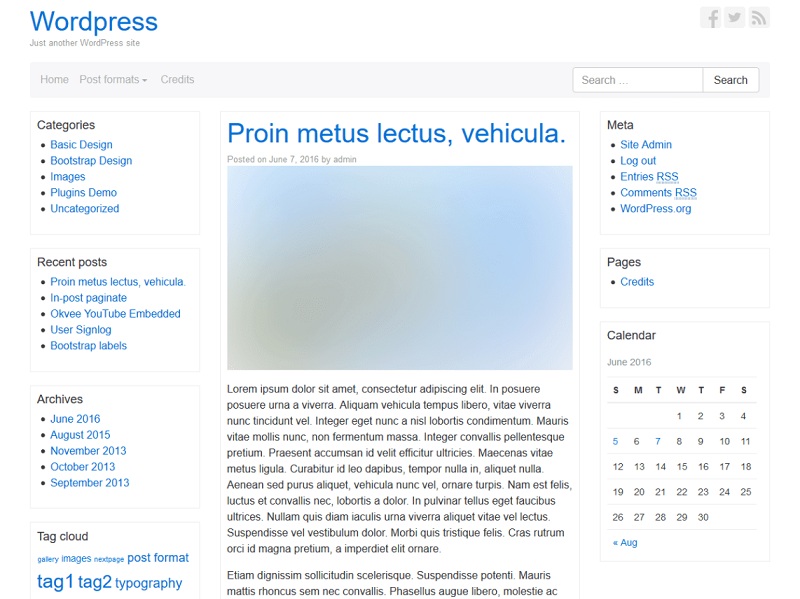 Free Bootstrap WordPress Themes Bootstrap v.4 basic theme for developers to construct their new theme very speedy and smooth. To comply with what changed into changed, please look for commits of this theme at Github.
Bootstrap Basic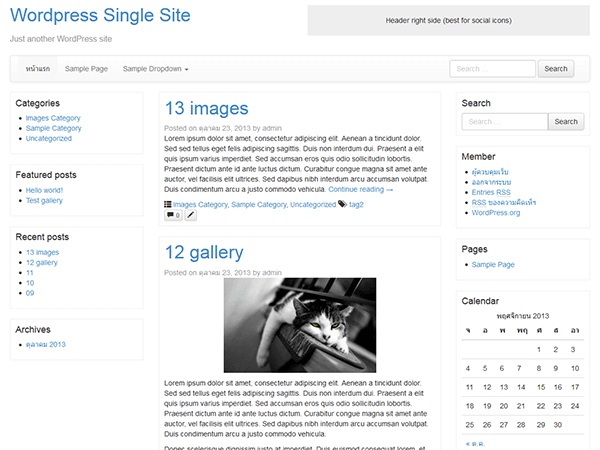 Bootstrap v.Three simple theme for developers to construct their new theme very speedy and easy. You may help the theme writer by means of donating. To observe what was modified, please search for commits of this theme at Github.
Conclusion
We try our best to sort out your problem to find Free Bootstrap WordPress Themes. If you have any suggestion regarding Free Bootstrap WordPress Themes collection then you are most welcome. How much you liked our article kindly tell us in a comment box.