eCommerce WordPress Themes that can serve your E-commerce business online. They have special sections for sales and product information. We are listing here E-commerce WordPress Themes in this article. In the competitive market, it is essential that your reach-ability to the customer should be fast and accurate. The website is the best solution for growth.
Moreover, here is the best eCommerce WordPress Themes article that provides you with the best solution for this problem. You can choose any one theme out of the best eCommerce WordPress Themes collection and can implement your site within minutes.
1. The7: Ecommerce WordPress Themes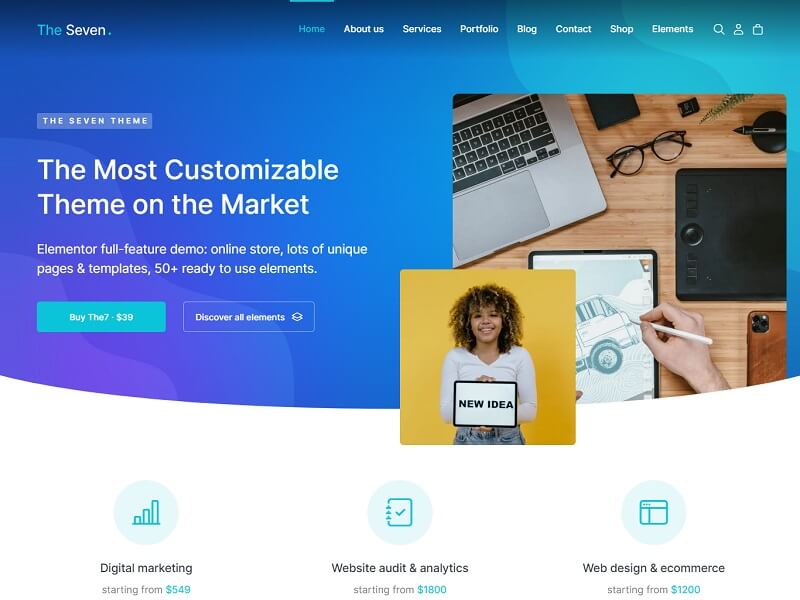 The7 is a powerful and flexible premium WordPress theme on the market. With the help of this theme, you can easily create any type of website such as a blog, portfolio, eCommerce, etc., without touching a single line code. This theme comes with 60+ prebuilt dummy websites that are your starting point for designing a website. You can import them in a just single click.
Furthermore, The7 is fully compatible with WooCommerce so that you can easily create fully custom storefronts, shopping carts, product pages, product lists, check out, and many more. Besides this, The7 is also fully compatible with PRO Elements. Therefore, it is a perfect choice if you are looking for an Elementor theme.
Apart from this, more features of the The7 are Gutenberg Optimized, Fully Responsive, SEO Friendly, Translation Ready, Free Lifetime Updates, and much more.
2. Porto: Best Ecommerce WordPress Themes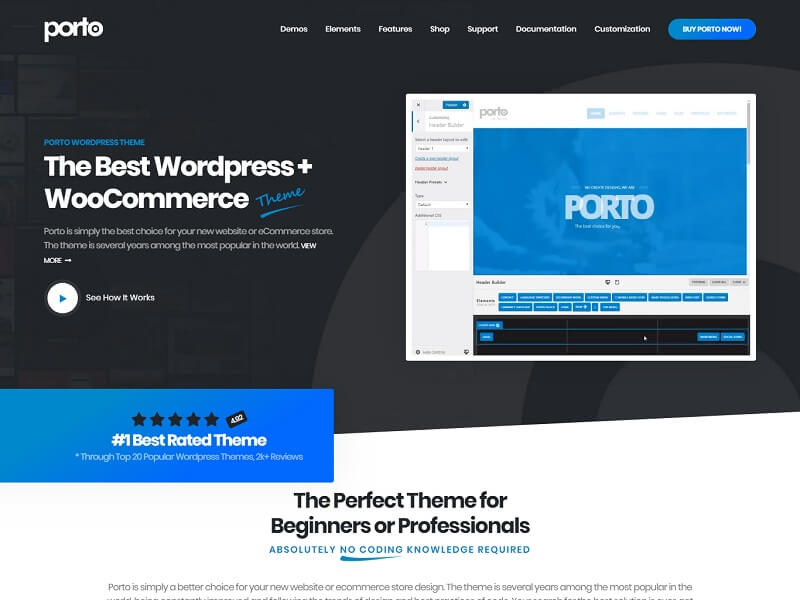 Porto WordPress is an ultimate business and WooCommerce WordPress theme that is suitable for any business and WooCommerce site. Also, this theme provides plenty of elements and powerful features that can configure all you want.
3. Flatsome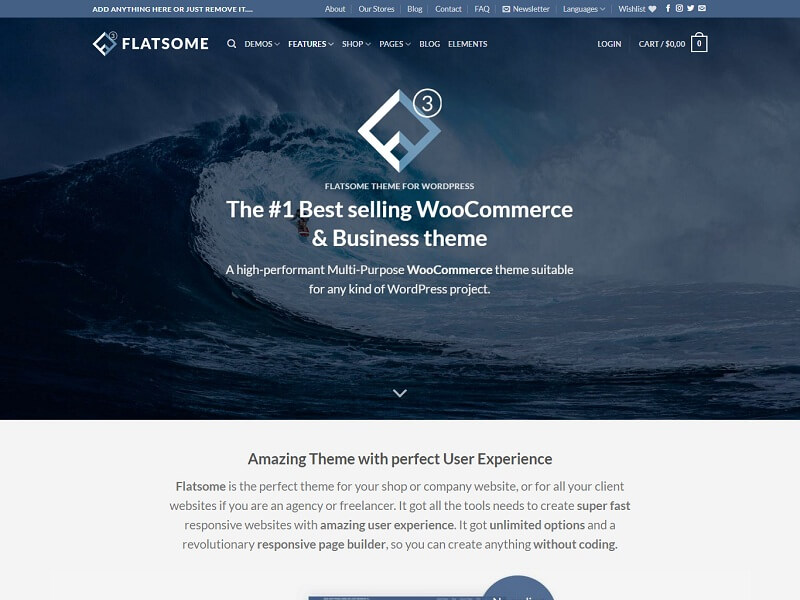 Flatsome is the most used and trusted theme for any kind of WooCommerce Project.
4. WoodMart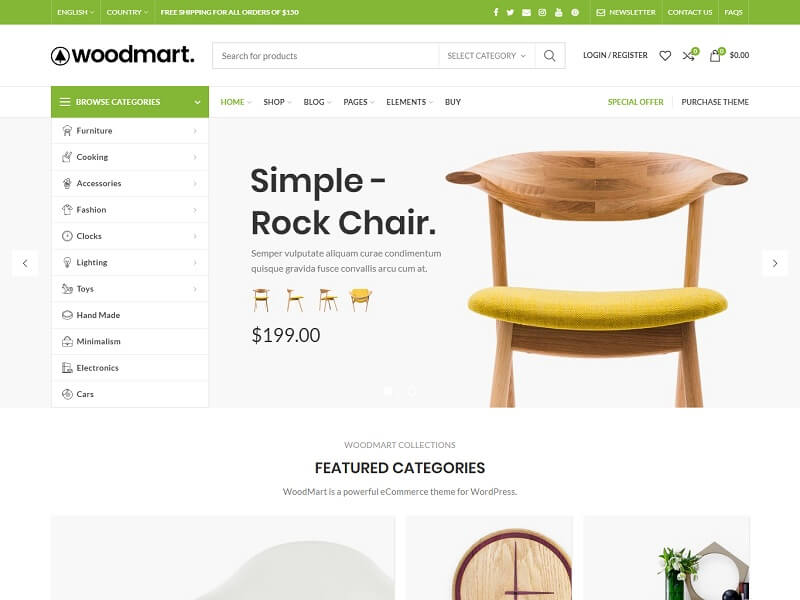 WoodMart is a premium theme optimized for creating WooCommerce online stores that provide a super-fast interface for the ultimate user experience.
5. StarBella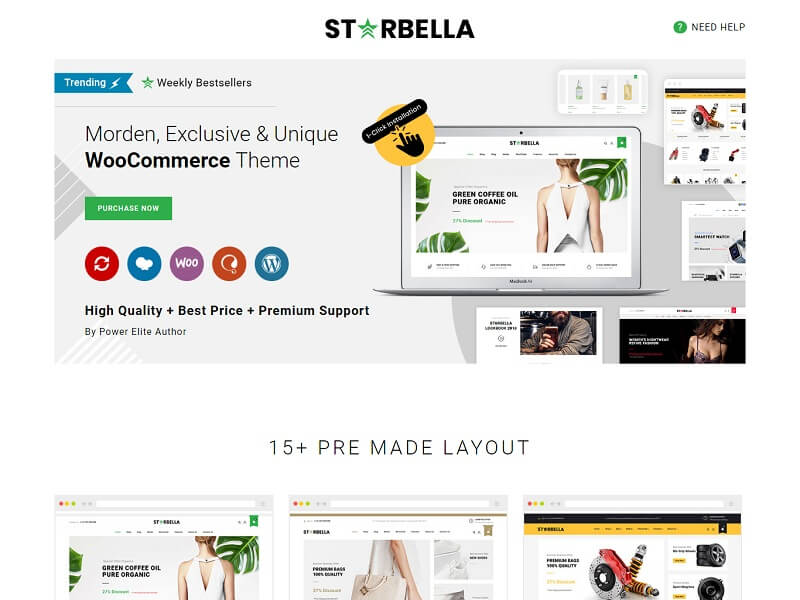 StarBella is a WordPress eCommerce theme that is compatible with the WooCommerce plugin. Also, it is suitable for medicine, drugs, fashion design, clothes, watches, jewelry, accessories, furniture, and home accessories store.
6. Cerato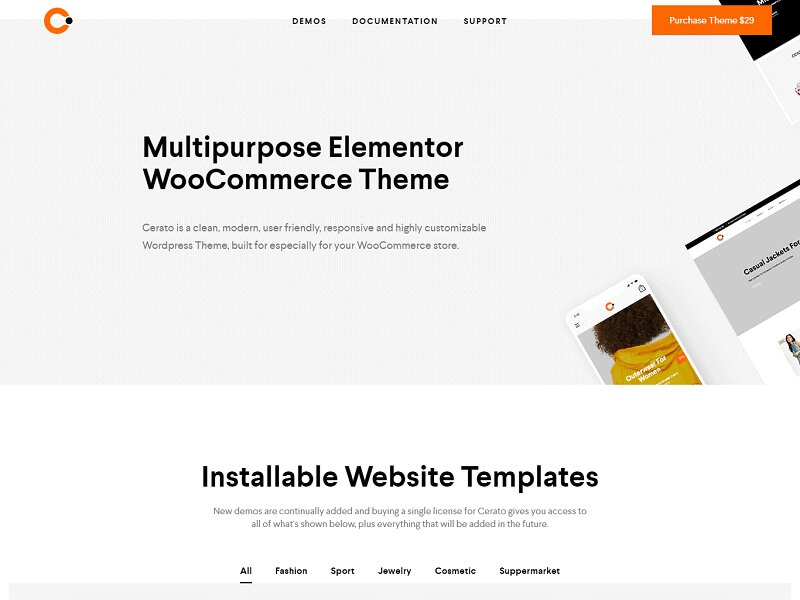 Cerato is another unique and modern-looking eCommerce Theme built with Elementor page builder. Also, it is an impressive, super light, flexible, powerful, and feature-rich WordPress WooCommerce Theme for your online shop.
7. Stockie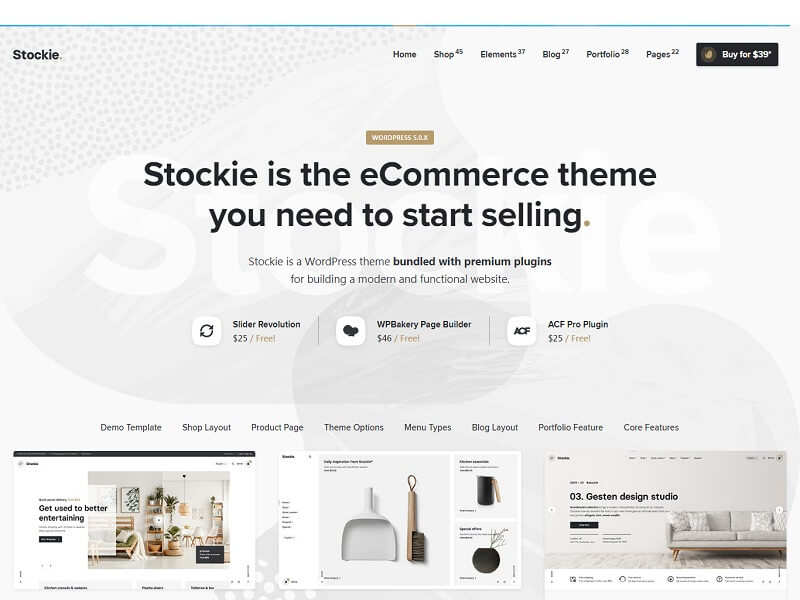 Stockie – is a carefully crafted multi-purpose creative, minimalist, gorgeous, versatile WooCommerce theme with the sharp user experience you need to build a modern and functional website and also start selling your products and services.
8. Konte
Konte is another unique and modern WordPress e-commerce theme that you can use. Also, it was built for your digital store, hi-tech store, watch store, men's store, women's store, clothing store, furniture store, book store, cosmetics shop, luxury jewelry, and accessories store…
9. Shopist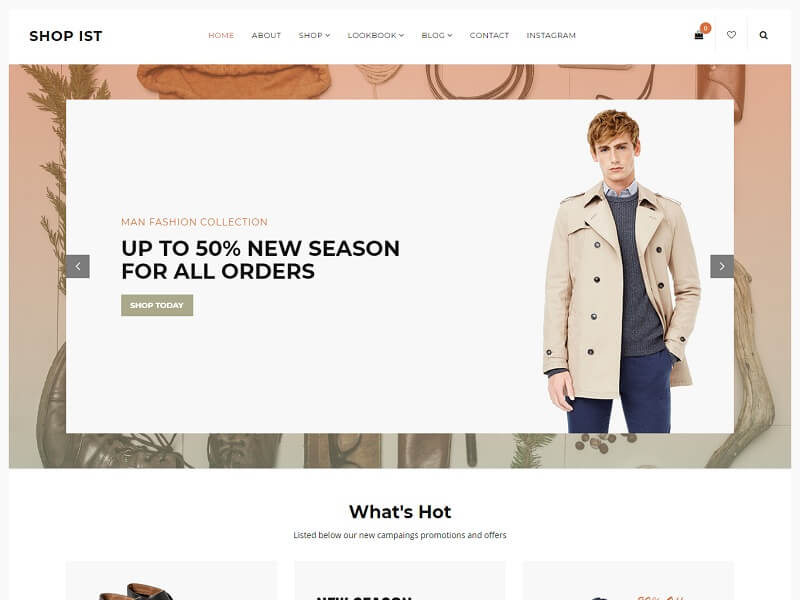 Shopist is another creative eCommerce responsive WordPress theme coded with WordPress Standard and Redux framework. Moreover, the design is very elegant and modern, and also very easy to customize with a 1170px grid.
10. Eletros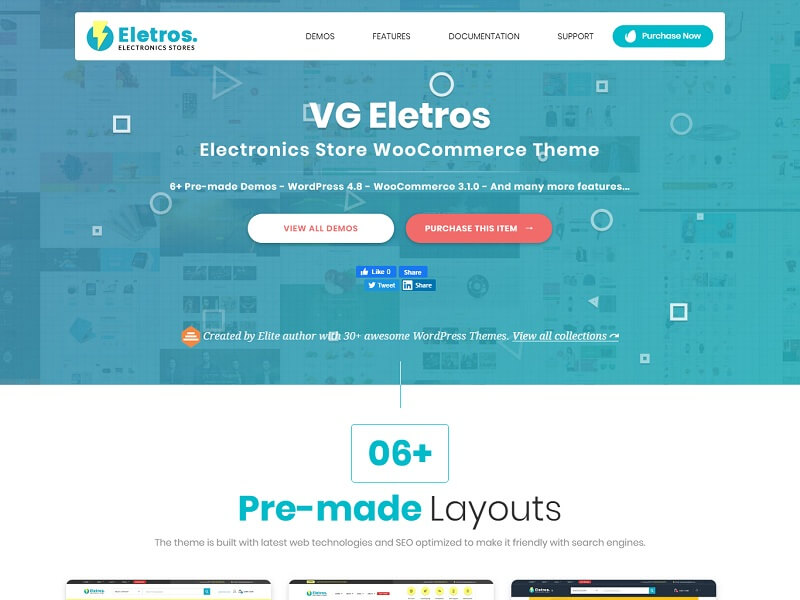 Heavy, bulky electronic stores of the past are gone forever. From now on you can build a cutting-edge eCommerce shop without a hassle; and sell computers, smartphones, tablets, affiliate websites, and anything else with the help of this responsive VG Eletros – Electronics Store WooCommerce Theme with clean multipurpose design.
11. Moza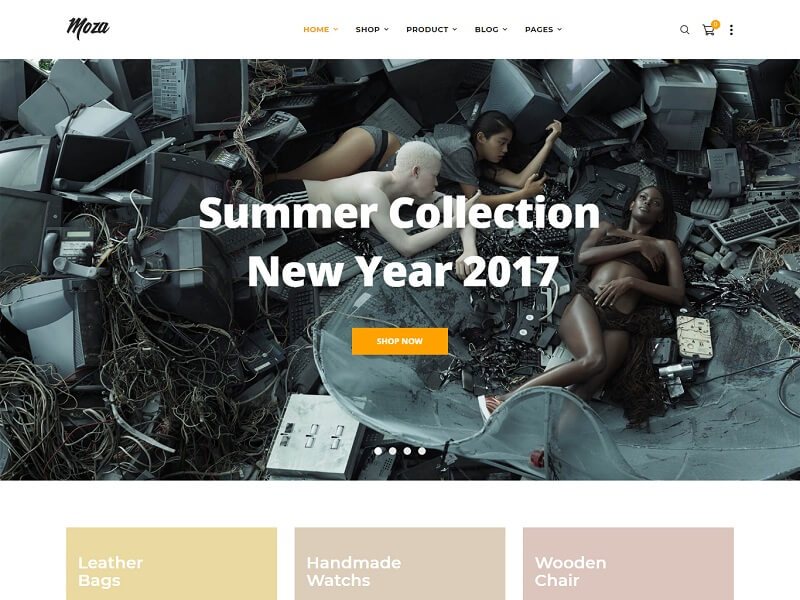 Moza is a minimal, faster, and lighter WooCommerce theme that will come with features to make sure you never run out of ways to customize your new minimal-style store to your needs. Also, your products have never looked better than when they are surrounded by the elegant Moza minimal style.
12. BoxShop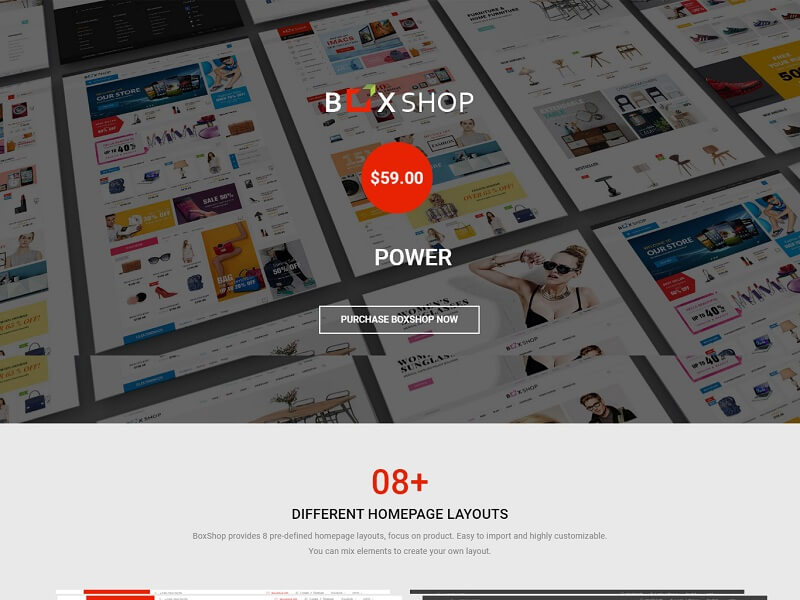 BoxShop is another WooCommerce WordPress theme that you can use for shopping online stores. Also, it is suitable for eCommerce websites such as supermarkets, furniture, glasses, shoes, fashion, electronics, houseware, organic … or anything you want.