Hey guys, if you have been searching for a free hosting provider for your website then you have come to the right place as in this blog post, we are going to discuss some of the best free hosting providers from all around the world.
It doesn't matter whether you are looking forward to starting a career as an author or as a blogger, the first that would have come to your mind is to build a website.
Well, websites have become a crucial aspect of every person looking forward to targeting a market and this is why the website has become ubiquitous in almost all professions.
There used to be a time when websites were limited only to businesses but now, almost everybody looking forward to having a digital presence is planning to have a website.
It is true that there are many things that you need to take care of if you are planning to build a website but one of the most important things that you will have to consider is which type of web hosting service you are going to choose.
You just can't buy a domain name and start a website as you will also need to make sure that you have a web hosting service since your website will be hosted on that particular server of the hosting provider only.
So without wasting too much time, let's start.
List of The Best Free Hosting Providers:
1. InfinityFree
2. Byet Host
3. Free Hosting
4. AwardSpace
5. Freehostia
1. InfinityFree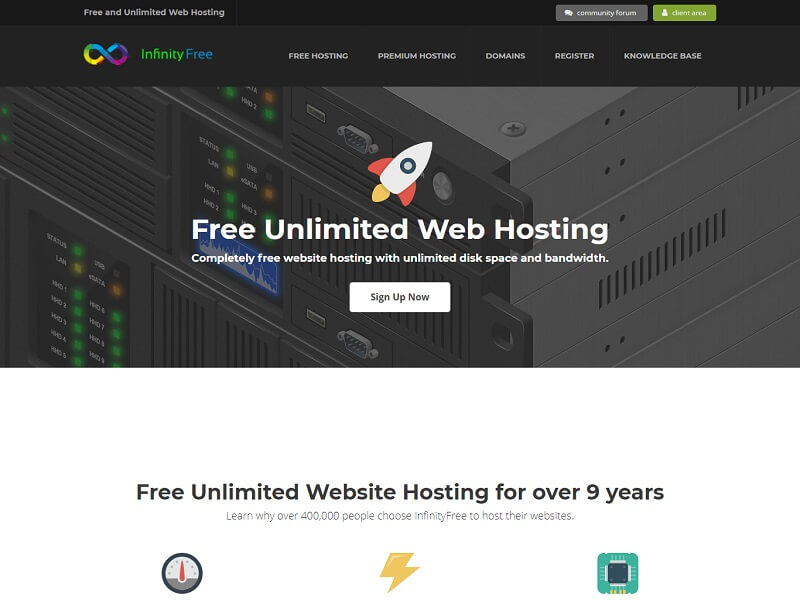 If you are thinking that this is just an average hosting service provider that offers not-so-good hosting services for free then you are on the wrong track.
You should know that InfinityFree is one of the most popular free hosting providers when it comes to free hosting services and there are many websites that have been hosted on the servers of this popular hosting provider.
If you are planning for a robust, reliable, and feature-rich web hosting service provider for free then you should stick with InfinityFree.
When you will be using the hosting services offered by this free hosting provider then you will get unlimited disk space, decent speed, unlimited bandwidth, and best of all, you will get high uptime as well.
All this might sound like the feature of a paid hosting service provider but you will get all this for free. This is one of the best things about InfinityFree.
2. Byet Host
This is one of those free web hosting service providers that are well-equipped when it comes to different types of features.
At first, it might look like a paid web hosting service provider, especially when you will go through the features offered but it is actually a free web hosting service provider.
There is a long list of people who love hosting their website on Byet.Host but it is not just because they offer the hosting services for free, there are other many reasons behind such a wide base of loyal customers of Byet.Host.
When you will be using this web hosting provider then you will get unlimited add-ons, Vista Panel with Softaculuos, and even MySQL database.
All these features make this free web hosting provider well-equipped when it comes to features. To top it off, they even offer free customer support and this is one peculiar sounding thing but it is true.
You might not find this feature in most of the free VPNs but this is what makes this VPN unique.
3. Free Hosting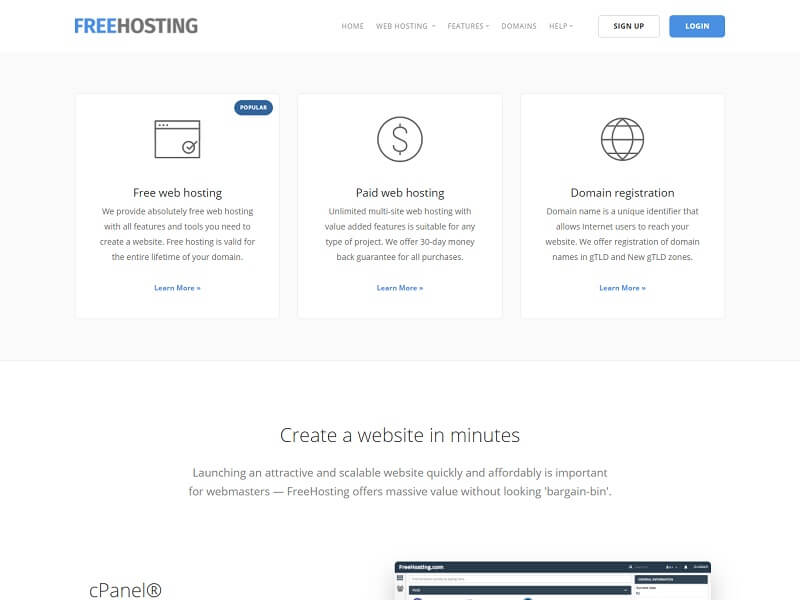 This is one of the comprehensive solutions that has been included in our list and just like all other free hosting providers on our list, even Freehosting.com is completely free and even the name of this web hosting service suggests the same.
We are saying that this is a comprehensive hosting solution since it can handle only 30K visitors a day on any website hosted with its server.
But don't underestimate the power of this powerful hosting service since it offers you lifetime access, all essential features and tools have been included and it even has a cPanel for hosting.
So, if you are looking forward to building a decent website and if you don't want to pay for hosting services then you can go for Freehosting.com without any doubt.
You will not gripe about your choice later after selecting Freehosting.com.
4. AwardSpace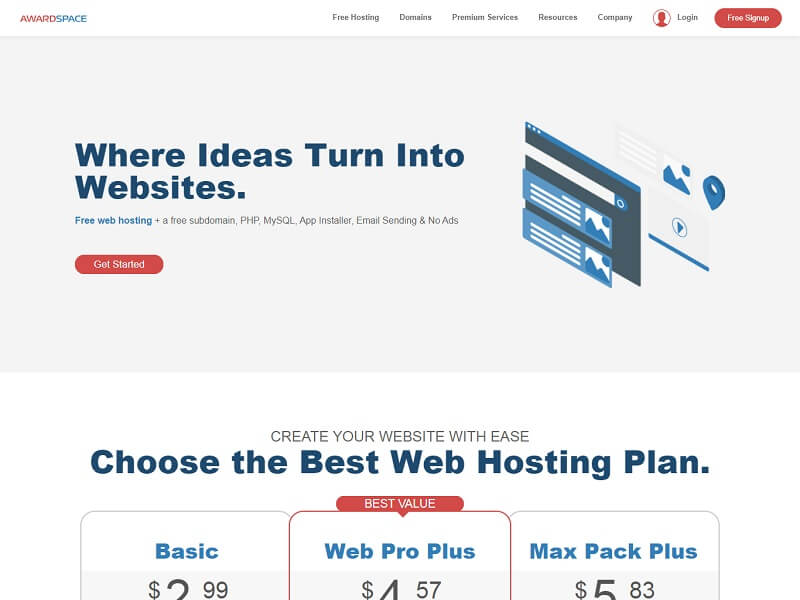 AwardSpace is one of those hosts that offer free short domain extensions along with the free hosting service. This is what makes AwardSpace a unique hosting service provider and this is the main reason why we have included it in our list.
By choosing AwardSpace for hosting services, you will even get the chance to choose domain extension with dx.am. Although there are many features that you will get after choosing AwardSpace for hosting your website, we will discuss some of the most talked-about features of this popular hosting provider only.
When you will choose AwardSpace, you will get 1GB disk space, 3 subdomain hosting, 1 domain hosting, round the clock customer support, and the best part is that you will even get a one-click install for WordPress.
5. Freehostia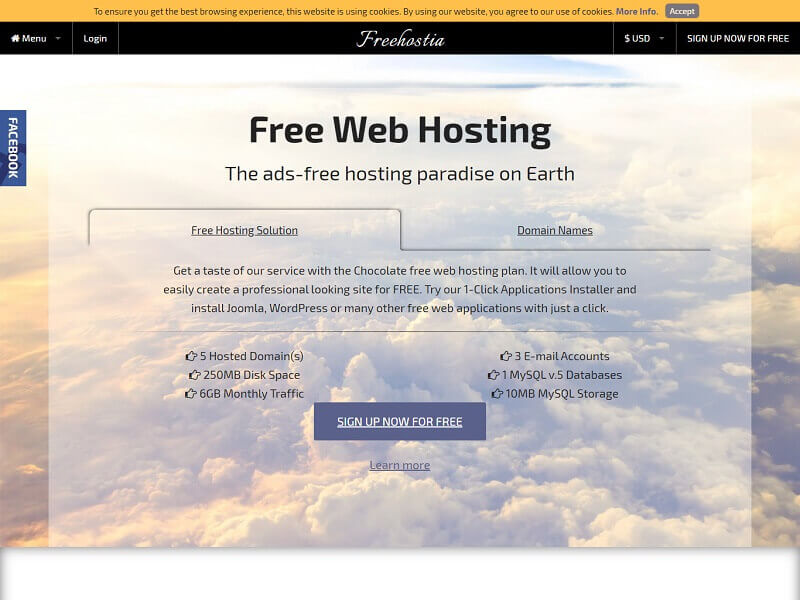 The name of this hosting service provider might sound peculiar but instead of skipping this hosting provider just because of the name and by trusting your instincts, you should stick with Freehostia without any second thoughts, or at least you should consider it for your business.
But you should know that if your website has lots of traffic then there is no way you can use Freehostia since it will not be able to support websites with high traffic.
If you choose this free web hosting provider then you will get benefits like a one-click application installer, instant activation, and even full DNS management. All these features make this free web hosting provider a good option.
There are many people who keep looking for the best free hosting providers but at the same time, they don't want to spend even a single penny on hosting services.
For such people, free web hosting services are the best option. Go through our list and choose the best option available.
Author Bio
Emma, an editor at MyQbHosting, enjoys writing on different topics regarding the use of QuickBooks hosting and quickly becoming one of the most innovative hosting companies.