If you're dreaming of making your online store more powerful and attractive, and if you wish to save money at the same time, we're glad to present you with our special offer. You can get Woostroid2, an incredibly efficient theme, at a 30% discount from January 28 till February 4.

So, why should you choose Woostroid?
Woostroid has gained leading positions in sales due to its simplicity in use and unbelievable functionality. Moreover, Woostroid is being updated all the time, so its new update, Woostroid2, will strike you with its efficiency. Let's have a look at the features of Woostroid in more detail.
First of all, you don't need any coding skills to launch Woostroid and edit your webpage. Everything can be edited with a powerful Elementor, a drag-and-drop Page Builder. You will find numerous pre-designed sections, pages, and layouts, so you can use them instantly, or adjust them to your requirements. Moreover, you can edit the headers and footers of your website, depending on your needs. Surely, the collection of these elements is constantly updated.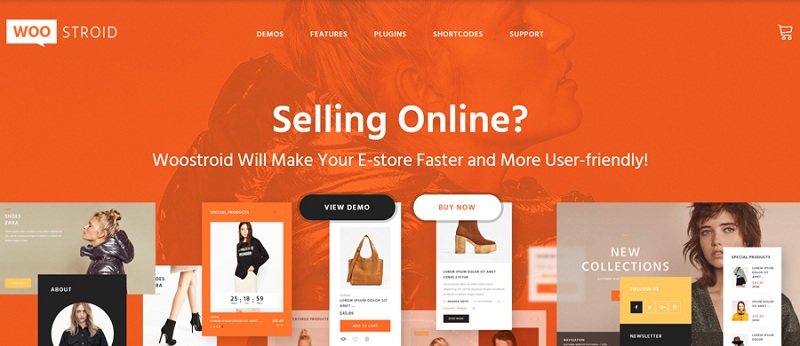 Secondly, you'll be able to install the theme with the help of Woostriod Theme Wizard, using your order ID. It will be activated on one domain.
Thirdly, you'll enjoy Woostroid because of its effective Jet plugins that help you not only to catch your customers' attention when they first look at your website but also to enchant them with the clearness and easiness of using your website. Here are just some of these plugins.
This plugin is a handy and important tool to organize your content. You can arrange your data in various categories and subcategories, facilitating your customers' navigation around the website.
You can use this wonderful plugin to make your webpage even more beautiful, creating a sense of full immersion into the site.
3. JetWoobuilder
It's a magnificent plugin developed to work with WooCommerce pages and allows you to create your own templates to build astonishing Product Pages and present your goods or services to the best advantage. You can choose the layout, add a necessary amount of sections, insert images and text to provide details about the products, include different buttons, such as 'Add to cart', assign product tags for better search results, and many more. Depending on your needs, you can create single product pages or product listing pages, which is really outstanding. You'll quickly find any necessary element in JetWoobuilder with the help of the search, so editing your website will become an enjoyable experience for you. What's even more impressive, you can save these templates and use them later, adding new goods in a couple of minutes. So, JetWoobuilder will highly improve your store's functionality.
4. JetSmartFilters
You can use filters on the pages that are built with Elementor and that have dynamic listings. Customers can apply these filters to the products and posts, thus getting the most appropriate search results and finding the necessary products faster. There are 9 kinds of filters, such as Checkboxes, Range and Date Range, Select, and others. The filters can be shown on your product page in any order.
5. JetProductGallery
This amazing plugin lets you create different kinds of galleries on a single product. You can add different settings to any item, as well as show the product's gallery on any page. You can arrange your galleries with sliders on in grids, add scrollable images, and showcase a large featured product. It's up to you to decide what the best look for your goods is.
6. JetCompare and Wishlist
Helping your clients to make their choice is extremely important, so the 'Compare' function will let people add goods to the comparison list to see their differences and peculiarities clearly. Also, your customers can have time for thinking, so they can add items to the Wishlist and make their final choice later. You'll find ready-made presets for showing products and categories in multiple layouts, so you won't waste your precious time.
Undoubtedly, it is sometimes necessary to post large amounts of information that cannot be included in product descriptions. Blog posts will come in handy in this case, so you'll be able to inform your customers about new goods or collections, and provide detailed explanations and clarification when people need it. With JetBlog, creating, running, and editing your blog will bring you obvious enjoyment. You can choose from various blog layouts and add any appropriate modules, such as Smart List, Tiles, Video, or Ticker, so your content will look appealing.
8. Constant Updates
There will be 15 skins in the first release of Woostroid2 among which you'll find skins for a huge variety of businesses, including Fashion, Toys, Sports Gear, Wedding, Organic Food, and many more. Each week there will be an update, and new skin will be added. If you are already using Woostroid, you'll get Woostroid2 for free, and the license will be changed to the Single Site License.
To sum up, Woostroid2, which will be available as an update of Woostroid, is a powerful Woocommerce theme full of tremendous benefits. Its inconceivable functionality is sure to make your online store efficient and successful. Hurry up, grab the opportunity to take this limited-time offer, and purchase Woostroid at a 30% discount.