Hello there, today in this article, we have listed the five best basketball website templates that you can use in 2023. So keep reading.
The basketball website is a platform to provide the right information about sports. It gives the correct information about the training facilities of a basketball club. It is essential to have an online platform if you have a basketball club and team. The modern demand for the internet presence of your club, the basketball team, and its official website will provide the platform for team promotions. It will work as the marketing platform for your team and attract other young sportspeople.
In addition, a website is a place where you can give guides and information to an exciting basketball community. So you also need to make a well-developed website for a basketball team. Ensure your website works best without issues and create a trustworthy platform for new athletes.
Every website has specific requirements, including a suitable template and many more. The website template plays a significant role in attracting potential traffic. It would help if you spent considerable time creating a website and choosing the best basketball website templates.
Five Best Basketball Website Templates:
SkyThrow – Basketball Club Website Template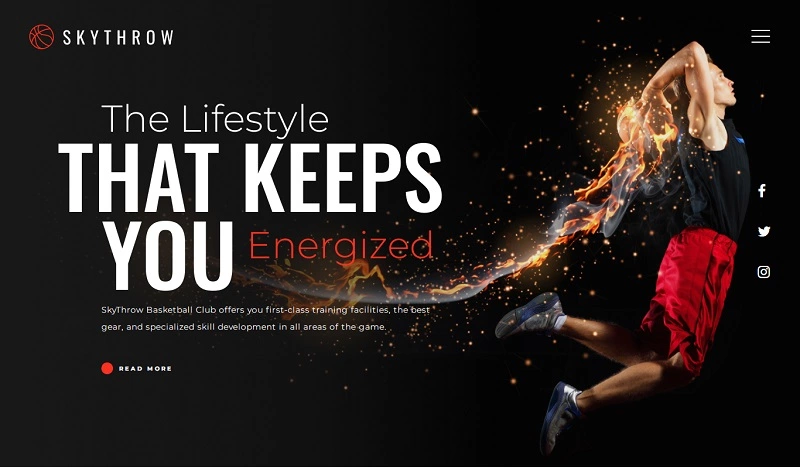 SkyThrow basketball club website template is one of the best templates you can choose for your website. It comes with an HTML product along with an attractive design. By making a website through the SkyThrow template, you have highly responsive coding due to its bootstrap four-base framework. It is a paid template but easy to style and install.
It has an impressive design that suits the basketball team best. The developers of sky throw include different visual elements like animation and UI kits. So all these features make it more attractive and easy to use. Moreover, if you want to customize it, this template will be more attractive according to your team's requirements.
It is a fully editable template you can customize and add more features. The template developers give users a free hand to change any part of the theme and add a new template. It allows the users to keep scrolling the website due to its uniqueness. However, if you are a beginner, the basketball website template already has many pre-designed pages. So you can use these pages to share upcoming matches and other announcements.
Dragons – The Basketball Team Multi Page HTML5 Template for Website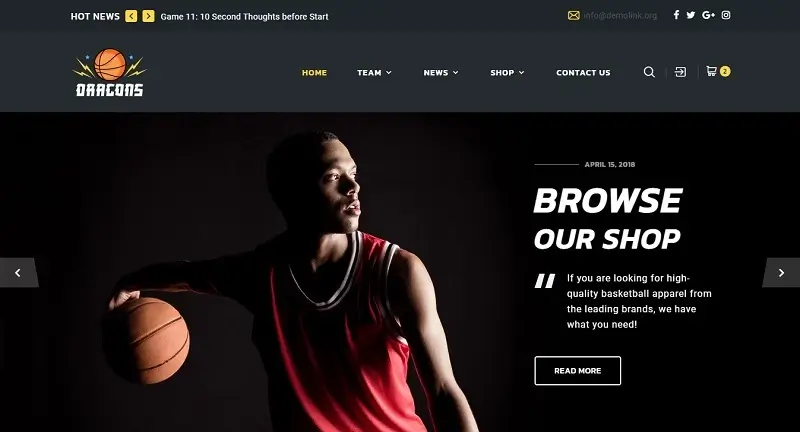 Dragons are one of the highly responsive and friendly basketball website templates. The dragon's template for the basketball website is paid but helps to create the website fast. It is a well-organized and stylish template that will help to promote the basketball team. Using the dragon's template, you will get the most stylish pages with organized content. Beginners usually spend quality time styling website pages from scratch due to the need for a suitable template. But the dragons will make it easy for beginners to style the website with a flexible interface. It will save you time and money while building the basketball.
Dragons website template is designed by professionals and is easy to customize. You can use its layout and pages for quickly styling your website and breaking the latest news. It is an easy-to-use and simple-to-navigate template that attracts more users. In addition, it comes with computer animation effects that will make your website more vibrant and attractive.
Jumpers – Basketball Club Responsive Multipage Website Template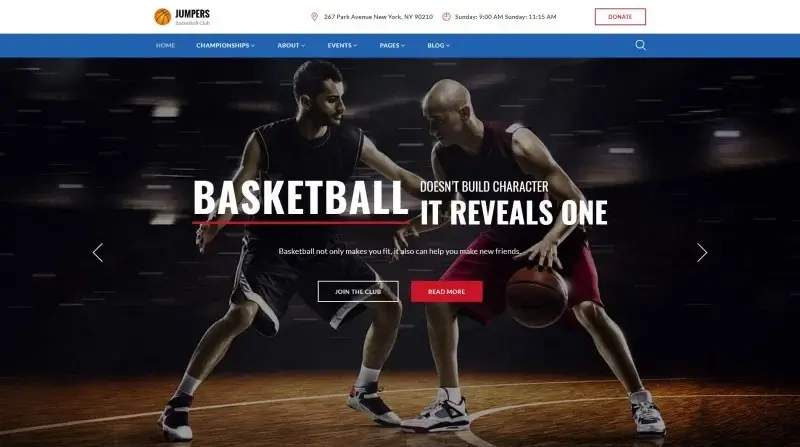 If you are looking for an excellent basketball website theme, Jumpers are the best choice. It is a famous template for a basketball website to promote content and team. However, jumpers' themes are fully responsive and serve with great productivity. It has clean code that has highly unusual documentation. You need to pay for the jumpers template and start working on your website without wasting further time. It is just a few clicks that come with the HTML coding. So it is a ready-to-use website template that only requires a little work to enhance its style.
By installing the jumper basketball template, you can keep your website audience engaged. It gives highly attractive pages to keep the audience interacting with your basketball team and promote their performance. Jumpers is a multipage basketball template, which has a powerful bootstrap. So you can build a website for the basketball team with a compelling interface. You can also learn more about betting on march madness on the point spread.
AESA Basketball Responsive Template for Website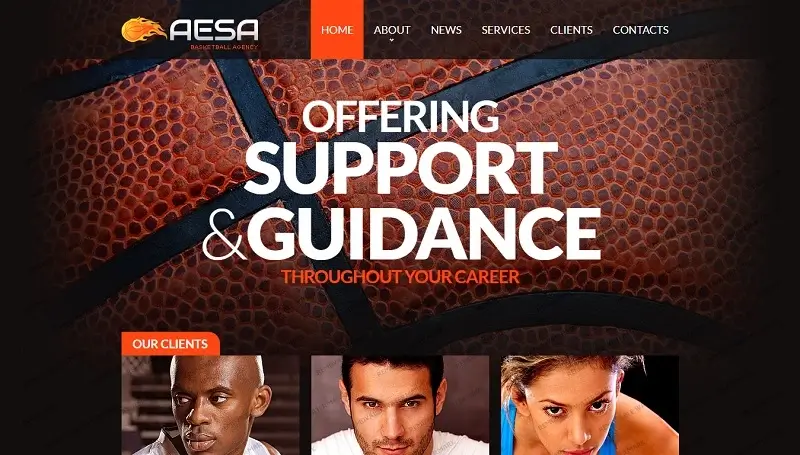 AESA basketball-responsive website template is best for building a cutting-edge design website. It is the best template for making the website of your basketball project. The basketball-responsive website template combines visual aesthetics with high-end functionality. It offers professional website design for users, especially if you have a basketball team and an NBA basketball club. Remember that web page navigation is crucial to your website's success.
The responsive website template will make the web page navigation quick and present portable gadgets for engaging the audience. So it will make your website more classy and modern with its attractive looks. You need to purchase this template as it comes at very reasonable pricing. It also provides technical support and perfect documentation. Moreover, it has the ideal mix of aesthetics and unique solutions for website builders to set an attractive web layout.
Basketball Agency Website Template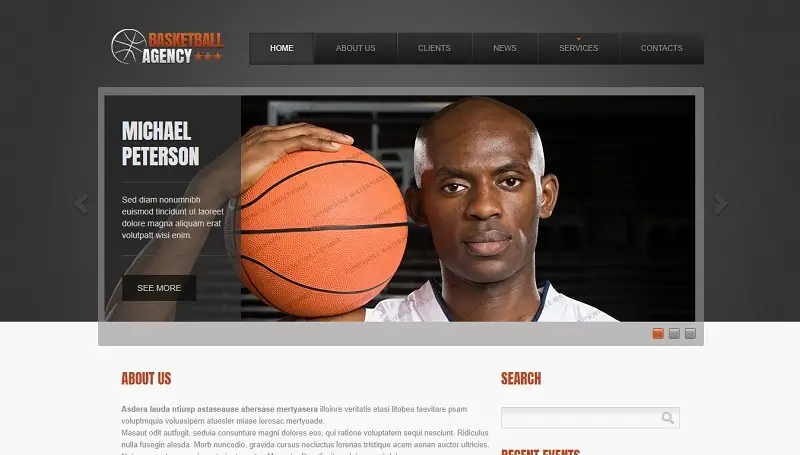 The agency basketball website template in our list is created for any sports website. The basketball website template has full-screen slider shows that attract users, mainly due to its pinned menu. The template images have a zooming effect that will help display the player's photos, links, and brief introductions. The template developers use uncommon color combinations to make it more attractive.
Ensure that you choose an effective template for your basketball website and make it more appealing for the users. It will enhance your website's growth rate and increase the navigation time of your potential users.
Conclusion
The template in above mentioned list of the best basketball website templates are all effective for the basketball website and help you to promote the basketball team.