Hello, Guys now I am telling you about the best collection of best Free Spa and Salon Html Website Templates of the year 2023.
As we know, Spa and Salon are an economically powerful sector, and it is now at their peak due to the rise of social media channels and the availability of better photography cameras and equipment. Almost every girl wants to present herself on these social media platforms as well as possible. Therefore, it is a great opportunity for Spa and Salon businesses to capture these audiences and grow the business both offline and online.
In this collection, we have listed only the best free spa and salon HTML website templates that you use in 2022. With the help of these templates, you can easily create your very own Spa website.
So Let's start to build your dream site. These free spa and salon HTML website templates have abundant features like beautiful layouts, Amazing sections, animations, etc.
Also See
Beauty Style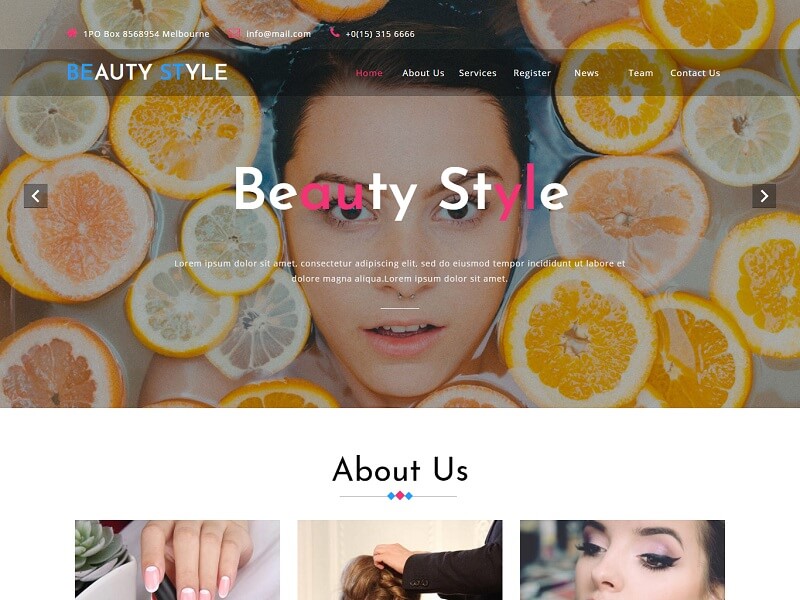 Beauty Style is one of the most popular free spa and salon HTML website templates. It is a simple, creative, and multipurpose one-page template. You can easily use this template for wellness treatments, make-up, haircut, and any type of spa and salon-related website. Also, it comes with high-quality functioning and the most advanced features you use according to your needs. The beauty Style template is based on the latest updated Bootstrap framework, HTML5, CSS3, and JQuery. Besides this, if you want to boost your online presence around the world, then Beauty Style is the perfect choice for you.
More features of the Beauty Style HTML template are fully responsive design, Smooth Scroll, Cross-browser compatibility, ease to customize, and much more.
Hair Stylist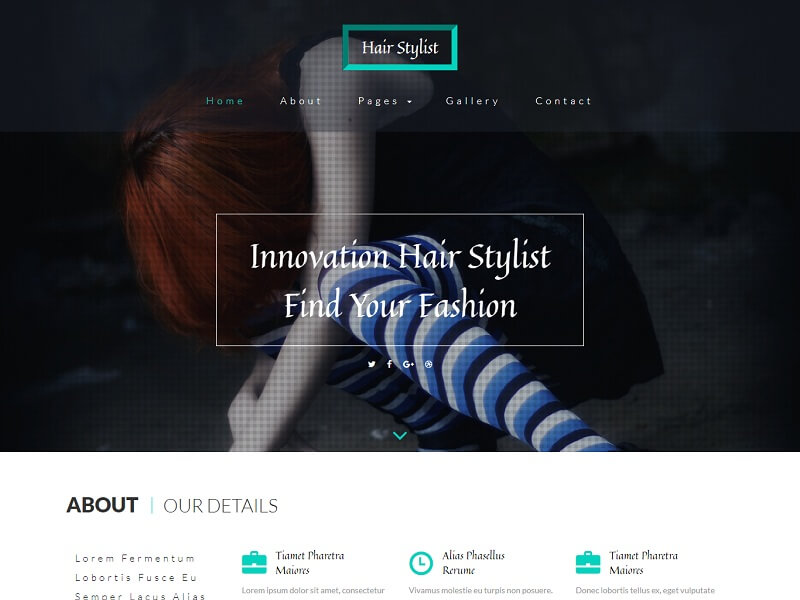 Hair Stylist – It is an amazing design that will best be used for any of the spa and salon category templates. A classy color scheme is used that really suits the design and provides an impressive effect to this design. It is also a completely responsive template.
Spa Care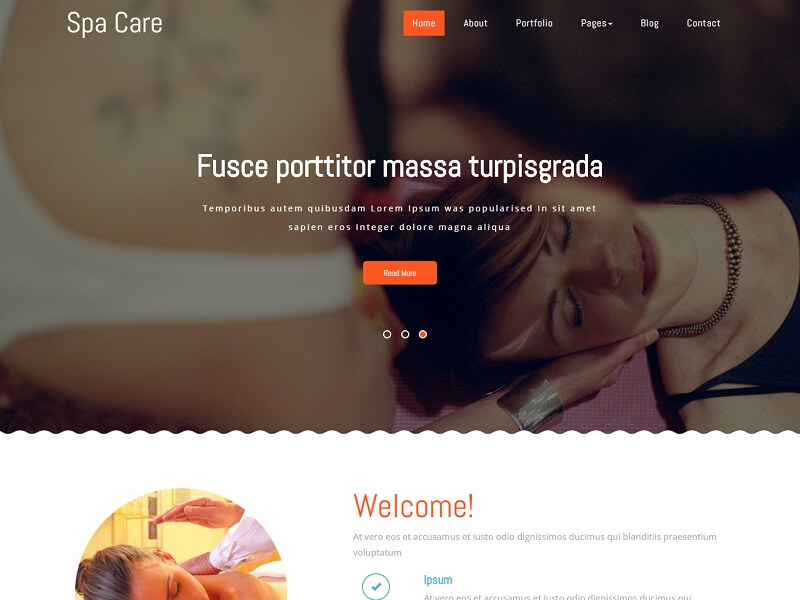 Spa Care – It is a Modern and Elegant Template. It also has a completely responsive design so it smoothly on any device. Fancy glyphs have been used that increase the look of the design and make it best suited for any spa and salon website. very nice plugins used to it.
Hair Style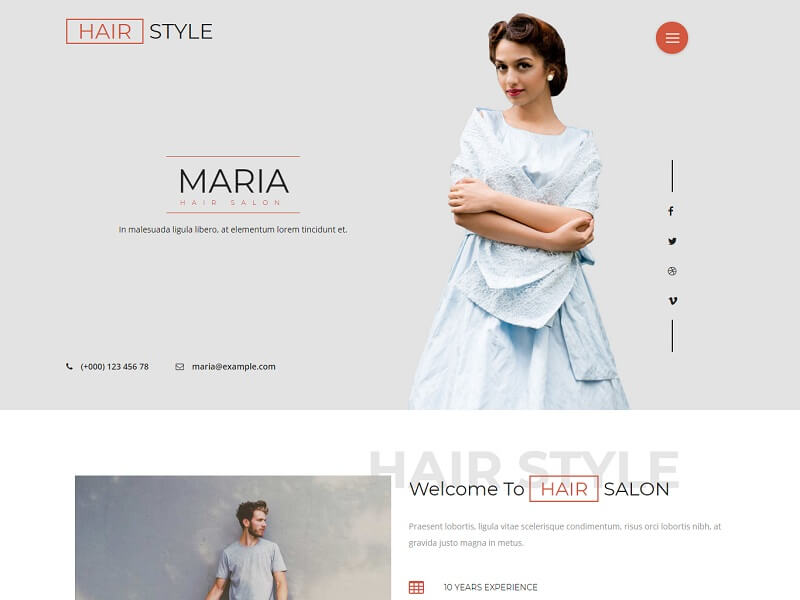 Hair Style – Really completely responsive template. Awesome glyph and fancy icon used with a stylish animation in it and all over the design that impressive effect on it. A nice hover effect is given to the image section, footer section, and team section.
Spa Sublime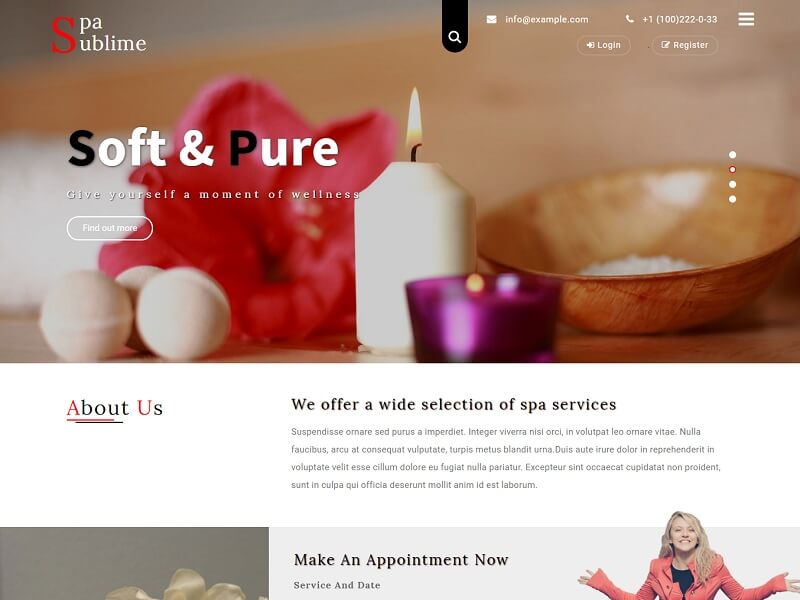 Spa Sublime – Excellent design capable to attract anyone. Also, it is a completely responsive design. Awesome font icon used in the design. This stylish single flat Responsive web design can support cross-browser compatibility also It works smoothly on any screen size.
Salon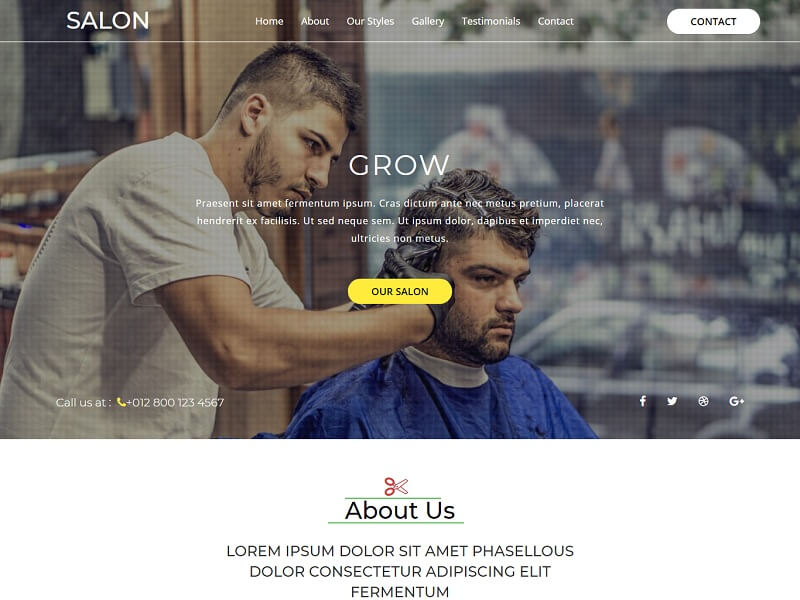 Salon – It is a smart design website Template that can be the best choice to expand the profits of your business. Completely responsive design support cross-browser compatibility. Unique design with an awesome set of fancy icons that gives an impressive effect on your dream site.
Beauty Life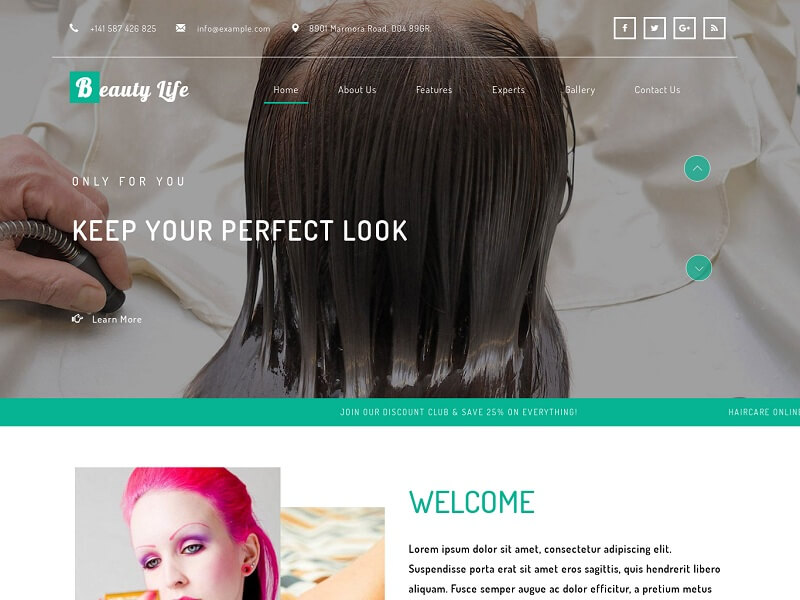 Beauty Life – Design has the ability that can suit any of your wishes for a dream site. It is completely responsive which is the main need of modern time, the fresh fancy icons used for each of the services, and a classy color scheme that gives a pleasant effect to the design.
Fit and Spa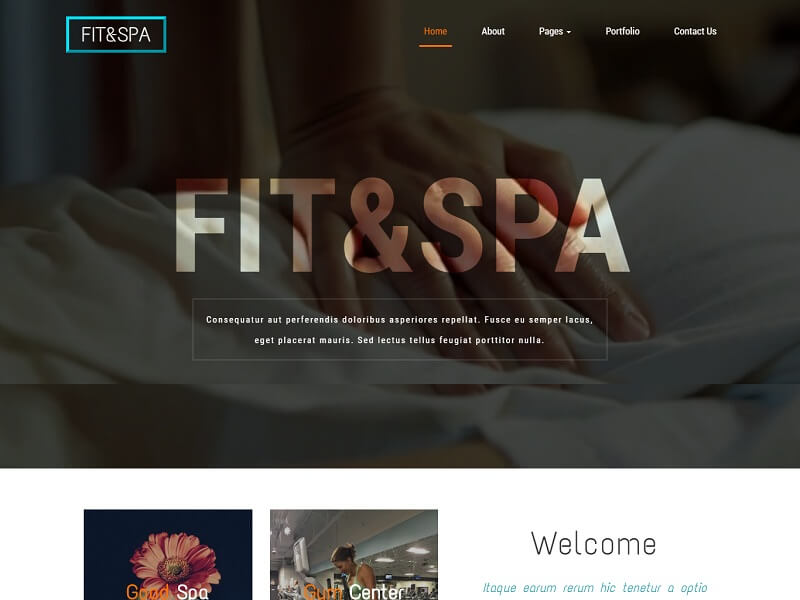 Fit and Spa – It is a fully responsive single-page web template that is easily used by any browser. A nice experience get by its Smooth Scrolling and parallax effects to this Modern and Elegant Design also have many trendy plugins used that improve the working and look of the design.
Hair Salon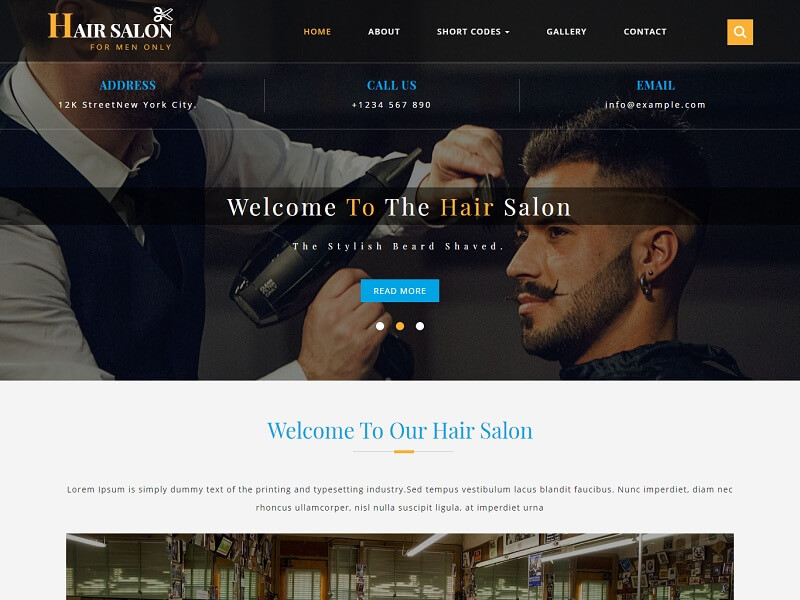 Hair Salon – It is a fabulous design that will be the perfect solution for any spa and salon website. It has an impressive design containing all modern features like awesome icons and Glyph icons, Banner sliders, Link hover effects, and Banner popups that increase the beauty of the design.
Sauna: Free Spa and Salon HTML Website Templates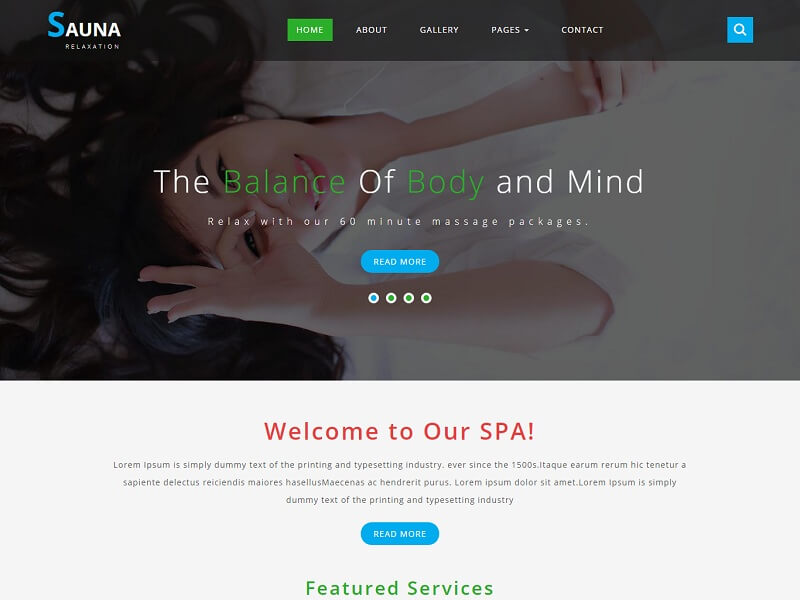 Sauna – It is an exclusive template that has all the modern and elegant features also a completely responsive design, so it flew your worry about browser compatibility. Each section is well documented according to the need for the services in this stylish multipurpose template.
Angel Spa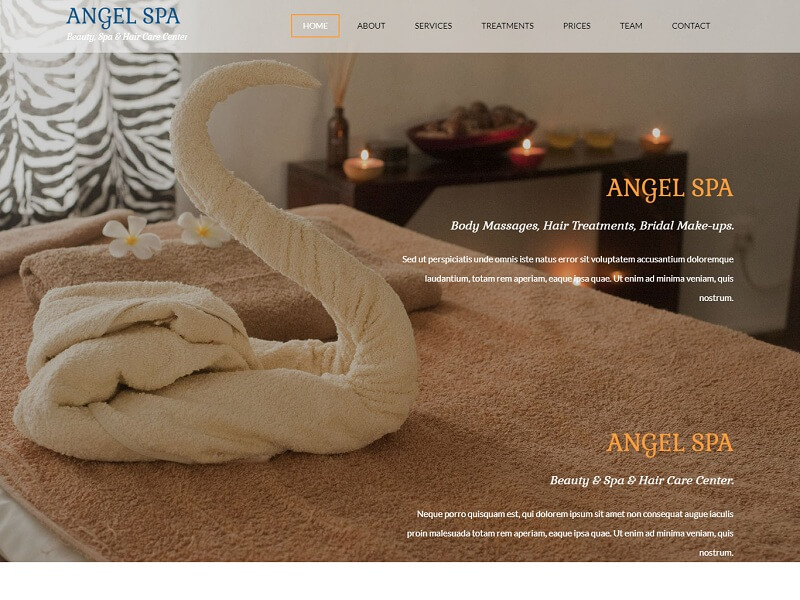 Angel Spa – It is a Trendy design multipurpose template that has the most popular features in its very cool Colors, Glyphicons, Flat-grid Pattern, Parallax Image, Pricing Chart widget, and Pop-up Booking panel that will provide an impressive effect to it.
Spa Salon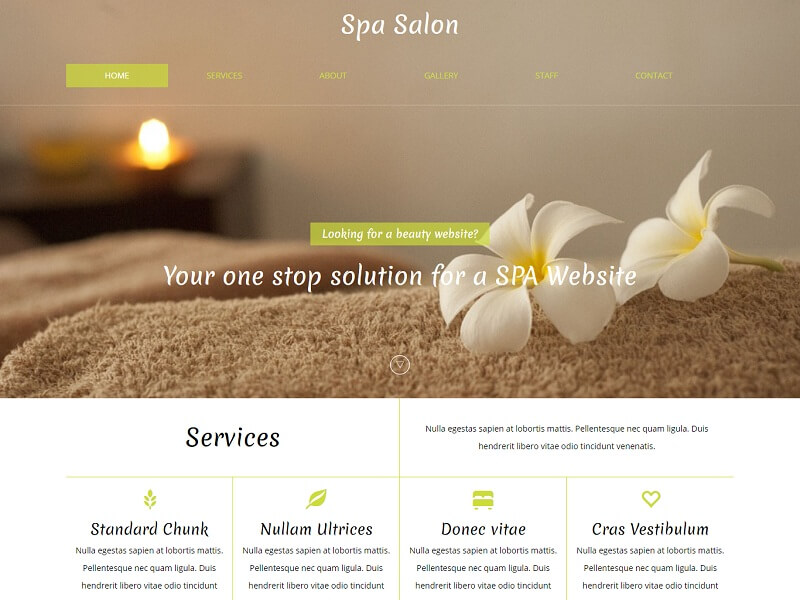 Spa Salon – It has a superb design that will get you the solution to all your needs. It has many exclusive features which blow the mind with the impressive effect of this Flat Bootstrap Responsive Web Template, but also it easy to customize the design.
Nature Spa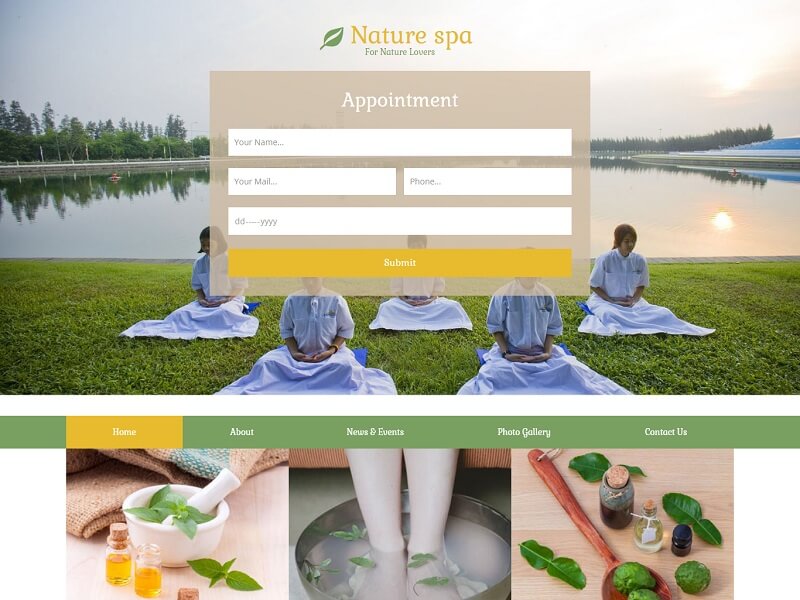 Nature Spa – It is clean in a classy nature design that may be perfect for any nature spa. It is created using a Responsive bootstrap grid system and can work smoothly in any screen size.
Spa Center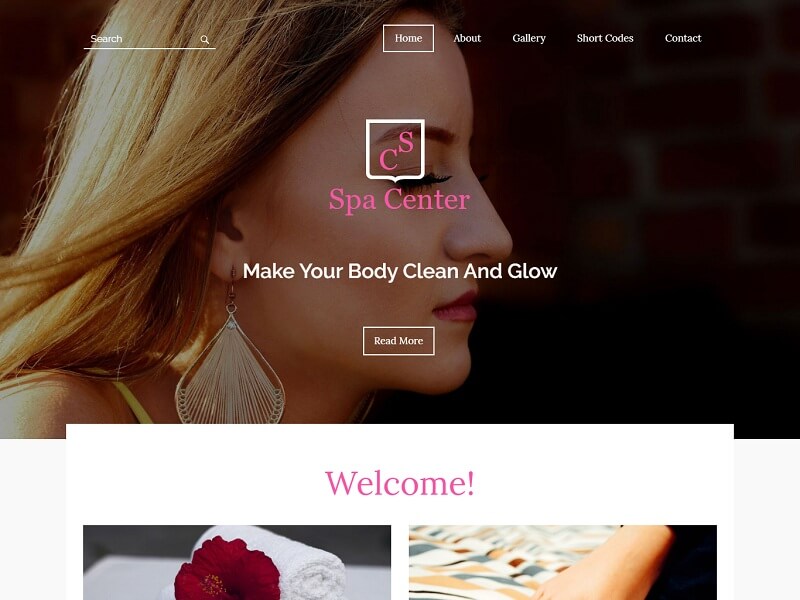 Spa Center – It is a completely responsive fancy-style template design that is perfect for every single spa and salon website. Also, you can customize it according to your need and give a fresh look to every change you made to this well-layered design.
Spasol: Free Spa and Salon HTML Website Templates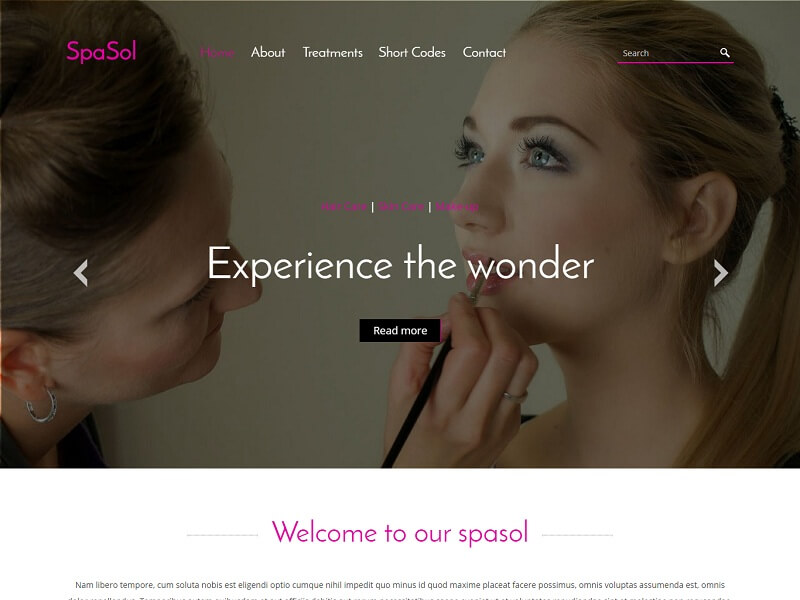 Spasol – It is a Nice and stylish design that will be great for any spa and salon website. It is a multipurpose template that can be the right choice for many beauty category websites, Awesome font icons and features provide it eye-catching effect that can impress any visitor.
Day Spa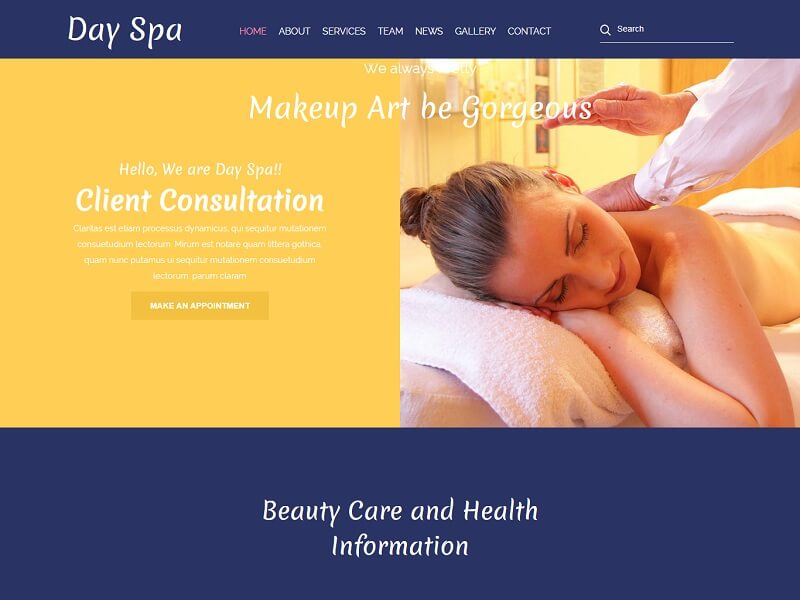 Day Spa – this design is the right choice that will satisfy all your need for a dream site, pretty and nice color scheme used to make this smart website design has a fully responsive design that can work on many different devices and also in any browser.
Spa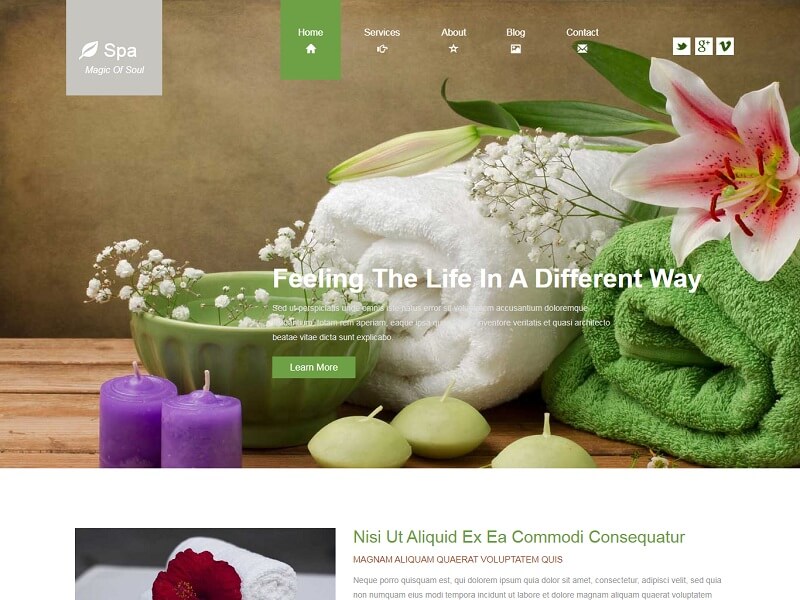 Spa – It is a completely responsive design that will be the perfect solution for any spa and salon website, whole design has an excellent animation for its fancy icon used in every section of the design best color scheme that will suit the design really well.