Native advertising is those that seamlessly blend into the look, feel, and functionality of the media format in which they appear and that dynamically change to fit the content. The majority of native adverts are displayed on news websites, along with associated postings, stories, and articles. Native advertisements use an appealing header and a sponsored picture. You may already know Ad Networks' significance if you blog. You may monetize your website and make a lot of money with the correct advertising network. Native advertising is the kind of commercial that stands out from the typical banner and display ads we encounter. So, in this blog, we'll discuss the 8 best native ads platforms, such as the ones listed below.
List of the Best Native Ads Platforms:
1. AdStyle
2. Viewdeos
3. AdPushup
4. Ezmob
5. AppMonet
6. Monadplug
7. Mgid
8. Taboola
1. AdStyle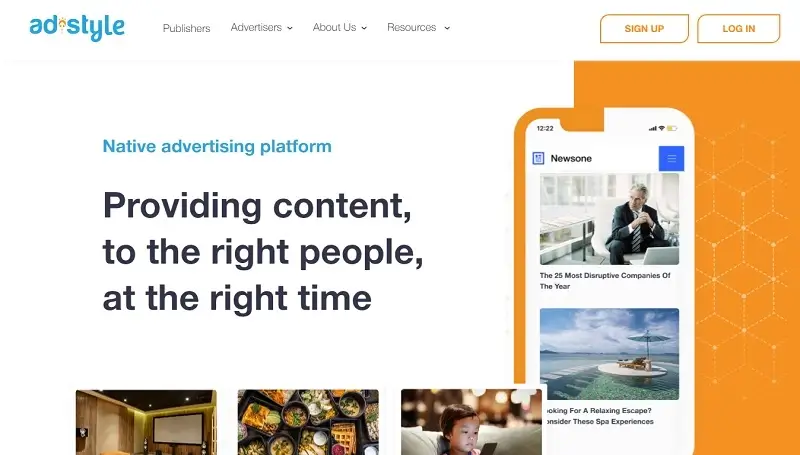 The fastest-growing native ad network in the world, AdStyle, was established in 2015 year. The firm is still actively creating new features that will aid publishers in expanding their operations globally and generating more income. Also, the quickly expanding ad network of AdStyle offers 210M unique visits and over 65 billion native ads each month.
AdStyle is the best ad network to use if your site looks to be receiving a lot of visitors.
Furthermore, it applies to all publishers in general, including small and major publishers, as well as well-known ones.
A highly responsive widget, limitless scrolling, API customization, and other outstanding features are among those offered by AdStyle.
Besides this, AdStyle is a high-paying ad network that can provide you with exceptional payment, round-the-clock customer service, a dedicated account manager, and a dashboard stuffed with all the required data. Not only that, but AdStyle also offers technical assistance if necessary for developing the appropriate widget, and plug-ins, and uploading it to the website.
Selecting their chosen payment methods, publishers can do so by clicking the Payment Method button.
The program now provides direct deposit for US publications and international wire transfers for publishers outside the US.
PayPal and checks are also part of it.
The publisher has an option between more than fifty categories and four ratings when determining which adverts to display.
2. Viewdeos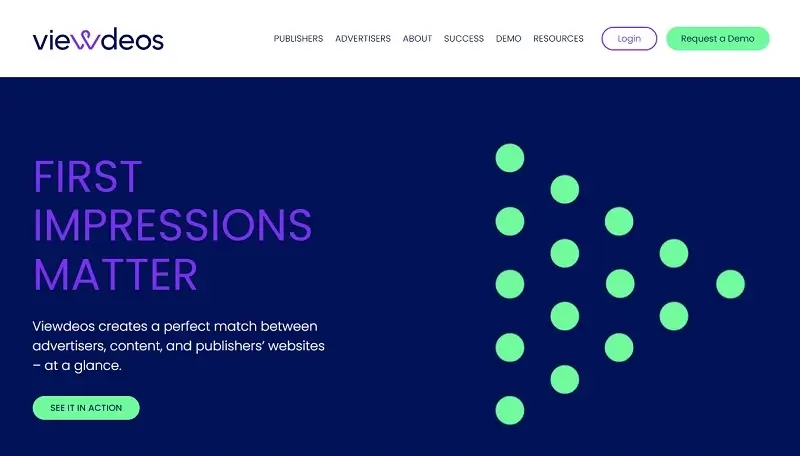 Viewdeos uses cutting-edge technologies for reporting, tracking, and optimization. Most huge organizations utilize the Viewdeos ad network to grow their business and protect their brand. Also, it connects its advertisements with reputed leading periodicals all around the world.
In the age of internet entrepreneurship, using outdated conventional ways won't allow you to make a good living.
To entice more major and top publishers from around the world, Viewdeos is giving a higher CPM rate in the market.
Now is the moment to join this great video ad network and start making money right away.
3. AdPushup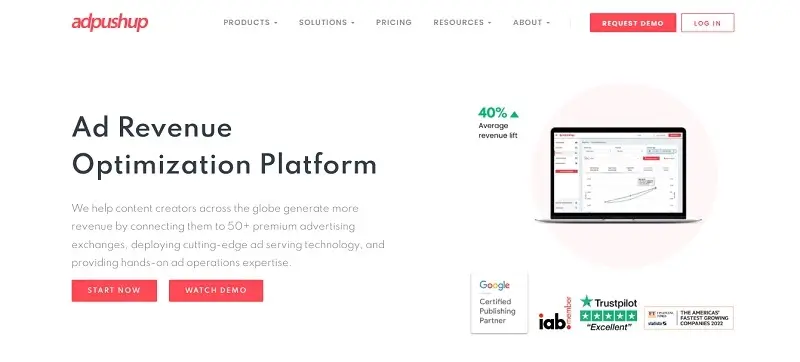 Adpushup is an ad optimization platform that helps content publishers maximize their ad income. It utilizes A/B testing and other strategies to enhance web page layouts while preserving the user experience. Many publishers empower the platform, which works in over 50 countries worldwide, and access more than 50 top premium advertising exchanges including OpenX, Media.net, Rubicon Project, Pubmatic, Index Exchange, and District M.
Through these relationships with leading global brands and campaigns, Adpushup enables its partners to reclaim revenue lost due to ad blockers as well as gain extra benefit from header bidding for inventory.
4. Ezmob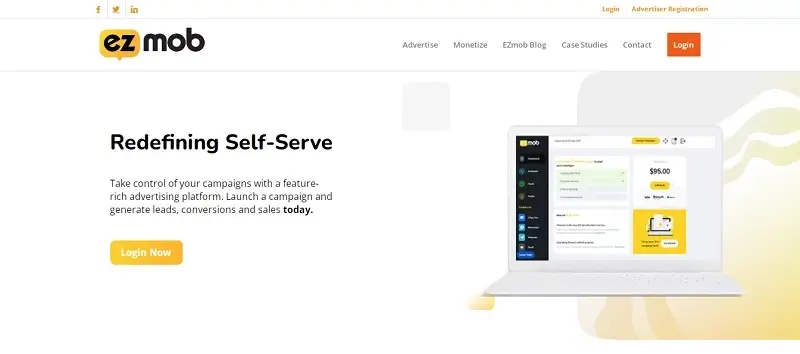 According to them, they provide more than 5 billion impressions each day. There are now four different sorts of advertising choices on ezmob. To assist their sponsors to expand quickly online, they continue to provide new cutting-edge monetization solutions.
Native Ads
Banner Ads
Push Notifications Ads
Popup Ads
Moreover, they already provide 5 billion impressions each day from their publishers, and they provide CPC, CPM, and CPV monetization options to make it easier for you to make money online. Moreover, you must take the initiative to join Ezmob if your website or blog receives high-quality targeted traffic.
5. AppMonet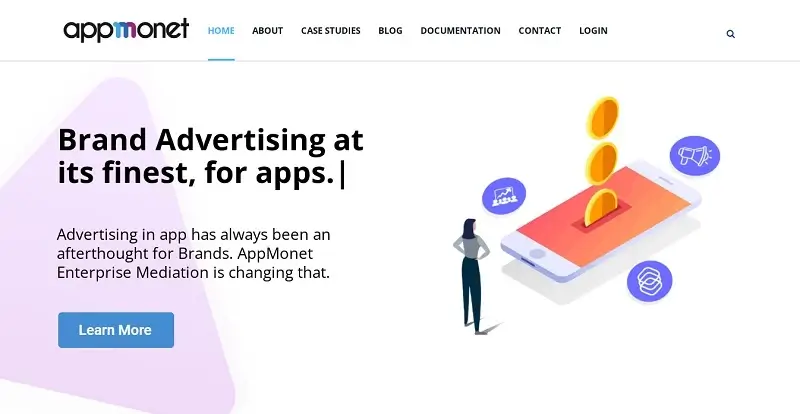 For those application developers who wish to make big money by monetizing their apps, AppMonet is a superb advertising platform. AppMonet provides pixel-clear adverts as well as high quality, enhancing the user experience. Moreover, this ad network uses header bidding, which puts advertisers in a competitive situation and allows you to choose the advertisements from the top-paying businesses.
The only in-app video player in the market to allow concurrent VPAID pre-caching, AppMonet dramatically increases your income.
They work closely with app developers and provide full 24/7/365 customer support since their qualified team of engineers and developers thinks the user experience is what counts most.
6. Monadplug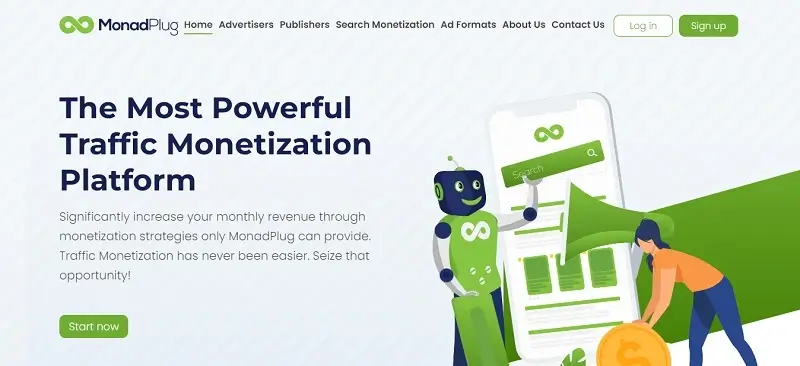 Leading ad network Monadplug constantly develops new, more intelligent, and more effective monetization tactics thanks to the efforts of their skilled staff. Also, they utilize many monetization strategies, which is what distinguishes them from other companies. Besides this, the market is home to a staggeringly big number of monetization networks. Besides this, selecting the top ad network from among the various options is challenging.
Publishers may exhibit their material on Monadplug and use it to advertise online for their goods and services.
Advertisers may get information about their advertising using the dashboard. Furthermore, statistics and payments, which is a fantastic network for growing income.
They help publishers and advertisers around the clock, and they market your company as if it were their own!
7. Mgid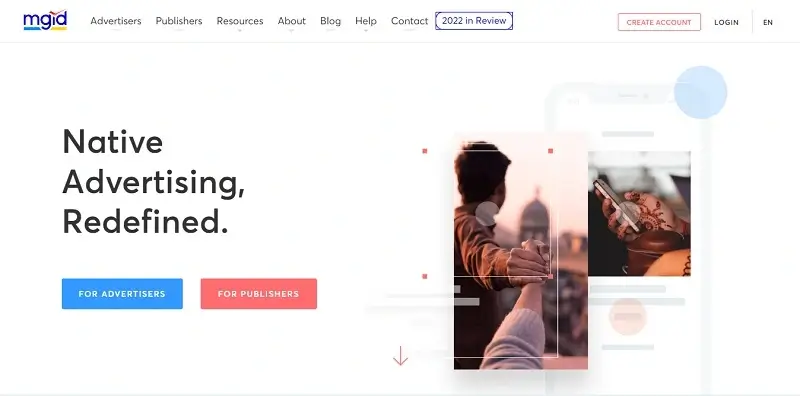 Another top-notch native ad network that has been operating online since 2008 is MGID. Initially, they provided a traffic exchange service; however, they quickly discontinued it and currently support native advertising. Moreover, around 52 categories, including sports, finance, entertainment, etc., are offered by MGID.
For tiny publishers, MGID is an excellent native ad network because there are no minimum traffic criteria for new publishers to join.
Publishers get paid after 30 days, with a $100 minimum.
Additionally, MGID provides some fantastic widgets that work in tandem with the layout of the website.
8. Taboola: Native Ads Platforms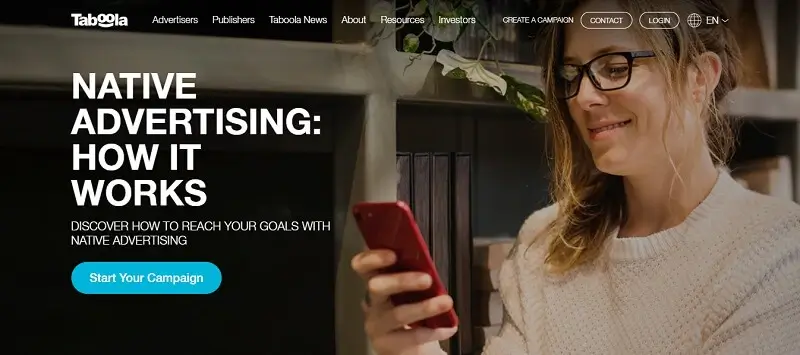 Taboola is another sizable ad network of reputable publishers that lets consumers pick the kinds of adverts they want to see. Also, the endeavor by this platform to improve itself in response to public criticism is a plus. Besides this, Taboola works hard to assist its publishers in generating more traffic for their websites, just like other native ads platforms.
Taboola serves approximately one billion internet users each month with over 450 billion suggestions for services, entertainment, and also goods. Articles, Slideshows, and also other types of content may all be sponsored by publishers.
Taboola adverts are so effective that they complement the content and increase viewer engagement.
Conclusion: Native Ads Platforms
Taboola is recognized to be the most dependable and largest ad network, therefore if you're searching for the finest native ad network for your website, I'd advise you to choose them. So, try additional native ads platforms suited for your site if you don't acquire clearance for these platforms.