Are you looking for the best WooCommerce plugins for Improving online Stores? In this article, We have collected some of the best WooCommerce plugins for your online store to increase sales and grow your business.
1. MC Wishlist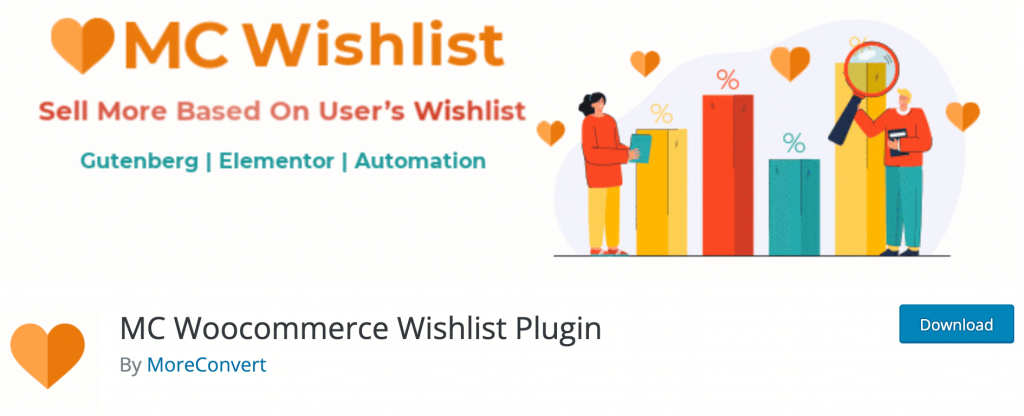 If you have an eCommerce website, you are most likely losing 30% of potential sales every day! With MC WooCommerce Wishlist, you can generate traffic to your site and gradually make visitors loyal customers by encouraging users to have a wishlist.
Also, you can send promotional emails automatically to encourage your users to finalize and buy their wishlist products. In the Premium version of MC Wishlist Plugin, you have full access to the advanced analytics section, and you can track your prospects until the purchase stage.
How Does MC WooCommerce Wishlist Plugin Work?
This plugin allows customers to create product wishlists easily. Once the plugin is configured, users can easily add and remove products by clicking on the customizable wishlist icon on the WooCommerce website. 
With the help of shortcodes and the wishlist dashboard itself, you can easily customize the style, name and page of a wishlist. You can use the shortcode for the 'Add to Wishlist' button and place it anywhere on the page.
This plugin is free along with many features, and there are even more advanced features and options available in the Premium version.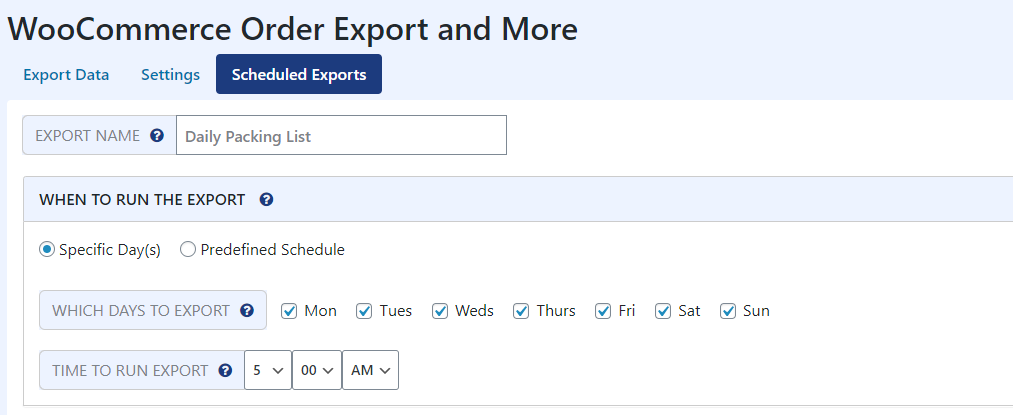 WooCommerce Order Export is an easy-to-use plugin that helps you export your WooCommerce orders and other data. It provides you with a sophisticated filter with which you can filter the data by date, product, coupon, various order properties, and many more. Furthermore, you are free to format the output in terms of date and time format, document name, line break, character encoding, etc. Also, you can reorder the fields and add and remove them with the drag & drop interface. The preview button feature enables you to see what the export looks like even before running the full export, which saves you a lot of time and effort.
Using this plugin, you can easily avoid exporting the same orders multiple times, thanks to the export new orders only feature. Namely, this feature lets the plugin remember which orders are already exported and helps you get only the new ones. The full power of this plugin lies in the scheduled exports feature. Using this feature, you can automate the orders export process and schedule as many exports as you want. You just have to set up the export (when to run the export, where to deliver the export – inbox, FTP, directory, and other settings) only once, and the exports will run automatically according to the settings.
3. TrustPulse
TrustPulse is the perfect Social Support alerts program that allows you and going through transactions and purchases. We enjoy it whenever we see many individuals having the same options before they decide. Through analyzing new evidence, users encourage others to see something up there on your project and provide individuals with the incentive to make a purchasing decision. TrustPulse is making it incredibly simple. Users can configure that on any website and personalize name tags to suit the colour combinations of your shop. You can wisely approach sites or items wherever you want to run a candidate, and incorporate on-fire alerts to demonstrate how often these people have taken action over a specified period. Conduct several ads and unique marketing using various items or websites with better outcomes. You usually get a packed video feed of different users, and comprehensive market research estimates to assist you in maximizing your campaigns.
Why Do We Use The Social Alert Feature of TrustPulse?
Everybody knows what you're saying regarding the company. With such a social confidence interface, you might let folks understand what your consumers think of the company and inspire consumers to purchase it from you. Showing media evidence of the company is just like giving a character reference to your guests. That's a perfect opportunity to make the job more believable.
Furthermore, it allows your customers to get an expert discussion on your company can help create confidence in exchange. With TrustPulse, you will also let individual visitors know your business's credibility by showing them the real-time acts your customers have done on your site. It can be some practice. You will inform them of a recent offer, subscription service, or email newsletter registration created by the customer. Understanding that people are utilizing your products/services may inspire the guests to take steps beyond delay. This is because such alerts validate the credibility of the company. TrustPulse lets you harness the real power of social evidence to raise trust, improve retention, and increase your revenue.
4. OptinMonster
OptinMonster is by far the most efficient content creation platform in the industry. This lets you turn the loss of online customers into subscriptions and clients. You will use it on the eCommerce website to decrease cart abandonment, improve inventory turnover, improve the mailing lists, view tailored website updates, cross-targeting on-site, and much more. Once you're concerned about increasing your email address and improving your revenue, you need this content marketing framework.
How does it work?
OptinMonster produces a pop-up. You may be using the pop-ups on your site to collect email addresses, promote deals, and persuade customers to start the fill-out cycle or create customer satisfaction. The device also provides a broad selection of pop-up types. You could use roller-ins, fluorescent tubes, full-screen mattresses, and other choices. In reality, you could use OptinMonster to build a toolbar type that doesn't even show up. The viewers would enjoy that. Also, OptinMonster lets you control whether and then when your pop-ups will show. You may give the guests a friendly pop-up, a pop-up during the game, or a pop-up during the case. Maybe the greatest of everyone, even if: pop-ups operate on smartphone phones and also desktop computers and notebooks. This is key as more people are turning to mobile phones and tablets while surfing the web.
5. WooCommerce Checkout Field Editor:
The plugin called Woocommerce Checkout Field Editor is a must-have if you own a serious Woocommerce website. Basically, this plugin helps you to manage (add, edit, hide, etc) the checkout form fields in your Woocommerce checkout page. You can easily add different fields based on your requirements ease. The plugin also comes with a unique UX oriented design.
How Does It Work?
First, activate the plugin Woocommerce checkout field editor and manager and select WooCommerce >>Checkout Field in the left menu bar in WordPress – now you're ready to edit the checkout fields easily. This comes with different features and also different form fields are also supported in this plugin.
6. MonsterInsights
MonsterInsights is the perfect google search console app for shops in WooCommerce. This arises with improved e-commerce monitoring that allows the user to monitor e-commerce details in search engine estimates easily. It's challenging for several newcomers to make much sense of Google Analytics data. MonsterInsights makes things simpler to give you all of the details users allowed in your WordPress dashboard. It means you understand data-driven decisions to expand your sales and boost your revenue. You could use it to identify other very widely viewed products and improve product pages. You can also monitor consumers of WooCommerce in Google Analytics and create a more customized experience for the customer.
How Do You Want To Use MonsterInsights?
MonsterInsights were made accessible for newcomers who did not have technical expertise and professionals to visualize the results that they could do to boost their visitors. The method of incorporating Google Analytics with WordPress has been modified. You shouldn't need to log in to your Google Analytics address whenever you would like to display your traffic information. Instead, you will find anything you want on the WordPress website. It's easy, and all services have been worked for, so if you're launching the first WordPress platform, well, they've considered you while they're making their proposals.
A free option is often accessible if you're not using money to buy paying services. The open floor plan is likely to get some restrictions. The most significant thing is that MonsterInsights works with a WordPress Google Analytics Dashboard that gives you measurable data results from on the inside of the WordPress dashboard. We've built unique documents that delete the smut and give everyone the facts count, so you can precisely see what is going on and isn't!
7. WooCommerce Product Options:
The plugin popularly called Woocommerce product options are one of the Best WooCommerce Plugins of its kind to add extra product options to your Woocommerce product detail page. This helps to add addons to the default product page of Woocommerce. This easy to use plugin with a unique drag and drop form builder makes it easy to add 22 different types of form fields. This plugin is downloaded by more than 20,000 users and is one of the leading in its category.
How Does It Work?
Apart from the basic form fields, the Woocommerce Product Options plugin supports advanced form fields like applying conditional logic, adding a custom price formula, etc which is not supported by many other Best WooCommerce Plugins out there.
If you like this article of Best WooCommerce Plugins, please comment on this Best WooCommerce Plugins article and share it on social media with your followers and friends.
Read Also – 12+ Best Ecommerce WordPress Themes 2023