Hey guys, today in this blog post, we are going to discuss the 5 best free HTML code generator tools in 2023. So keep reading.
Using free tools to achieve various feats in the online world is nothing new. However, using it for hypertext mark-up language or HTML is one of the most common practices. You might be thinking, is HTML still around?
Yes, it is, and perhaps it's now more important than it ever was. That's why editing HTML codes is growing in popularity for websites and other purposes. Many APIs also use this to ensure high-quality performance without compromising quality or speed.
That's when automated HTML Code Generation steps in and helps a coder. So, which HTML code generator do you need? Moreover, what do you need to know about using such tools?
While HTML coding is an intricate subject, let's try to simplify it while browsing top-5 free HTML code generator tools today.
What Is A HTML Code Generator?
An HTML code generator is a remarkably convenient tool that helps web developers in many instances. The primary purpose of this tool is to help the coder generate HTML codes, which can be pasted into any HTML editor.
The significant benefit of using this tool is that it helps them generate this code automatically without causing any problem. In this tool, a developer can select the values as they need, then this tool will automatically generate the code.
However, you might be wondering, why do writers have to use such a tool to generate HTML codes? Here are five reasons:
Detect Errors
Error detection is one of the primary purposes of such a tool. In order to create a website without any errors or problems, the developer needs to ensure there isn't a single line of buggy code in their HTML sheets.
That's why this tool helps them scan for syntax errors. Then, the tool fixes the mistake immediately, as you type in the incorrect or inaccurate code. As a result, the tool ensures that your code is up to standards and ready for execution.
Detect & Replace
One of the most common problems that editors face is finding code that needs replacing. In order to do that, they employ these tools as it helps prevent the editor from analyzing each string of code. As a result, the developers can freely search and replace the error-filled code.
FTP
FTP integration is yet another primary benefit, as it can help you connect your primary webpage with the FTP client.
Auto-Completion
If your code is incomplete, then an HTML editor can add the necessary aspects and elements to the code to ensure its high quality and integrity.
Syntax Importance
Syntax errors are an HTML coder's worst enemies. That's why an HTML code generator can help them generate error-free codes without the added hard work.
5 Best Free HTML Code Generator Tools In 2022
The purpose of a free HTML editor is to provide you with all the necessary options to code perfectly. In order to execute a proper HTML text, auto-completion must come into play. This kind of editor will give you all the options that you'll need, including a concise UI.
That's why you must pick the best tool with caution. However, you don't have to, since we did that for you. The list we're going to explore today is some of the best free HTML code generator tools today. So, let's begin:
1. HTML Link Code Generator By Utilities Online
HTML Code Generator is one of the best tools to help you generate linkable content. In order to create viable backlinks on any website page, the coder needs to go through various coding elements. However, this tool makes it more accessible.
Therefore, here is how it does it: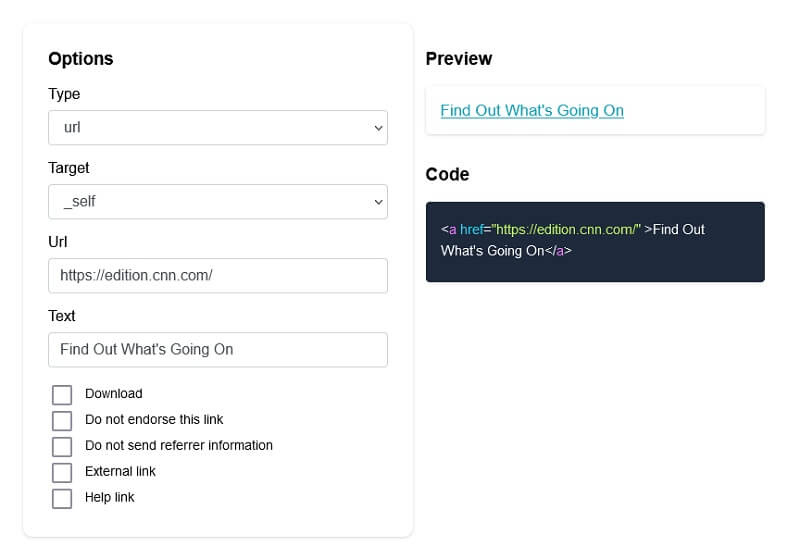 As you can see, the website we put in has become the linked text we wanted it to be. In other words, an HTML Link code. That's why Utilities Online's HTML Link Code Generator is one of the most necessary tools that developers need today.
Pros-
Easy to use
Generates quite efficiently
Transparency
Cons-
2. Proper HTML Link URL Tools By Tools.FromDev
ProperHTML by Tools.FromDev is a remarkably easy tool with an even easier UI. This tool helps you create the clickable URL within the blink of an eye. This follows the same pattern as the earlier discussed tool, and the UI looks like this:

As you will see upon visiting this tool's website, there aren't any complications. So, it makes it easier for you to generate the code and provides the additional option of opening the link in a new window.
Pros-
Not difficult to use
Convenient
Thoroughly creates HTML link codes
Cons-
Can lag on slower internet connections
3. HTML Code Generator By Quackit
Quackit's HTML Code Generator is a remarkable tool, especially if you're looking for a quick yet detailed solution. This tool goes into depth to ensure your code generated is exactly the one you need.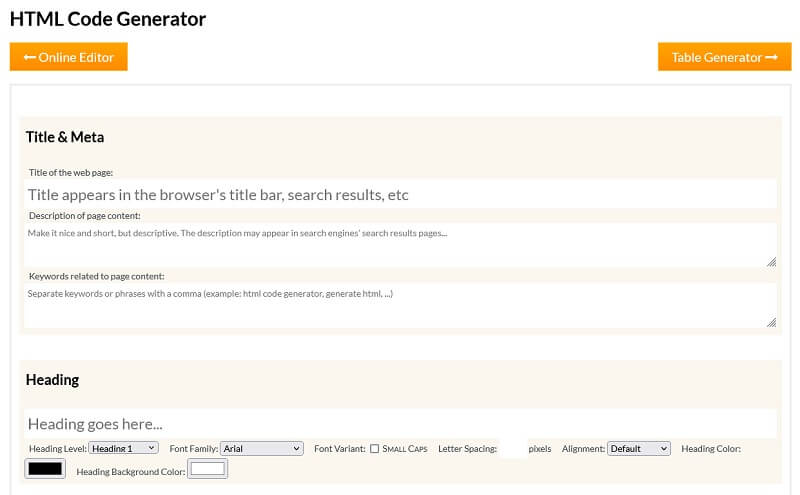 This is just the top part of the tool, as upon scrolling down, you will find more options such as Paragraph, Background, and the editor where your HTML code is generated.
Pros-
Highly detailed and immersive
Ideal for SEO experts
Quick & convenient
Cons-
4. Grepper's Search Snippets
Grepper's Search Code Snippets are great at finding specific HTML code. This tool acts as a library and can help you find and generate various HTML codes, such as this: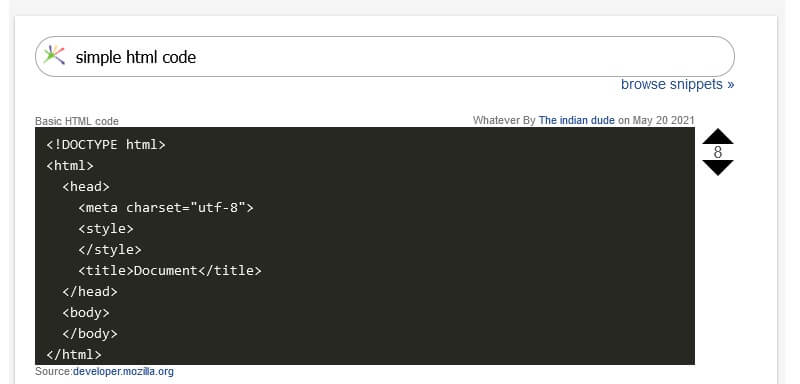 This makes Grepper one of the easiest code generators today, as it can find pretty much any HTML-related code.
Pros-
A vast library of codes
Quick generation
Easy to understand
Cons-
Searches can be slow at times
5. iFrame Generator – HTML Embed Code Generator
Iframe Generator, HTML Embed Code Generator by iFrame is an easy-to-use and immersive tool. It helps you input your required alignments, such as this: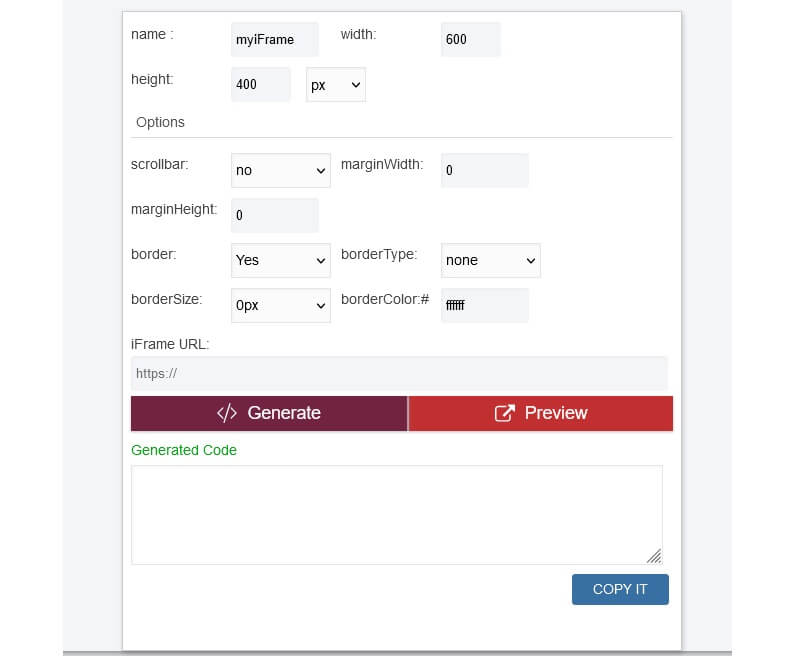 Using this tool, you can generate code according to the size and margin you wish for. That's why it's one of the tools on this list that can help make it easier for HTML developers.
Pros-
Fairly simple UI
Code preview
Cons-
Conclusion
These are some of the leading HTML editors that you will find today. As you will notice, each one helps you generate a different aspect of HTML code. So, use these free HTML code generator tools accordingly.