Hey guys, are you looking for the best WordPress plugins for business websites? If so, then you have landed at the right place. In this article, I have listed the 8 best WordPress plugins for business websites that will go best for you in 2022. So keep reading.
Creating a business website is not an easy task to do. A lot of effort, energy, and patience is required.
There are too many things that you have to focus on while building a business website. If you are making your website on WordPress, then there are too many options for you.
There are too many flexible functions provided by the WordPress CRM, but it is still missing some.
So to incorporate those functions that are not available in-built, you need to install some plugins that can help you make your website user-friendly and more accessible for you and your visitors.
The plugins work to make your site faster tautens the security, and increase the traffic.
Here, we've got you a list of the best WordPress plugins for business websites.
List of The Best WordPress Plugins For Business Websites:
1. Yoast SEO
2. WP Forms
3. Akismet
6. Live Chat
7. Backup Buddy
1. Yoast SEO

It is necessary to have SEO plugins if you are working online. Yoast is one of the most popular SEO plugins. It helps to optimize the website for different search engines.
You just have to enter the key phrase, and the tool will adjust your page around it. Not only the SEO, but it also analyzes your content and its readability, images, meta-description, title, and keywords.
The plugin comes with the most advanced XML sitemaps functionality. And let you add a link automatically to the RSS feed pointing to the original blog post. It also has breadcrumbs functionality.
2. WP Forms

You need a form for your website, so the WP form is the best option. This is the beginner-friendly contact form plugin. It is best to create highly effective and attractive forms quickly and easily because of its drag and drop builder.
You can create a form for email subscription, online orders, contacts, surveys, polls, and any other type in less than 10 minutes. Moreover, you can create a secure form with ease.
If you are looking for templates and advanced features, then the paid version is more appropriate.
3. Akismet

All set to publish your website? Looking forward to having comments from your audience? Well, here is a flaw. Not every comment is valuable and genuine. As a result, you can encounter a lot of spam comments.
Spam comments can be a reason to make it hard for the Webmaster to distinguish between the positive and negative feedback and also lower the chance of getting a high rank in search engines results.
Therefore, Akismet is the most essential plugin and you must have it to deal with the bot. With Akismet, you will be able to eliminate spam comments.
Not only the spam comments, but the plugin can also check the contact form submission against its global index database to remove the false information.
It also has the discard feature that lets you block the worst spam, save your disk space, and accelerate your website.
4. MonsterInsights
MonsterInsights is the new name of Google Analytics. Although the name is changed, the function of the plugin is still the same.
Data tracking is complicated, and understanding how the clients are finding your website is also necessary. To tack this, MonsterInsights is there for you. The plugin helps you connect with Google analytics to add, customize, and manage it within your WordPress dashboard.
It is helpful to track and improve your website. For example, you can better understand the content, active sessions, conversion, bounce rate statistics outbound, internal link, and many other options.
5. W3 Total Cache

There is a need to make your website faster. According to research, on average the user waits for 3 seconds for the site to load. So faster loading sites are more likely to rank higher, which means more traffic and more conversion.
For this, use the W3 Total Plugin that will help you to reach this goal. The plugin lets you enable the cached and compressed files to your visitors. By doing this, the load on the server is minimized, and the speed of your site is accelerated.
The plugin will definitely help you to evolve from the bottom, especially if you are a beginner.
6. Live Chat

The live chats are now trendy, and customers find them more accessible because they get their answers without any wait. So to make sure to have a live chat plugin for your website.
For easy functionality, install the Live Chat plugin. This will help you to carry on millions of immediate chats. In addition, you can customize the chatbox and also create an offline customized message.
This also allows having an entire dashboard for automatic admin chat. This frequent interaction of you with the customers can help you to increase the conversion rates.
7. Backup Buddy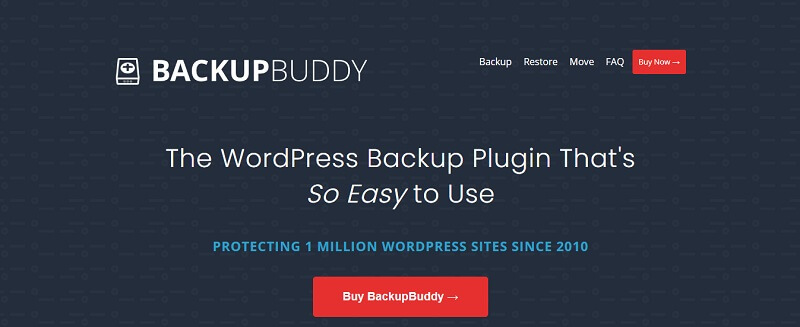 Building a business website is not impossible, but it's a bit tricky to secure it all the time. There are millions of hackers and doesn't matter how much your website is secure. There is always a chance to get hacked.
For this situation, always have a backup plan with a backup buddy plugin. This will help you to back up your profiles, themes, media files, and other plugins.
You can schedule the backup. You can also get the backup files off-site to your email or an FTP server, Dropbox, Amazon S3, and other options.
It also provides an email notification. So, whenever the backup starts and is complete, you will get notified.
8. Google XML Sitemaps

High ranking is essential for every business website. Better indexing from a search engine can improve your site ranking.
And this can happen with the Google XML Sitemaps. This supports the WordPress URL. It also helps to provide detailed XML sitemaps. It also doesn't slow down the site's performance and doesn't break it down.
Increase your site's credibility and exposure and help the site to rank higher on search engines by using the Google XML Sitemaps.
Wrap Up
These are some of the best WordPress plugins for business websites 2021 that should use to give a better experience to their customer on the site. And also to increase the traffic and rank higher on the search engines.
Author BIO:
Soha is a keen content writer at Revounts. You can also call her a deal hunter because of her curious personality she digs out the most competent products and offers available in the town and dispatches to her readers so that everyone can get profited from the current propositions.
She also focuses on incorporating diverse topics to keep her readers to keep them engaged, excited and always looks out for what more she can bring to the table.