Hey guys, today in this article, we are going to discuss the 7 best elementor add-ons for 2023. So keep reading.
Elementor, sounds like something unique? But, it is the perfect page builder to get the best out of your WordPress websites. It is filled with features and is versatile. The built-in functionalities of elementor are already expanded. You can still extend them with add-ons. Are you seeking a new way to change your sliders? Or do you wish to change your heading? You can get lifetime WordPress support from a good team.
We have noted the best elementor add-ons for 2023. You can have them to make your website prominent.
1. Ultimate Addons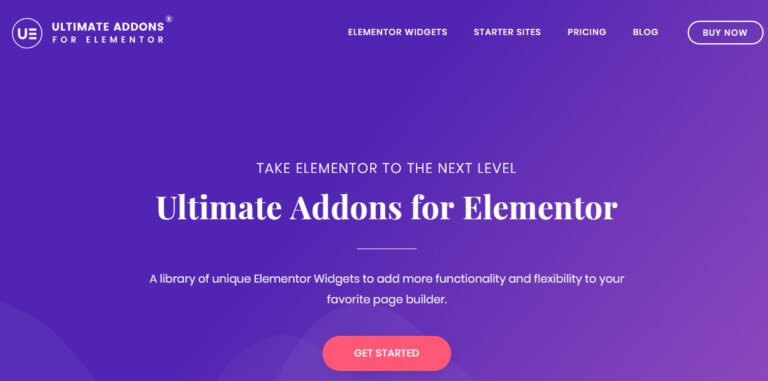 Ultimate Addons is a rich Elementor plugin that you can not neglect. It offers 21+ widgets consisting of unique and advanced features.
It has modular control features through which your website can load faster. Besides this, it provides Post Widgets and WooCommerce features. They help you to attractively display all your content/products on your site.
The ultimate Addons offers limited but impressive widgets. It doesn't have free versions to try out the widgets. You will have to do a payment for a premium package & its live experience.
Key Features:
Customizable Widgets
Responsive and Mobile Friendly Widgets
Copy one element from another domain
More than 50 stylish and Pre Built Widgets
Pre Built templates and blocks
2. Elementor Pro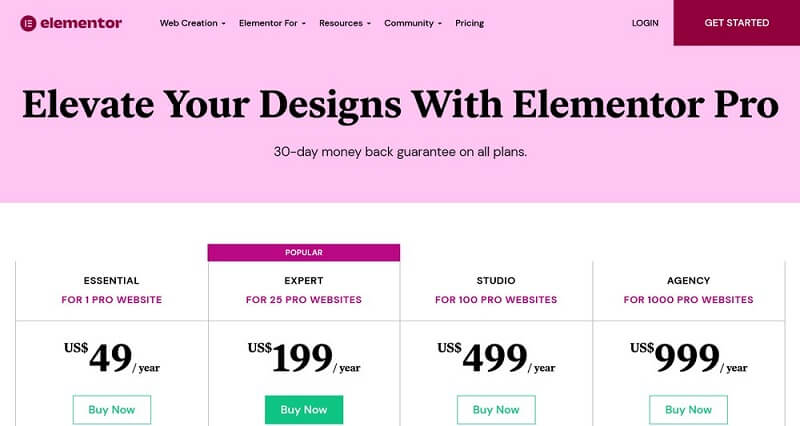 Elementor Pro is one of the official premium elementor add-ons. It is an in-house product of Elementor and performs best with Elementor Pro. The premium add-on enables you to smoothly customize templates and create landing pages. It also provides various ready-made templates that you can use to build a new landing page. Besides that, you can customize a template, that already exists, as per your choice.
It has Theme Builder flexibility that allows users to build dynamic websites. The elementor Pro enables you to access all the features. It also enables the user for the following-
Use Header/ Footer customization
Add any kind of code element like JavaScript, and
Modify CSS from your dashboard.
Key Features:
Smooth integration with Elementor
Overall control of the website design
Unlock add-on widgets in the free package of Elementor
Responsive and Mobile- friendly widgets
100s of pre-made templates and blocks.
3. QI Addons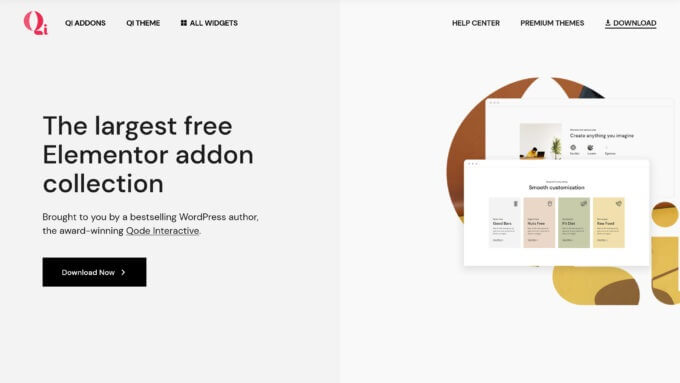 Qi Addons is a completely free add-on for Elementor. It has designs that enable the user to develop and customize the website easily. The add-on has 60+ custom-made widgets. Hence, adding a new element to the website design is easy with Qi Addons.
The Qi Addon has features of modern design and Qode Interactive. These features make it the best elementor addon in the list.
Please note that Qode Interactive teams' have WP designers and developers with an outstanding record. They have made Qi Addons for Elementor.
Key Features:
It has a different and minimal style with outstanding aspects.
There are 60 Elementor Widgets that contain the following:
Blog lists
Process flow
Comparison sliders
FAQs
Table of contents
Interactive banners, progress bars, and charts
How -to a schema, etc.
4. Master Addon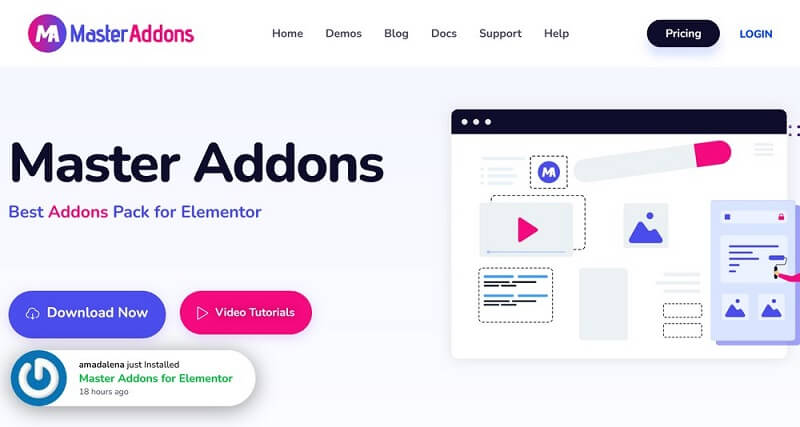 Master Addons are the most reliable elementor add-ons. It has over 100k active installs. Besides this, the addon has a 4.5 rating on the WordPress repository. You can easily use it for your site.
The addon comes with a large library of Elementor widgets and templates. It has 31 Elementor widgets in a free package. You will get additional 18 widgets if you buy a premium package.
These widgets offer support to your website by adding many features such as:
Dual heading
Animated headlines
Progress bars
Background slider
Particles background, and many more.
These advanced features offer lots of options. They bring more flexibility to your website design.
Key Features:
Multiple design elements to enhance your site
11 extensions that add appealing design elements
Custom CSS
49 tailor-made Elementor widgets
Works well with Elementor
Customize element positioning
CrocoBlock – JetPlugins Elementor Extension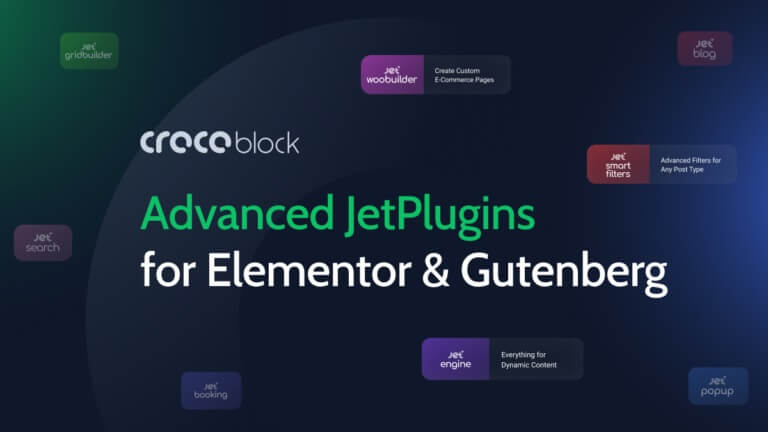 Are you looking forward to upgrading your Elementor experience? Croroblock's JetPlugins is the most useful toolkit for your website. It comes with lots of pre-built demo sites and templates. The tool has a versatile multipurpose base theme called Kava Pro.
There are 1000s of theme blocks, sections, and mega menus. You can utilize them with crocoblock. It has various ready-made pages that are accessible from JetPlugins packages or Elementor.
You can add top-quality designs to your website with the Crocoblock bundle. Apart from this, you can personalize your website with its elements like WooCommerce, Popup, etc.
Key Features:
Access elements like toggles, tabs, etc.
Add rich content to the footer and header
Add animation to websites without coding experience
Includes a range of web-building plugins
Free access to Kava Theme
Smooth integration with Elementor
6. Starter Templates

Searching for a swift way to build a website through Elementor? The Starter template plugin is the best. It offers access to 280 + templates that are built with Gutenberg, Elementor, and other page builders. The plugin offers you full access to page templates/ websites. You can smoothly import them on your site.
You will just have to update the content in the starter template. It will save you lots of editing and designing time. The plugin is free and outstanding.
Key Features:
Access to import ready-made templates on your website.
Elegantly designed templates
Import diverse pages/templates on the same website.
Import ready-made Elementor templates and blockers through the page builder.
Access for single-click import.
7. Droit Addons

If you are looking for an easy way to design a custom website, Go with Droit Addons for Elementor. It's a great tool for designing an amazing website. The plugin is free, completely responsive and cross-browser tested.
It has 23+ new widgets, 9 full-page templates, and 70 block sections. You can design an attractive home page, build a blog page with a new sticker, and much more. Besides this, it exhibits advanced caching abilities that enables your website's pages to load faster.
Thanks to the Droit plugin!! You can do lots of things to make your website appealing. So, try it now.
Key Features:
Most advanced features in the free package.
Has an advanced editor
Overall control of all the widgets
Add custom CSS.
Conclusion
I hope you like this article on the 7 best elementor add-ons for 2022. Elementors are well known as the most powerful page builders. Even the learner can easily use them. The plugins allow add-ons and extensions that enhance its features even more.
Elementors provides you with an easy process and the best features for your website design. You can install the best elementor add-ons mentioned above. Please do not forget to share it with your friends and social media followers. Thanks for reading.
Author's Bio
Jinny Sarah Jacob works as a Sr.Technical content writer at a leading WordPress development company 24×7 WP Support, that works with WordPress plugins, themes, and errors. She is a passionate technology geek at heart and loves to write blogs on marketing, technology, B2B, big data/analytics, business strategizing, etc.