Hey guys, if you want to learn how to extract text from an image using OCR technology then this article guide you. So keep reading.
OCR tool is a helpful thing for many people today. So, how do you use it?
OCR allows us to convert images into editable text. The global market value of OCR stands at around 8.9 billion as of today. So, it begs a few questions:
How exactly does it work?
Why is it important?
Why use OCR?
And how do you use it?
To find the answers, let us dive right into them.
What Is OCR Technology?
OCR, or Optical Character Recognition, is a technology that converts images to text. It is widely used in the banking and financial industry to read cheques and bank statements. OCR can also help in the process of filling out forms by converting scanned documents into digital files.
The tool or program is named after the process, which is converting scanned images of text into editable text. The OCR software breaks down each letter into a series of lines, curves, and points. The algorithm then converts these shapes into ones and zeros and assigns them a value that corresponds to the letter.
OCR software can scan and convert paper and digital documents like PDFs and Microsoft Word files into searchable electronic formats. OCR software is also used by people or businesses.
Why OCR Technology Is Important
We know that optical character recognition helps us convert images of text into machine-encoded text. Therefore, it is important because it can be used to convert text into digital data. Scanning a document and then converting the scanned image into a text file also saves a lot of time.
Nowadays, OCR software can be used to convert scanned documents, faxes, and other paper documents into digital formats. It can also be used to extract data from an image, scanned document, or any other manuscript for use in a database, data processing, or spreadsheet.
So, to sum it up, the importance of OCR is that it allows people to search for words in a document without having to manually type them all out. This saves time and makes searching more efficient.
Who Should Use OCR?
The answer to this is simple: anyone who needs editable text. Suppose you have images, documents, or other sorts of manuscripts that you wish to turn into editable text. In that case, using OCR should be one of your priorities. However, here are a few cases that should tell you who should use OCR:
Students should use it to improve academic efficiency by scanning important documents;
Academies should use it to save important information for their students to access;
Businesses should use it to index important data and save it in virtual form;
Anyone who wants to turn their physical text into virtual and store it online.
Therefore, OCR has a vast implication, and everyone who needs to convert their images to text should use it.
How To Extract Text From An Image Using OCR Technology?
Using an OCR tool is as easy as it comes. However, not all OCR tools or technology are created the same. That's why it's important to find the right tool. Once you do, you can rely on these steps to extract text from images:
1. Find A Viable OCR Tool
The first step is to find a viable OCR tool to extract text from images. But how do you go about finding such a program? The thing about OCR is that it's not exactly a new technology. However, that doesn't prevent tool-makers from making something outstanding and fresh.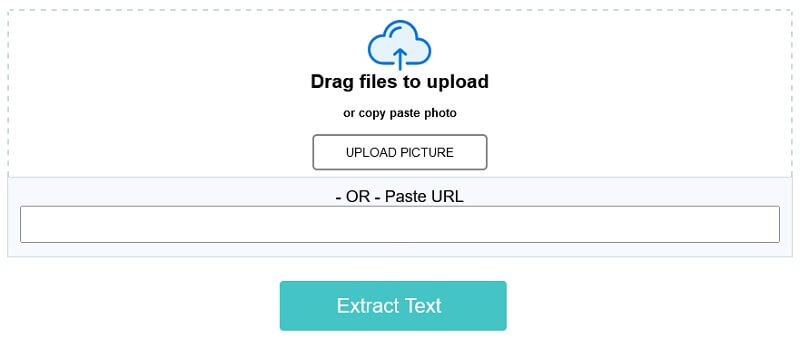 That's why you need to find something that's:
Offers to extract multiple images;
Easy to use;
Simple UI design;
Quick and convenient.
That's why picking a tool that allows you to reap the benefits of OCR is important. As long as it has all these features, you're good to go.
2. Pick The Image(S)
The next thing you'll do is pick the image you need to extract text from an image. Now, these images can be anything from scanned documents to pictures of text that you might have on your phone. However, you need to ensure that:
Pictures aren't blurry;
The text isn't rough;
It's in the language supported by the OCR tool.
Now, it's important to notice that while AI does extract images from mildly blurry or rough images, anything over-the-top will cause trouble. So, as long as your image has all these qualities, it'll be easy to extract text from it.
3. Upload Or Paste The URL of The Image
The next step is uploading the image or document you wish to extract text from. This could also be the URL of the image that you wish to convert. So, here's what it looks like once the image is loaded up:
As you can see, the tool is captcha-checked and ready to extract text from an image. So, all that's left to do is now move to the next step.
4. Let It Convert
The OCR technology doesn't take any time to extract your text. Even the most text-rich images would only take a few seconds to convert. Therefore, the next step is to wait for the tool to do its job.
Some tools would show you the process; others would simply show your browser tab loading until the conversion is complete. Either way, you won't have to wait too long.
5. Edit Or Use The Text
Once the image is converted, you'll see something like this:

The arrow is pointed towards the feature of this particular OCR tool that allows you to copy the image to the clipboard. After this, you can either edit the text to make it suitable or use it in your content.
In some cases, people would index text like this if they belonged in universities, institutions, or businesses. This is an easy way for content creators and students to extract text for citations. So, once the text is churned out, use it as you deem fit.
Conclusion
These are some of the steps you'll have to take to use the OCR technology to extract text from an image. So, as long as you find the right tool for the job, you'll find it exceedingly easy to do.