Hello guys, today in this blog post, we are going to discuss how to make creative Google slides presentations and how to find a ready-made template. So keep reading.
Many techniques can help you engage your audience and gain a better understanding of the topic of your presentation, but design still plays one of the most essential roles. Boring and monotonous templates have long bothered modern users, so it's better to use creative slide decor.
And to make the search for the right template easier, a team of experts has put together the most up-to-date tips regarding creating or finding a creative design. And, of course, we can't get without a few stylish templates from MasterBundles — an overview of cool options awaits you at the end of the post!
How To Make Creative Google Slides Presentation On Your Own?
So, of course, each user can immediately select a ready-made creative template from the https://masterbundles.com/templates/presentations/google-slides/ tab if time is running out. But what if you have enough time to create an original design? Then you can make unique slides. However, use a few important ideas from experts that will definitely help you achieve the best result:
1. Base your presentation on a story.
The human brain is designed to automatically respond to stories. It's part of the survival mechanism ("Don't leave the cave! There's a huge mammoth roaming around!") and it's also a great way to have fun. First of all, think about the story that will form the basis of the presentation. Next, allocate space on your slides for photos and graphics to help your audience make eye contact with your story.
2. Structure your slides clearly.
Make sure you have a welcome page, a plain page, a trigger page, a few basic information pages, a page to visually showcase products or services, a "thank you" page, and a feedback page, too.
3. Design should convince, not distract.
Create a Google Slides presentation with a purpose —you don't need it to fill an empty wall behind you or to repeat exactly what you're saying. Such presentations are useless. You should use quotes, key phrases, images, and other visual elements that will support and illustrate (but not overwhelm) the persuasive power of your presentation.
4. Brevity is the soul of wit.
Don`t load the slides with text, otherwise, your audience will simply fall asleep in the middle of the presentation. Creativity is not about theory, but about practice, interactivity, and communication. So limit yourself to a maximum of 60 words per page and tell the rest verbally.
5. Use visual support to digest abstract ideas.
A hundred words and a long list is a bad idea, everyone knows that. But if you can't use a million numbered bullet points to summarize your presentation on your slides, then what should be on them? Use visuals such as Graphs, Charts, Segments, or anything that will showcase your argument and help support it.
And, of course, remember the accents. If there is some important idea, then be sure to highlight it with a color or a shadow effect so that the listener's eye will stop at it, and not wander around the entire slide.
Creative Presentation Features: Choose The Right Template
Since the marketplace has a fairly large assortment of Google Slides designs, it seems difficult to choose a ready-made creative template. In fact, the process is simplified if users know five tips for quickly finding the perfect option:
In the color scheme of the presentation there should be juicy and trendy color combinations;
The more varied the slide design, the better (so always make sure that large sets of slides are not monotonous);
The template should be customizable so that the user can easily add their own creative elements;
The design should have a lot of space for photo/video content;
The template should have convenient and easy-to-read fonts or allow them to be replaced with those that the user needs.
There are many great options at the https://masterbundles.com/templates/presentations/google-slides/creative/ tab that are 100% creative, stylish, and very easy to use. Let's explore a few of them!
Of course, the abundance of tones can be distracting, but not in this case! The shades are chosen so well that the creative Harukaze template attracts every eye. The slides have plenty of space for any type of information.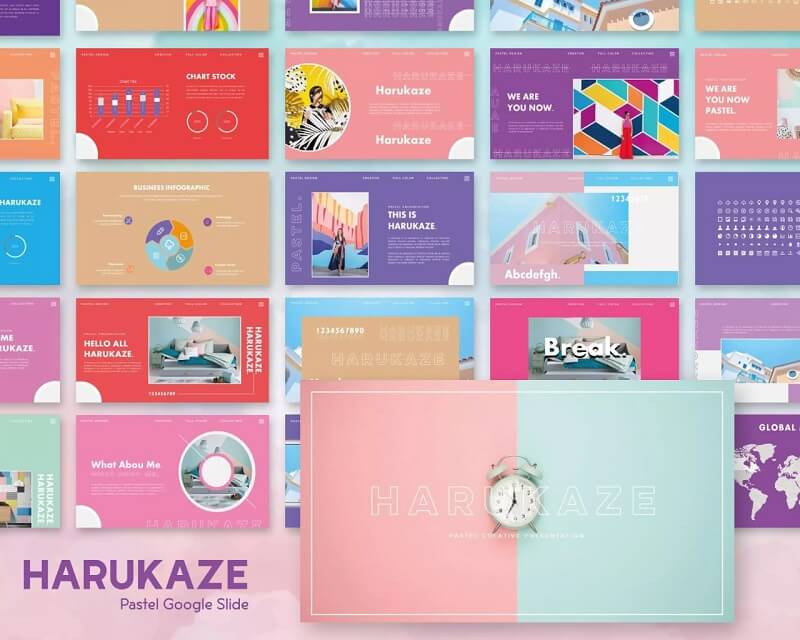 A great creative Google Slides template suitable for various spheres from fashion and photography to various business and corporation purposes. The whole design is bright and eye-catching, and the color combination is trendy and fresh.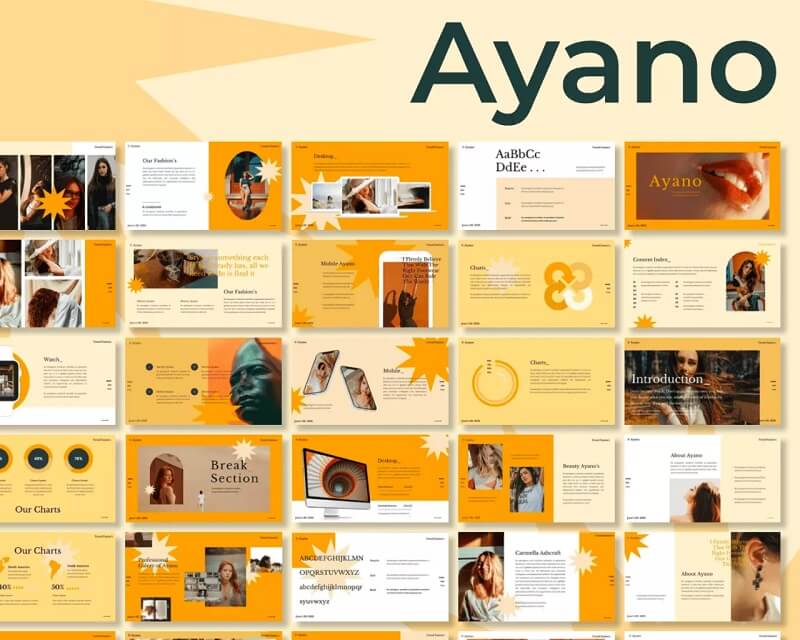 It's another splendid creative design that is definitely worth your attention. Plenty of cool fonts, easy color change, free support, and forty cool slides will definitely appeal to users.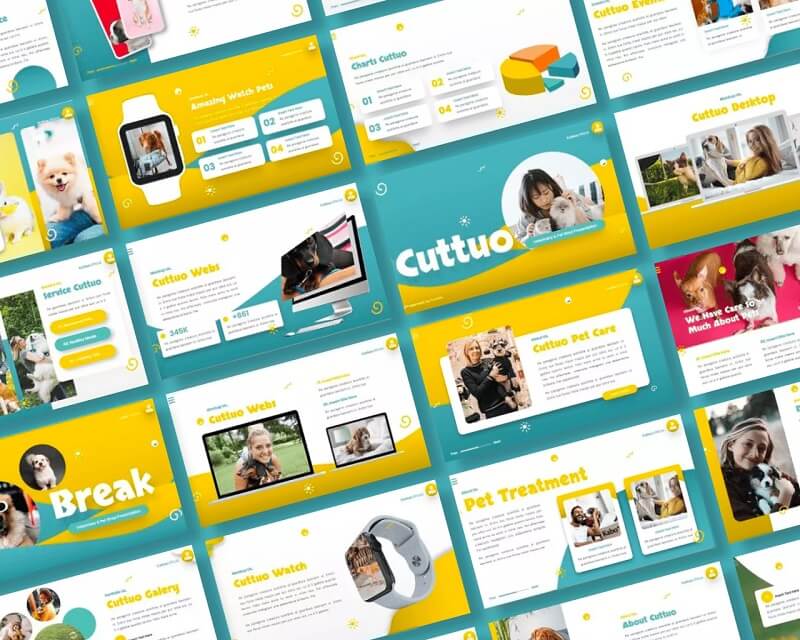 If you work with presentations often and need creative designs all the time, then it is better to pay attention to bundles. Huge Fashion is one of them! It contains 300 slides and five color themes to give you a great presentation of information through a variety of decors.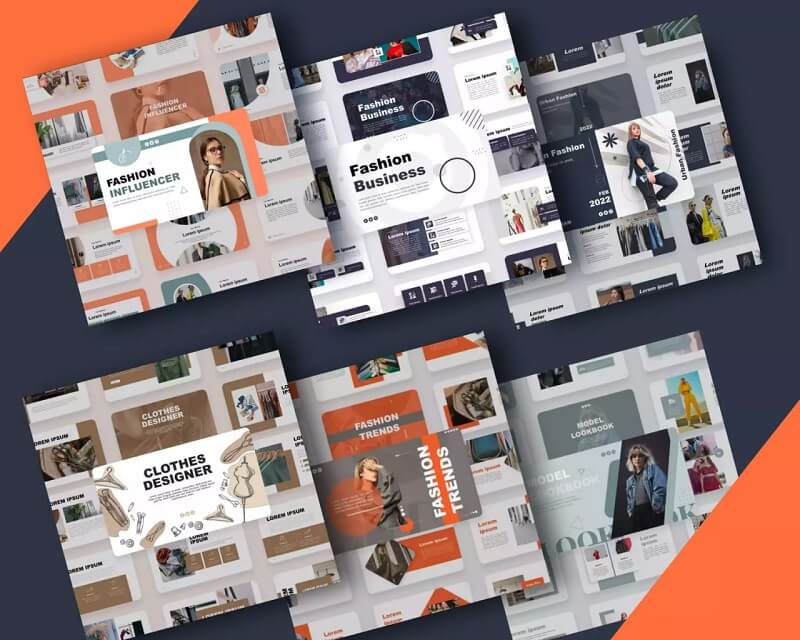 In this set, you will be able to see about fifty slides with different layouts — some of them emphasize the visual, and some will perfectly display infographics and text blocks.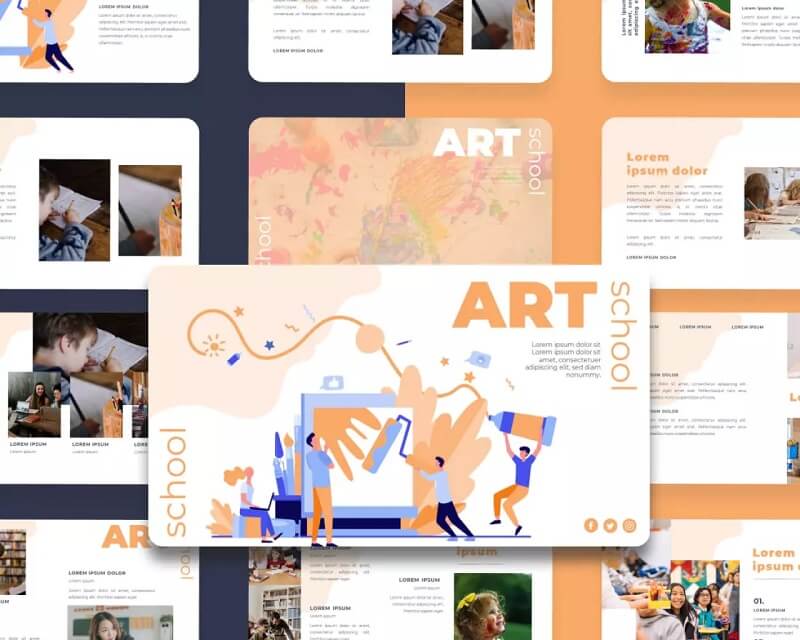 In some situations, you simply cannot do without creative templates on a narrow topic — this Star Wars set can serve as an example! The customer can experience 300 slides with interesting designs and eye-catching elements.