Even after the event has concluded, an event manager's work is not finished. Project and event planning may be a challenging process without the proper event planning and event management tools. Managing all the components of a complicated event can be taxing. It is the responsibility of the events team to make sure they stay on top of all aspects of event planning, from the initial event concept to the check-in procedure.
How do they manage to keep up? Using technologies for event management. Using a variety of event planning tools to make them work for you, not just one. But which are the best tools to use when preparing an event, given the abundance of event management tools, event planning tools, and corporate event planning tools available?
All-in-one Tools For Corporate Events
Taggbox
The best way to increase audience involvement at any event is to deploy a digital screen that collects and displays social media feeds from various platforms. The audience adores it so much!
Taggbox is a brilliant social media aggregation and display tool. It gathers and presents social media feeds in real-time on a lovely Instagram & Twitter wall for events. The user-generated social media feeds are compiled from a variety of sources using things like hashtags, mentions, and keywords.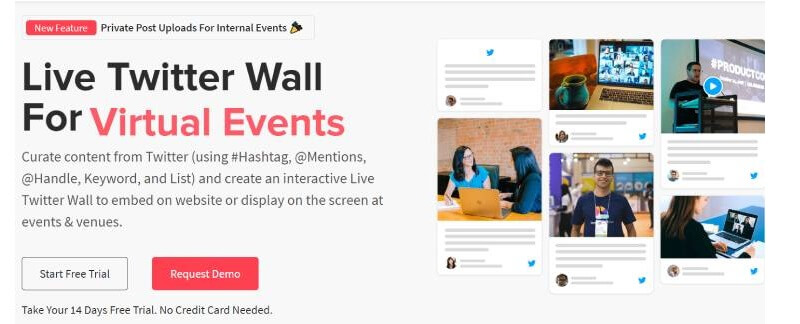 Amazing customization, curation, and analytics tools are included. Through its Sentiment Analysis, it provides a comprehensive understanding of audience behavior.  It is a fantastic method to generate positive word-of-mouth advertising for your event, both before and after it takes place.
Idloom Events
From the registration process through invoicing and paying, Idloom-events is an all-in-one event management platform that offers all the elements required for thorough event administration. The platform specializes in offering services to governments, event planners, trade exhibitions, and public relations firms. Simple guest management, last-minute registration options, and website construction for your event are key advantages.
Accommodations for attendees, such as your keynote speaker or visiting staff, can also be reserved.
GlueUp
Regardless of scale, GlueUp supports effective planning, promotion, execution, and evaluation of online and physical events. It provides a collection of powerful tools designed to optimize operations and increase attendee engagement. To ensure that your posters, invitations, and schedules are of the highest quality, the application provides a design suite for marketing materials.
Additionally, GlueUp offers event information to aid in decision-making for both current and upcoming events.
TravelPerk Events
Travelperk event management system lets companies plan every part of event-based business travel more quickly and easily. Anything that used to take hours and cause a lot of stress, like organizing attendees, booking venues, or arranging events, can now be done in a matter of minutes. Additionally, you can manage guests' travel arrangements and update attendees on the latest plans thanks to Travelperk Events' user-friendly mobile app.
In conjunction with TravelPerk's all-in-one travel management solution, which helps you to plan, coordinate, and track every business trip, you can use TravelPerk Events. This is a fantastic solution for managing events that were created with both event organizers and participants in mind.
Trello Boards
Trello is a platform for team collaboration and event planning that groups your projects into boards. This can let you see the status of each component of the project at a glance if you are simultaneously planning a number of events. Similar to a whiteboard covered in sticky notes but much more organized.
Assign tasks to the members of your event team by using Trello as one of your event and corporate event planning tools. Trello is a fantastic project management and event planning tool since it allows you to know where your tasks are in the event planning process.
Slido
Slido is a user-friendly platform for polling and Q&A. It includes everything you require to captivate, engross, and establish a connection with your audience.  By creating a connection between the presenters and the audience with Slido, you may maximize the effectiveness of your events. Features include question moderation, feedback surveys, and event privacy.
The application enables you to include attendees, capture their feedback, and foster a sense of community among everyone there.  Although it boosts engagement, its anonymous questions have frequently drawn criticism since they may occasionally be divisive. 
To improve event engagement and impact, Slido may be fully integrated into our Event Efficiency Platform.
Ecamm Live
A fantastic and easy-to-use live streaming and video-producing tool are Ecamm Live. You may use it to create a professional-quality, user-friendly, and customizable video. Additionally, you can invite interview subjects, insert video clips, share your screen, etc. You may easily live stream shows from your Mac with the help of a crucial event preparation tool. Ecamm Live is a superb and simple streaming platform that supports 4k streaming and can be customized, which is useful. It also offers a free trial period.
On the other hand, while Ecamm permits some interfaces with third parties, it forbids others, including Vimeo. Ecamm Live is still a fantastic choice for live-streaming events with success.
Wrapping Up
Corporate events are special, and to make them even more special, you can use some brilliant tools. Some of these tools are mentioned in this blog that you should definitely try. Apart from this, if you have a WordPress website then you can also use these Best Free WordPress Event Manager Plugins.