Hey guys, in this article, we will discuss the 5 powerful visual marketing tools for companies without a design team. So keep reading.
In these days of digitization, visual content plays a vital role in a brand's success. It shows how imperative a designer is. But, small businesses are unable to bear the burden of designer teams. So, how do these businesses compete in an online landscape?
Luckily, we are gifted with tons of visual marketing tools. Such tools provide terrific service and let your business stand out from the mob.
Be it a Facebook post, graph, banner, or just a meme; there is a tool for almost everything. If you are curious to know more about these tools, read below:
5 Powerful Visual Marketing Tools:

1: Canva
3: Hatchful
4: Creatopy
5: Google Font
1. Canva

Have you ever got worried about graphics for social media profiles? From Facebook profiles and Insta stories to YouTube channel images, many of us keep thinking about the best graphics. But, Canva resolves all these struggles with its pre-made templates. Yes, it offers ready-to-use graphics for almost every occasion. Here are some core features of Canva:
Intuitive
There is no science behind using Canva. Even a beginner can use it and create compelling graphics for a brand. With just a few clicks, it lets you give a massive boost to your visual content.
Conversion Of PDF Into Online Designs
Without spending a penny, you can easily download PDF files from Canva. Now, the tool starts its magic and converts it into editable elements. Thus, you can customize it as per the need. Additionally, sharing these files right from Canva is also possible. So, downloading, editing, and sharing all three things can be done from a single dashboard.
Interactive Canva Presentations
Canva lets you run presentations and even allows participants to join you. There is a simple code through which the audience can join and interact with you. Participants can comment, ask questions, and show reactions easily.
Text Animations
With this tool, you can tumble, pop up, or even slide the text through kinetic photography.
Other Features
Curved text
Image cropping
Drag and drop bubble search
Steller effects on images
2. Background Eraser
Background Eraser helps in removing the background images without the need for Photoshop skills. The tool is embedded with AI and helps us in editing along with customization. Some core features of this tool include:
Automatic Cropping Option
Precise cropping of even the difficult images becomes possible with the auto crop option of the tool. Additionally, there is a remove and brushing option too.
Bulk Image Remover
If you are dealing with multiple images, you can save time and remove all background images in one go. All this becomes possible with just a click.
Other Features
Portrait background change
Removing stamps and signature
Built-in images, colors, and designs
3. Hatchful
Creating logos is no more a hurdle with Hatchful. In just a few minutes, you can create compelling logos for your new or existing business. Furthermore, there is a library that features thousands of icons. Thus, you can easily download your preferred image and customize it as per your desired color. Other features of this tool are as following:
Professional Logos
Hatchful is a tool for everyone. Even if you have no design experience at all, you can still create professional-level logos within seconds.
Logos For Every Niche
No matter which industry it is, you can find a relevant icon at Hatchful. The design studio of this tool is full of colors, designs, and templates.
Social Media Optimization
Hatchful takes care of your connectivity. Therefore, all the logos are fully optimized for social media.
4. Creatopy
For all those who want to start an advertising campaign but do not have a designer, Cretopy is a perfect tool. It lets you create compelling banners and boost the outcome of your campaigns. However, if you want some extended features, you can try out the premium version that costs around $35 per month. This premium version features multiple animated templates and allows more customization. Some core features of Creatopy are mentioned below:
Numerous Customizable Templates
With this tool, you can start creating a banner with ready-to-use templates. These templates are editable as per your needs and theme. Besides this, you can even start with a blank banner. Furthermore, there are options for both dynamic and static banners.
Work Simultaneously On Multiple Banners
The tool allows you to edit the background, text, headlines, and other elements of all banners at one time. This saves plenty of time and lets you focus on other core activities. Apart from it, an individual editing option is also present.
Select File Name And Manage Assets Easily
Creatopy features a naming convention that saves the time required for placing different ads in different networks. Thus, you can easily export ad sets on the ad networks on which your campaign is running. This is possible by managing the files with the right file set.
Advertise On Multiple Platforms
The tool provides options of all the standard sizes that are accepted by social media platforms and Google Ads. Thus, there is no need to worry about anything. You can simply use the pre-made options, edit if you want, and start creating a banner.
5. Google Font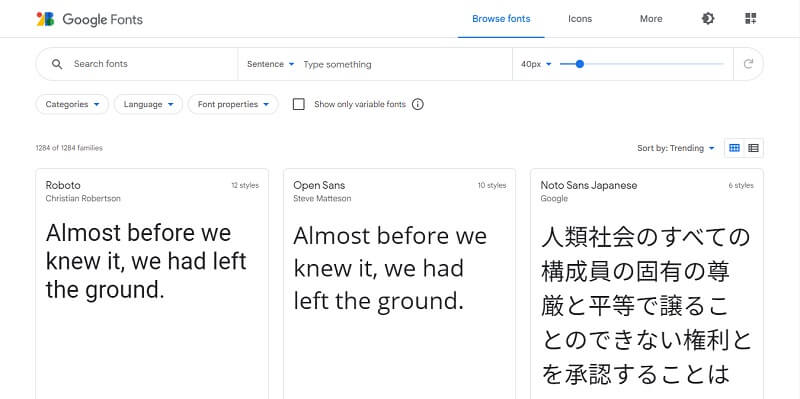 Selecting the right font as per the design and theme becomes difficult at times. Google Font is embedded with a variety of fonts. You can easily check the combination that suits your design with a preview option and finalize it. Here are some key features of Google Font:
Testing Customized Fonts
If you have no clue about a suitable font, you can check the main page of Google Font that displays the trending fonts. Additionally, you can select this font and check it out with typing.
Display Fonts
This tool provides the option of choosing display fonts. Though the regular fonts can also be used for headings, display fonts are particularly designed for key headings and main pages. They are higher in size and help in highlighting your page.
Purpose And Story Behind The Fonts
This is another useful feature that makes things clear for newbies. If you are getting confused about selecting an ideal font, read the story behind the creation of some fonts. This will describe the key purpose of fonts and make things easier.
Wrapping It Up
So, this was all about the visual marketing tools that can help you design exceptionally well even without a designer. But, tons of other tools are also available. Besides this, you can take assistance from companies that provide digital marketing services. Thus, a low budget doesn't mean a compromising design. When you have tools in your hand, you can create superb visuals in no time.