Hey guys, in this article, we will discuss the 7 best TikTok tools to bolster your marketing efforts for your business. So keep reading.
TikTok has become the most downloaded application on mobile devices. Since it is a youth-oriented app, users around the globe show interest in joining TikTok.
When TikTok came into usage, it was just an application for making lip-syncing videos. But later, it emerged as the perfect place for marketers with new features. Over the last 12 months, TikTok's popularity has blown up among global users.
Influencers find TikTok an excellent place for growing their revenue because there are great tools to bring out their account with huge followings. However, an equal amount of brands also involve their online presence on TikTok to increase followers count.
Gaining new followers is a tedious process, and TikTok makes it easy by introducing various editing tools to capture the audience's attention. The below article shares the seven best TikTok tools to grow your profile with killer content.
7 Best TikTok Tools For Tremendous Growth
For your easy understanding, we have separated the seven editing tools into three divisions:
Table of Contents:

1: TikTok Tools For Editing Videos
3: TikTok Tools For Followers Growth
1: Tools For Editing Videos

Here are some inbuilt editing tools to make your video amazing and attract new audiences to your brand.
#1: TikTok's Built-In Video Editor
Once after creating your video with stunning content, jump onto the editing tools in-built on TikTok to create a fascinating look for your video.
TikTok provides you additional options to add filters, blurring, and soundtrack for your video. Tap the + icon to land the editing and recording interface.
There is also an option to add those features while editing video content. Click on the "Add a sound" to view the vast music library of TikTok.
Features:
The available options on this video editing tool are Filters, Timer, Flip, Speed, and Beauty option.
Turn on the Beauty mode to gain smoothness for your video and to remove the unwanted shadows.
Change your camera mode by clicking the Flip option.
The Speed mode can change your video from 0.1x to 3x, i.e., converting your video from slow motion to fast motion videos or vice versa.
Last but not least is the Trim and Mixer option. Use Trim to shorten your videos and the Mixer option to adjust the sound levels or to add music in between.
Pricing for Built-In Video Editor: Free!
#2. Wondershare Filmora 9 Video Editor
Wondershare Filmora 9 is the advanced solution for editing videos and getting an eye-catching output. Most influencers use an external video editing tool to make an excellent video to stand out from competitions.
However, the upgraded version of Filmora helps to make videos with amazing effects. Whether you prepare a vlog, family, business, or educational video, this application will help you with wondering solutions.
Features:
Perform an experience of great editing with excellent overlays and exciting features for editing.
It is a handy tool for creators on TikTok with plenty of free audio and video files, stock images, and video effects.
Improve your video editing and photography skills by joining the video editing academy.
This platform provides 24/7 friendly support with helpful tips to grow your account.
Pricing for Built-In Video Editor: Lifetime subscription at $69.99
2: Tools For Marketing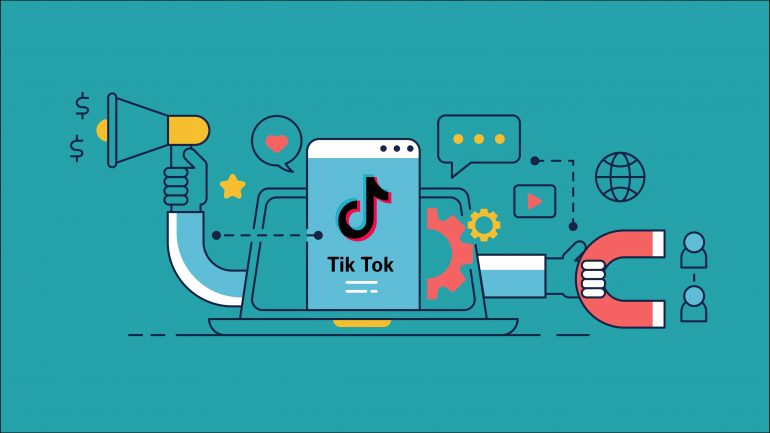 When you are a brand selling a product or a business person, marketing is essential to advertise yourself on TikTok. Here are some best TikTok tools that help to promote your brand.
#3. TikTok Analytics
It gives you the analytics tool to track your marketing performance on this platform. TikTok analytics is a valuable tool for marketers to check their insights and audience activities. It is an engaging platform with benchmarks, baselines, and KPIs.
Features:
TikTok users can use the TikTok analytics only if they have a Pro account. Once you open your TikTok account, change it to a Pro account on the settings option.
TikTok analytics will have the information about your content performance and audiences details with engagement rate.
The dashboard of TikTok analytics shares your profile overview, followers, and content insights.
Once after the analyses, this tool helps you with the compelling content strategy suitable for your brand.
Pricing for TikTok Analytics Tool: $20 per month.
#4. Fanbytes
Fanbytes is the most effective tool to find the relevant and powerful influencers fit for your TikTok account. It works based on Neuro-linguistic programming with machine learning.
The internal tools present on this application helps you to discover influencers who have already worked for different brands and allows you to search bios.
Features:
The Fanbytes app helps you target young audiences under the age group of 13 to 30 on all social media platforms, including TikTok.
It provides a way to find relevant influencers for your brand based on your target audience's age, gender, location, interest, etc.
Use this tool to build an attractive profile also.
Once signed in, you will get complete analytical information about your campaign that runs from past to present.
Pricing for Fanbytes Tool: It is based on your campaign and charges a minimum of 3000 pounds.
#5. Analisa.io
Analisa.io is a tool for analyzing your profile and hashtags used in your content. Use this tool to peep any influencer's profile you want to view.
Analyzing influencers is an essential marketing strategy for your brand growth to get TikTok video views with potential audiences.
Analisa.io tool helps various brands, creators, and influencers to get tremendous opportunities.
Features:
The platform gives you the campaign report with an overall analysis of your profile, audience demographics, competitor analysis, etc.
Since it is an AI-powered platform, you can get insights into public followers and their profiles with trending hashtags.
Analisa provides the engagement rate by splitting separately into your comment and likes rate.
It gives the report of your audience engagement level with their posting activity.
Pricing for Analisa.io Tool:
Basic – Free
Pro – $199.35
Plus – $109.55
Premium – @59.35
3: Tools For Getting More Followers
The below two essential tools help you to gain loyal followers with auto likes for your TikTok account.
#6. Fireliker
Fireliker tool is an excellent method to gain instant likes and views for the TikTok video. Get started by using the username of your TikTok profile with the necessary details.
Features:
The user-friendly applications let you complete your task of getting likes efficiently and quickly.
It follows a simple procedure of following and unfollowing techniques, but it is effective with great results.
It is the most trusted tool to get instant likes, followers, and views for your account.
Pricing for Fireliker Tool: Free!
#7. Social Viral
Socialviral tool helps you get followers for your platform with likes and views for your video to increase your brand visibility. Your account remains secure because they give followers only with your TikTok URL. People can use this tool both on Android and iOS.
Features:
SocialViral platform provides a better result necessary for your brand growth on TikTok.
It provides auto-likes, views, and potential followers.
It is a contemporary tool that gives immediate updates on trending topics and comes up with new ideas daily.
Pricing for Social Viral Tool: $1.49 for 50 followers.
Final Thought
Make your brand viral by boosting your TikTok account with the usage of different features. Before using these tools, concentrate on the content quality that you publish on your TikTok page. Perform your marketing activities on TikTok with the above exciting tool to stand out better than others.
Use TikTok in the correct way and reach your goal with an increase in brand reach. Practice using tools regularly and consider it as an investment to get better results for your brand!
Author Bio:
Anne Joseph is a passionate social media writer and working at Bouxtie. She has strong strategy skills in developing and managing social media campaigns.
She loves to make new connections and enjoys the opportunity to work with social media influencers.