Which is better premium Joomla templates or Free Joomla Templates? Actually, a premium Joomla template comes with some extra elements or features and support. Many times it is seen that free Joomla templates are also good in features o you can choose free also. If your budget is low then you can select free templates. We selected those templates which are already featured and can fulfill your need. So you do not need to purchase any premium templates. For update new features and functionalities you must check update frequently. New features and functionalities are released with updates. So it is a must to check the update frequency.
Popularity & Reviews: We selected awesome looking and most getting reviews templates in this collection.
Also See
Helix3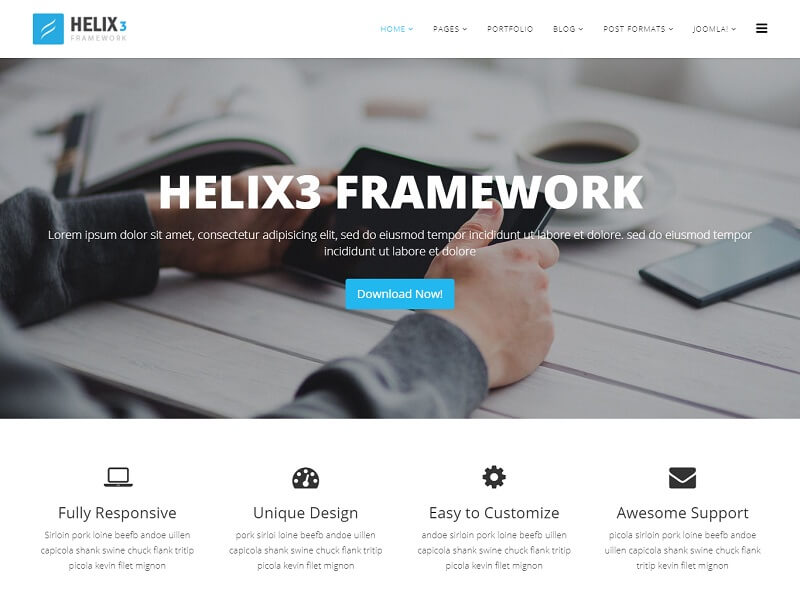 Helix3 is a user-friendly, modern, highly customizable and easy to integrate solution to build your custom Joomla 3+ website. For users installing Helix3 for the first time on a site, we have nice surprise all advanced template settings are already here.
Crafty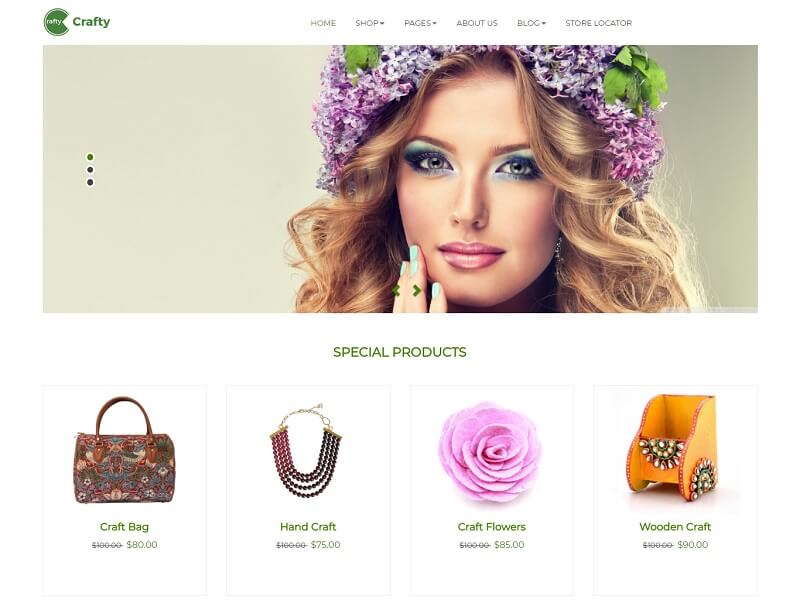 Crafty is a responsive Joomla template with the J2store shopping cart integration. Crafty comes with a simple and elegant design with a classified pattern of a mega menu and off canvas menu options.
Shoplook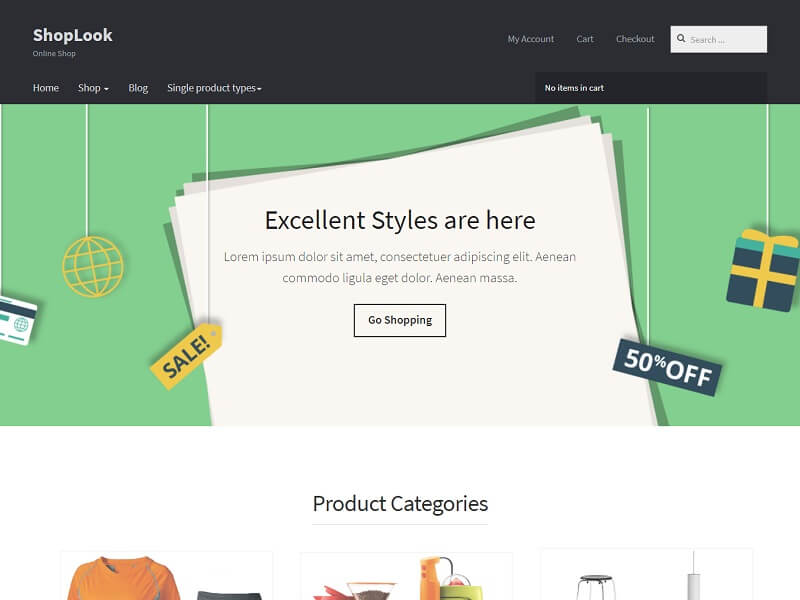 Shoplook is a responsive Joomla template with the J2store shopping cart integration. The template deals with a better outlook with unlimited themes by thememagic and pre-built color theme. Also, it is glad to deliver the cool CSS3 effect and animations.
Magazine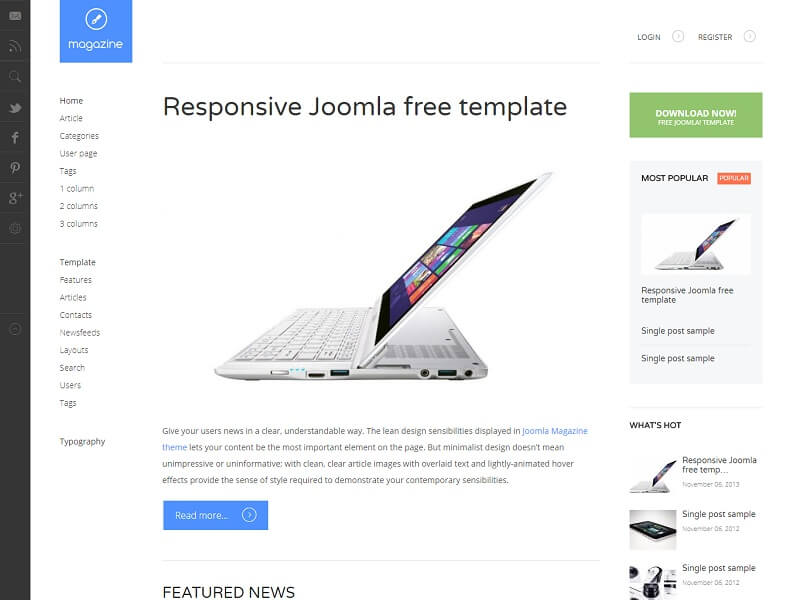 MAGAZINE FREE JOOMLA TEMPLATE FOR BLOG
Build a modern-styled blog with this free theme, offering a classic article-listing frontpage with a technical twist that great for budding bloggers or writers new to the medium.
Portfolio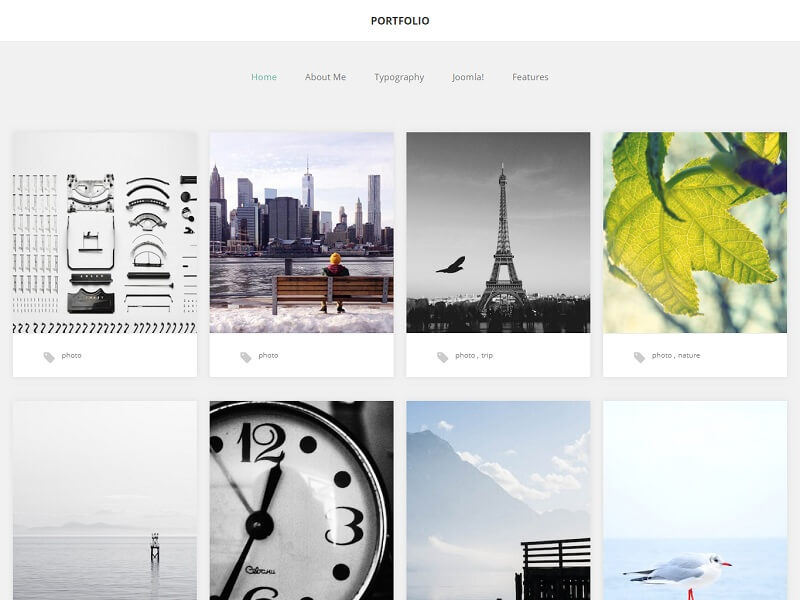 Need to create a fast-loading website to bring attention to your design projects or photography? With the lightweight and completely free Portfolio template for Joomla 3, you can have all the elements you need in one place.
ZenithII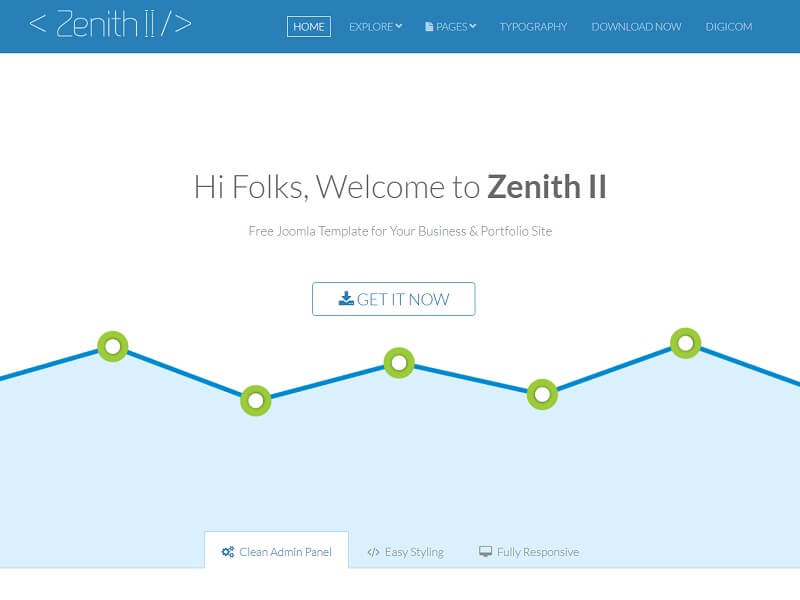 ZenithII – RESPONSIVE FREE JOOMLA TEMPLATE!
Beautifully designed, clean and responsive Free Joomla templates for your business website. Built with drag and drop page builder Quix.
Morph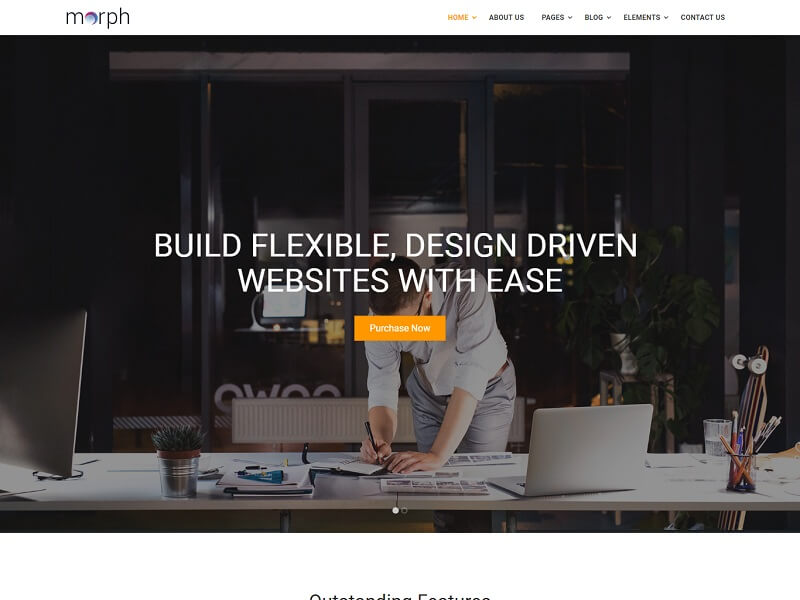 Best free Joomla template of the year. Morph entirely built with the most revolutionary NextGeneration Intuitive page builder Quix. Every of its section, column or elements is Easy Customizable, and a little modification can result from the look you desire.
Zmash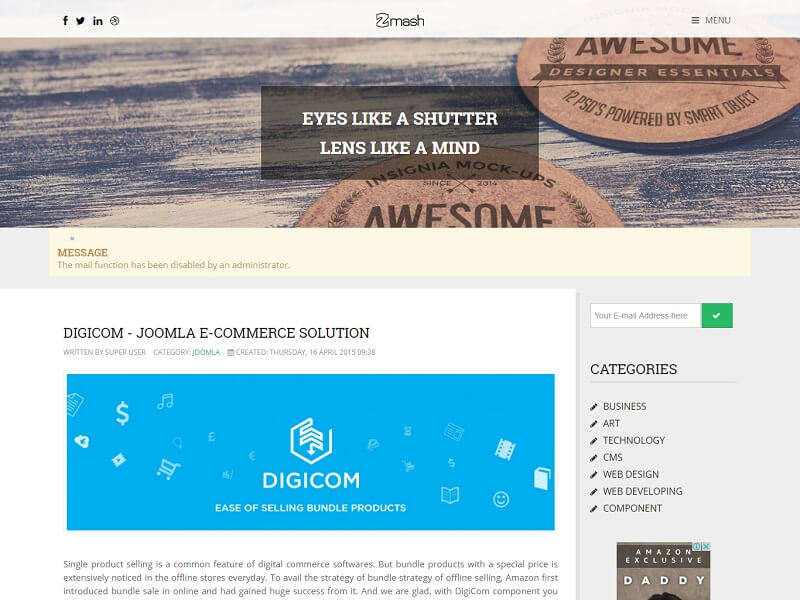 Blogger needs Simplicity and Availability, Zmash Joomla! template intends to provide an Easy-To-Read design while creating a perfect Observable look.
Expose4
Exposure of your business is pivotal to the growth, considering that in mind, this Joomla! template keeps it Responsive, Operative yet very simple in design, giving your clients easy-go browsing interest.
Afterburner2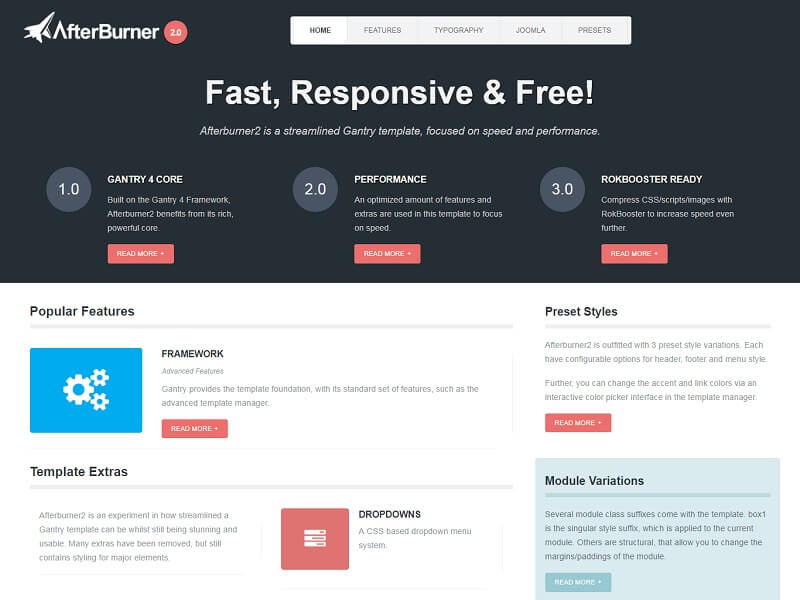 Afterburner2 is an experiment in how streamlined a Gantry Template can be, whilst still being visually enticing and usable. Although many extras have been removed, styling for major elements, such as the Joomla core, is still abundant.
Grunge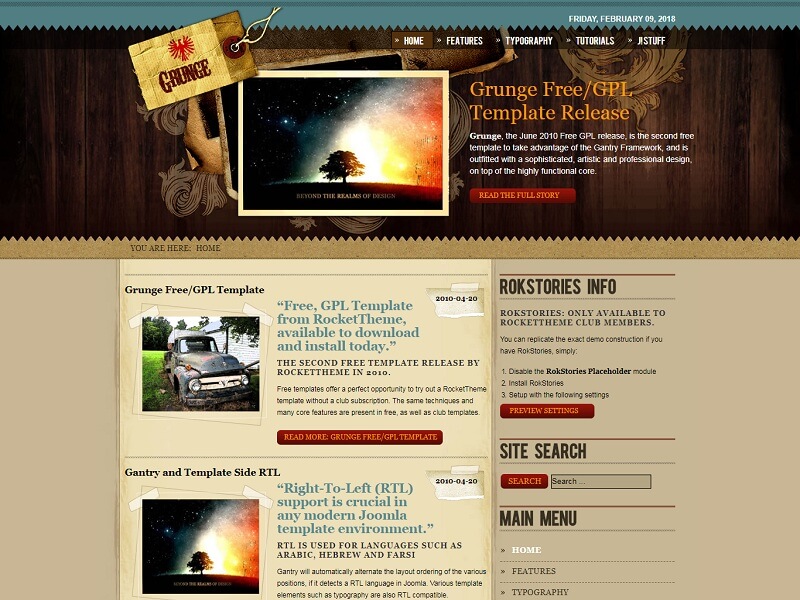 Grunge is the second free template to take advantage of the Gantry Framework, and is outfitted with a sophisticated, artistic and professional design, in conjunction with a powerful, flexible and feature rich core framework. Grunge has rich visuals throughout.
Quasar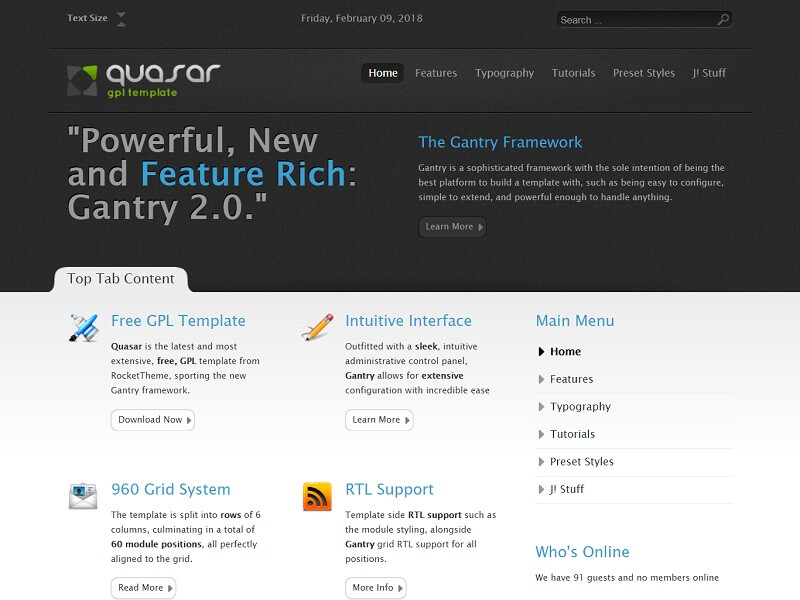 Quasar is a free, GPL, Gantry Template, with an array of 6 stunning, unique, and professionally designed style variations, in 18 combinations of Low, Medium and High levels. It has both light and dark presets, to suit multiple site purposes.
Section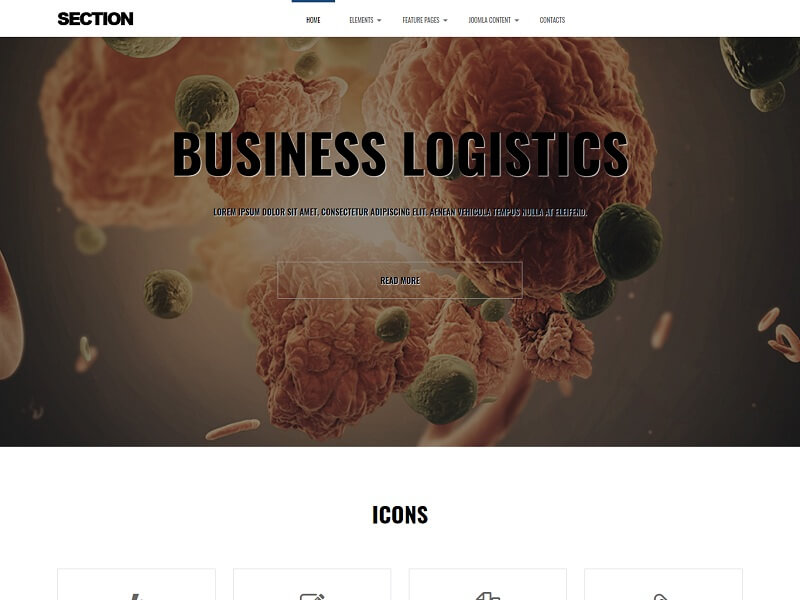 Section – free multipurpose Joomla template, that can be used to create various types of business, corporate or marketing sites – agency, portfolio, photography and blog websites. The fully responsive layout works perfectly on every screen.
Watches Shop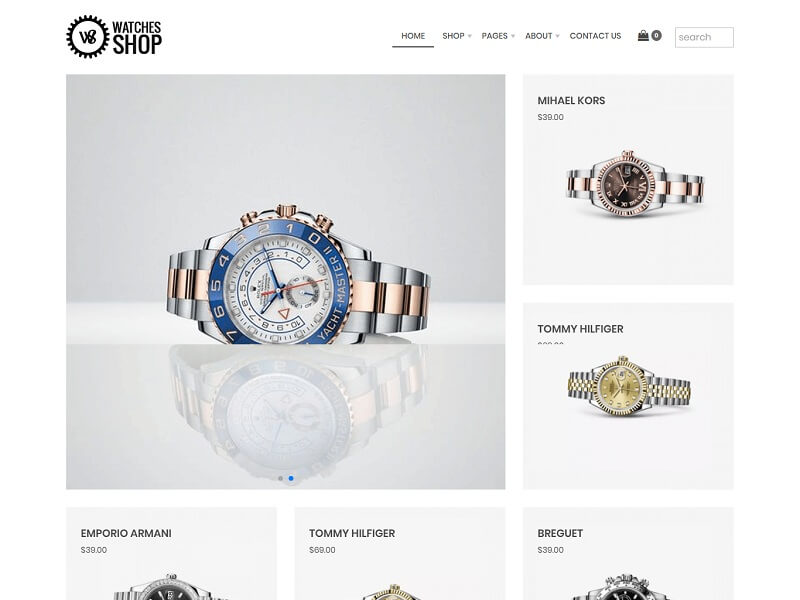 Watches Shop is free and clean Joomla 3 VirtueMart template. Watches Shop is a fully responsive template, that adapts to the screen resolution of the devices – smartphones, tablets, and desktops.
Cars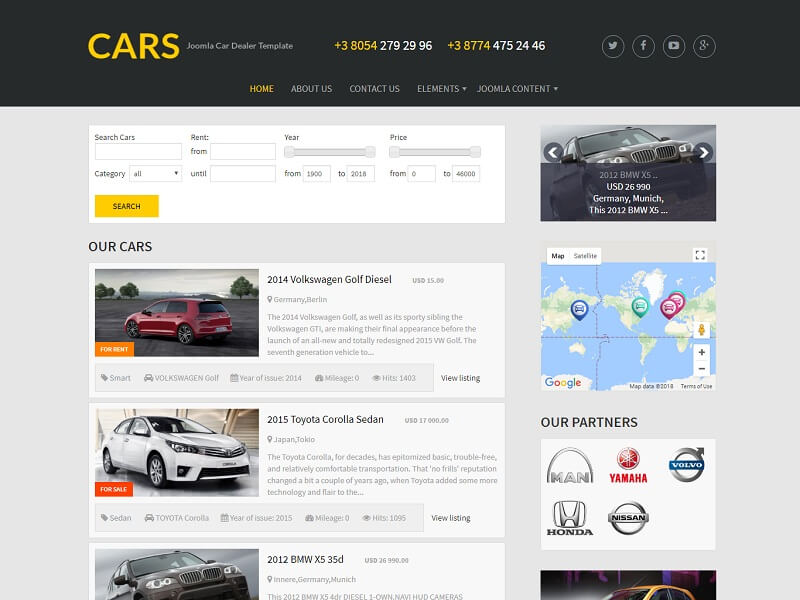 Meet one of the most popular free Joomla auto dealership templates Cars, now is updated to the latest version of Vehicle Manager 3.9 (Basic).
Real Estate November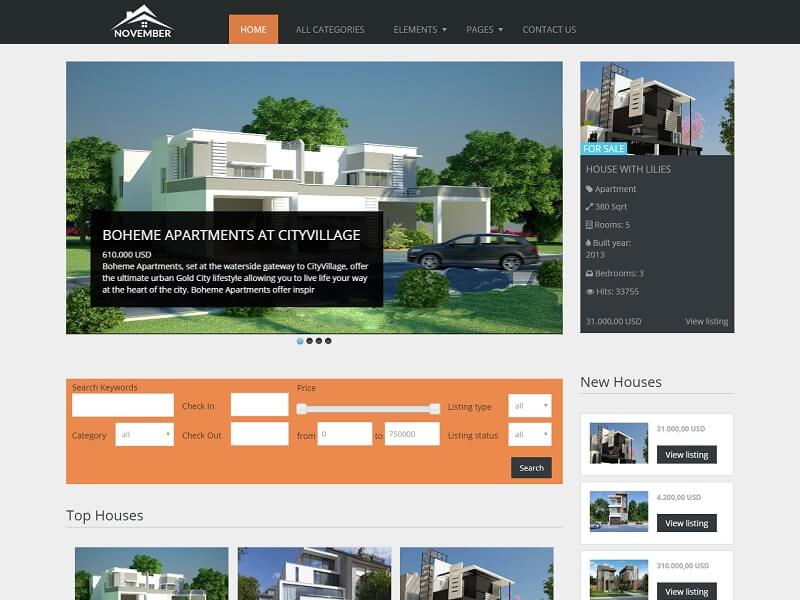 Real Estate November is a beautiful Free Joomla template built for design, interior agencies, home staging sites and businesses of the same kind. The home page of free Real Estate template is divided into several blocks that make it easier for you to organize the content and make it look more structured.
Shoe Store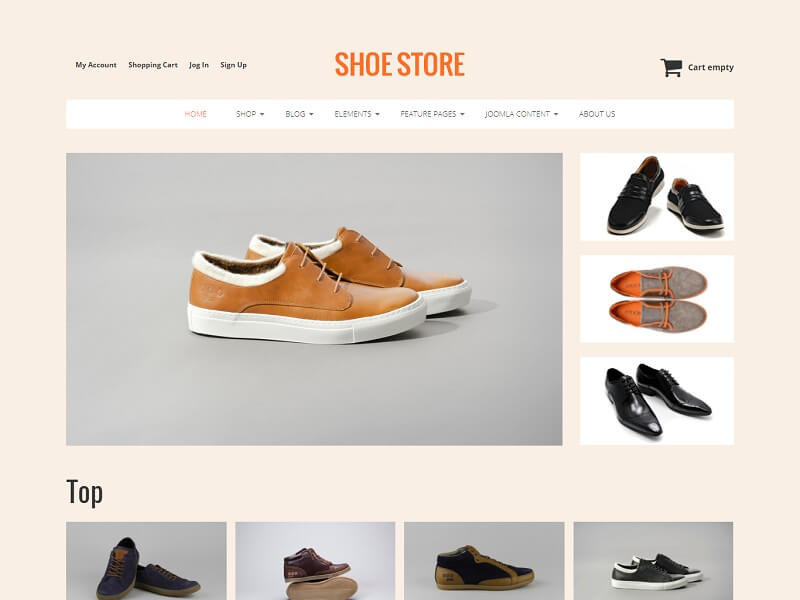 Shoe Store is free to clean and minimal eCommerce website template based on a new VirtueMart 3 eCommerce solution. This Joomla template was designed especially for shoe website, but also will fit perfectly for an online store like clothes, cosmetics, accessories, and any other webshop.
Megazine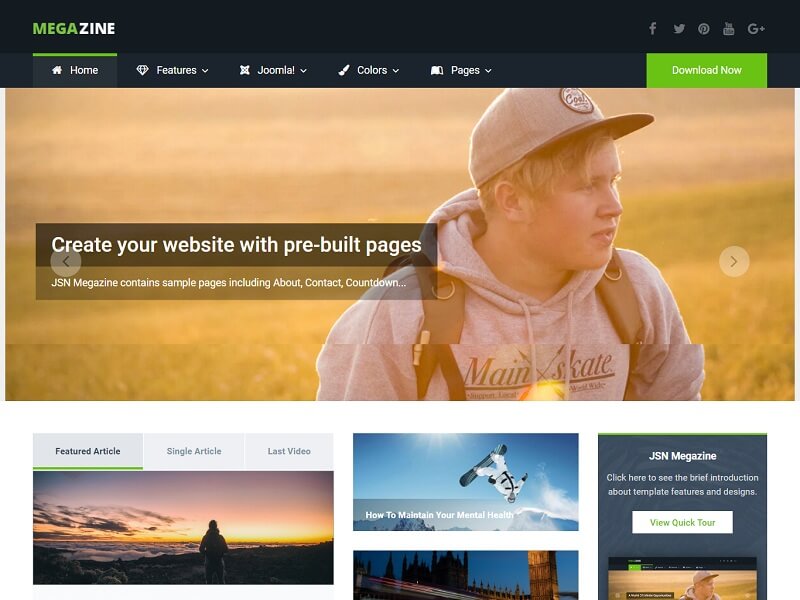 Megazine is the latest innovation of JSN Magazine which is built with the revolutionary Sun Template Framework. What makes this Joomla news template even more special is that it has beautiful extended styles for Joomla!
Ultranet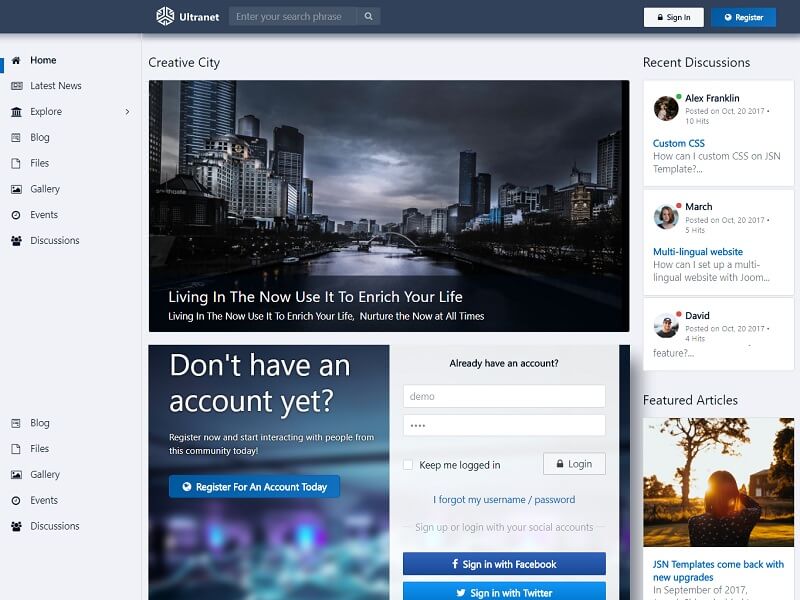 Ultranet is the first template of JoomlaShine which is designed especially for intranet website. The template is suitable for companies and organization with flexible and clean design, special styles for extensions that support socialization and communication.
Fidem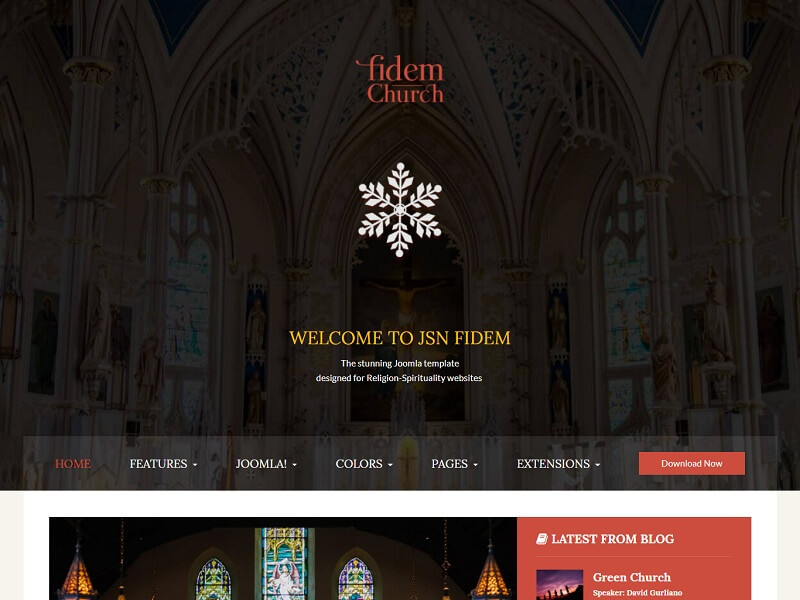 Fidem has full functionality that a Joomla church template must have. With extended styles for Events Booking and Joom Donation, JSN Fidem allows you to build a website for with functionalities for funding as well as manage events efficiently.
Tendo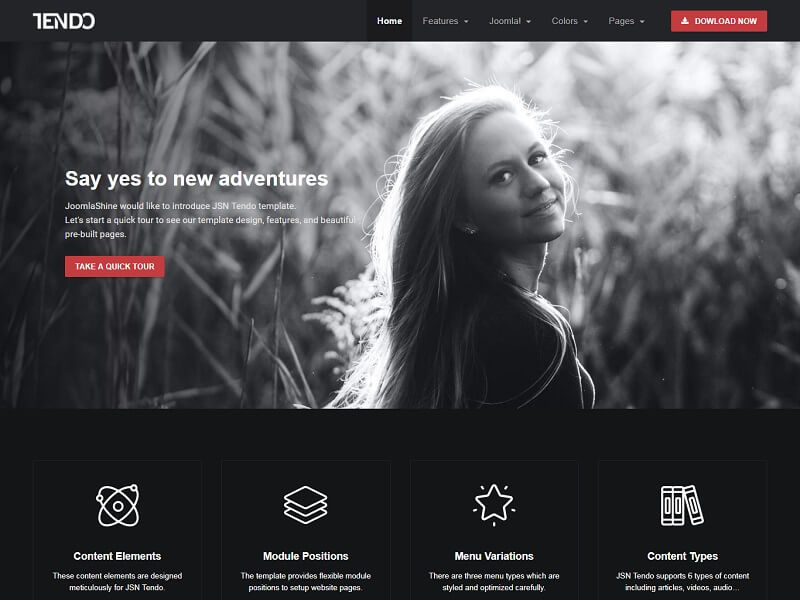 Tendo is an artistic and gorgeous Joomla photography template with powerful built-in features to create an awesome photo gallery website. The vast array of customizations is just excellent, giving you more control on the look and feel without having to dig into the theme editor.
JSN Glass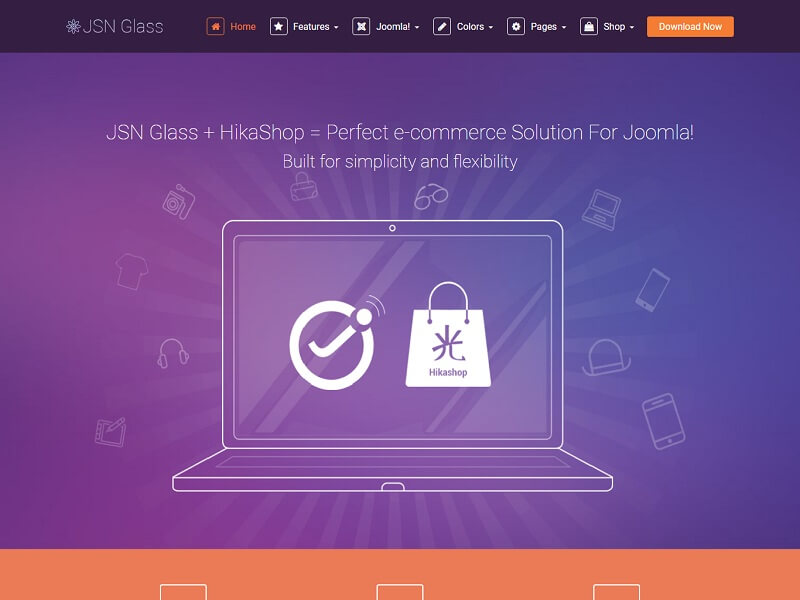 Let's build your gorgeous virtual store with the radiant colors and knockout features of JSN Glass 2! Besides lean design, slender edge and flat scheme, this Joomla e-commerce template also impress mobile visitors with 100% responsive layout.
Artista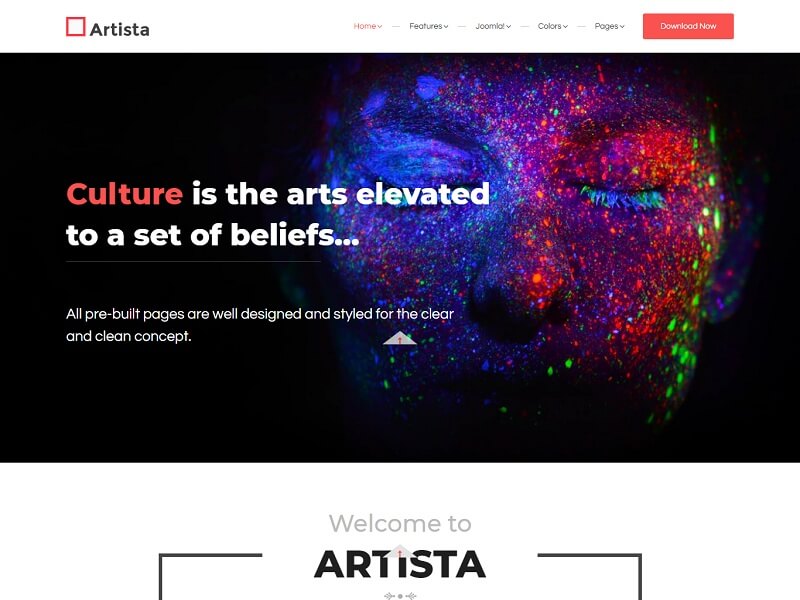 Artista is an artistic template which is designed for Joomla! portfolio websites to present photography or other creative showcases.
Ferado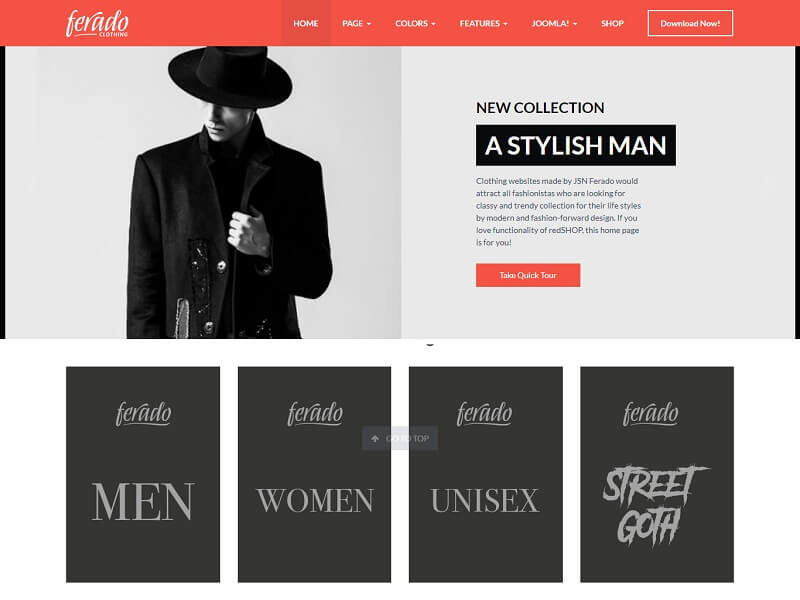 Ferado is Joomla! E-Commerce template that has two homepages for Virtuemart and redShop, the two famous E-Commerce solutions for Joomla! websites. Homepages are designed especially for clothing stores with areas for gallery showcases and full-width layout, which is able to show products, blog articles, categories, and other content types.
JSN Epic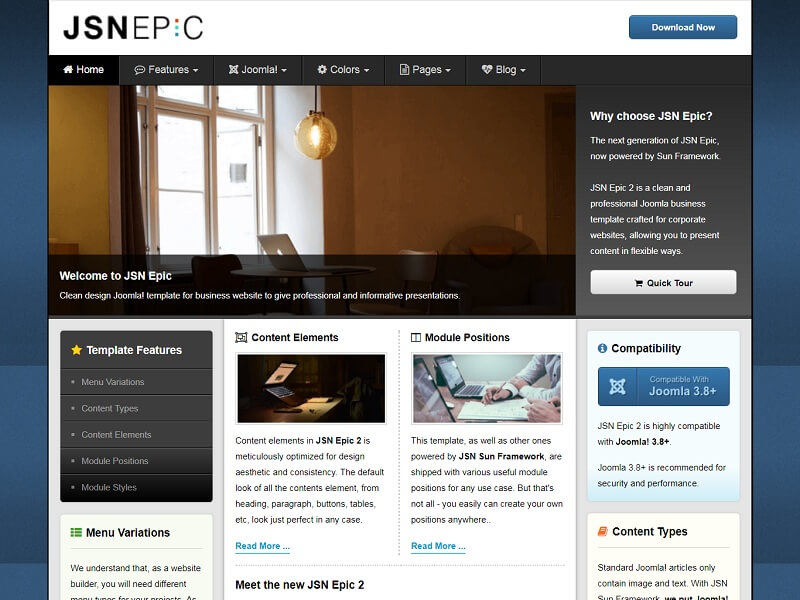 JSN Epic is the next generation of JSN Epic, the template is a clean and professional Joomla business template crafted for corporate websites.
Forte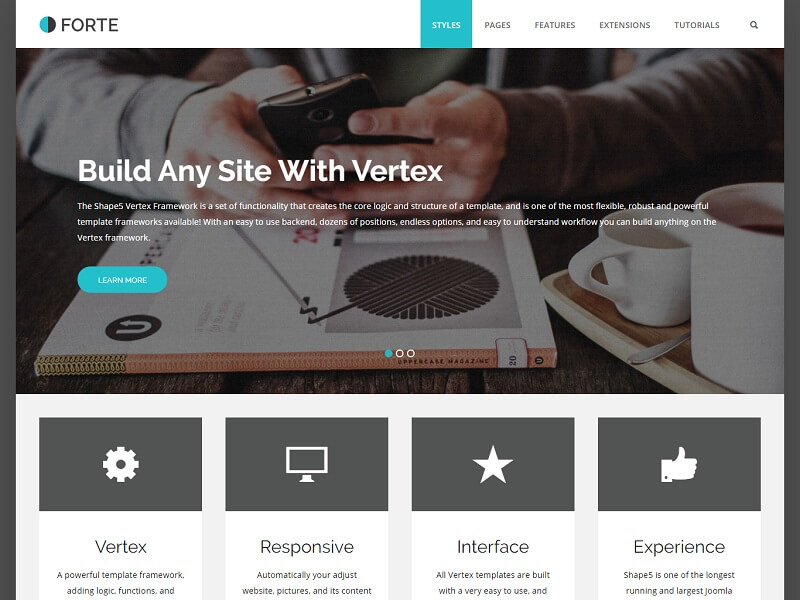 Forte is a free template that was designed to showcase off the many great features of our Vertex framework. Its clean design will adapt to almost any kind of website.
Design Control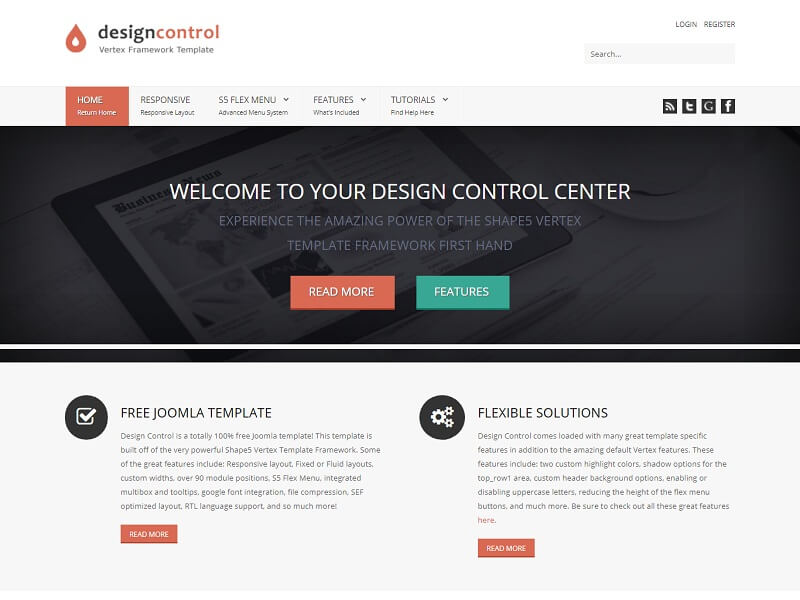 Design Control is a simple template that will adapt to a wide variety of websites, and best of all it's totally free to use! Most free templates from other providers lack visual aesthetics and great features, but not with Design Control!
ET Invest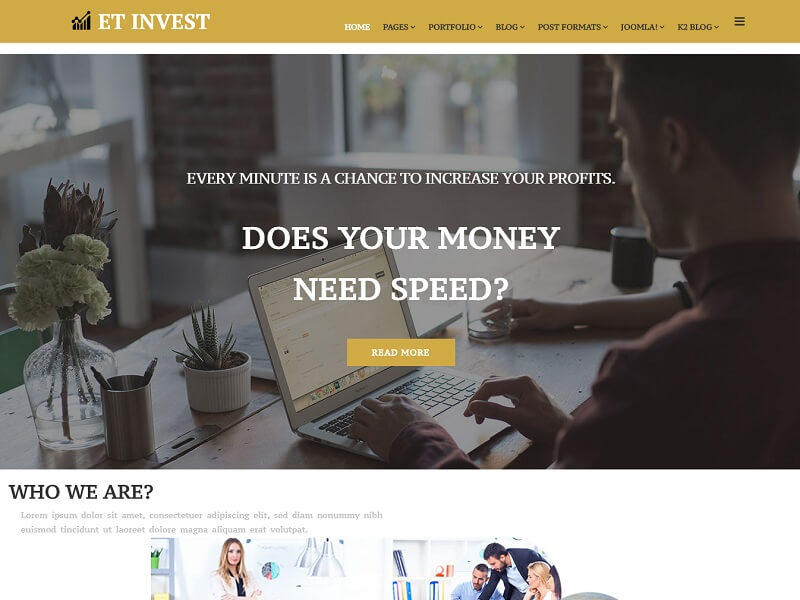 ET Invest is a responsive Investment Joomla Template which is right matched to investment company websites. As an investment company, you have to get online and put your business on the map if you want more people to know about it.
ET Fast Food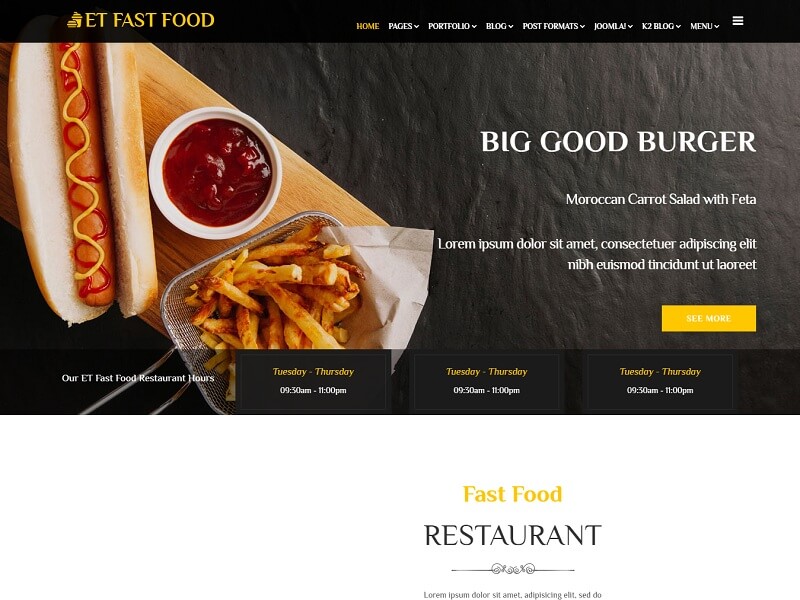 ET Fast Food is Responsive Joomla! template that for a fast food website.
ET Finance
ET Finance is a responsive Joomla Finance Template which is right matched for financial advisory firm or finance related business. The Joomla Finance Template have the power to help you represent your company's professionalism and expertise in the best way possible.