When it comes to premium quality web hosting, you don't have to look an further than Host4Geeks. We took the time to review their features, uptime, and load time, and we are pleasantly surprised by their high performance. Undoubtedly, company offers excellent hosting services. Read on to discover how you can save time and money by hosting your website with Host4Geeks!
About Host4Geeks
This LLC is an industry-leading IT company that offers top-quality web hosting services. The company stands out for its low-pricing plans, blazing fast servers, and remarkable customer support. Its speedy network and seamless website migration are two other reasons for which customers prefer to host their websites with them.
Host4Geeks also impresses through its global reach. The company has its headquarters in the U.S.A, but it also has offices in India and the UK.
Contrary to other website hosting services, company puts the client's goal as its priority. Personal blogs and online businesses tend to thrive once they migrate to it's servers. Some of the factors that lead to their success include:
4 Global data centers
Highly-secure servers
User-friendly services
Free website migrations
Easy maintenance
Host4Geeks takes pride in being a customer-oriented company. It features a team of hardworking, passionate, and innovative experts who are at the clients' disposal 24/7 for 365 days a year. They have a remarkable response time, and they are ready to solve any troubleshooting issue at all times. If you want become reseller than you can join reseller hosting too.
Excellent customer support services are just one of the reasons why company has garnered over 1,000 clients in its portfolio so far. After all, the multitude of 5-star reviews is not a coincidence for a company that offers state of the art web hosting services.

Hosting Features
The company's customer assistance is quick, responsive, and supportive. But, how about the hosting features? Do they hold the same high standards of quality?
We were wondering the same thing when we chose to host our first website with Host4Geeks. To our delightful surprise, we discovered that the customer reviews were accurate.
Here are some of the excellent website hosting services that company has to offer:
Cloudflare CDN
With the implementation of Cloudflare CDN, you can keep your website free of crawler bots and malware.
Speed
Host4Geeks uses Cloudflare CDN, Cloudflare optimizer, Cloudflare security, and Cloudflare analytics to make your load times and uptime seamless for your website.
Website migration
The Host4Geeks experts help make your website migration quick, easy, and free.
Impulse monitoring
Hosting your website with Host4Geeks gives you access to one of the best impulse monitoring systems. The mechanism runs 24/7 and alerts the technicians as soon as it encounters the smallest glitch. As a result, your website, email, and adjacent applications have a minimal risk of going down.
Site lock
Besides the daily security scan, you can opt for the site lock feature from Host4Geeks, which enhances the protection of your website.
Bandwidth
Choosing Host4Geeks for your site provides you with unlimited bandwidth, which results in incredibly small load times.
Fast Network
The Host4Geeks network benefits from the support of 4 data centers placed around the world.
VPS hosting
With Host4Geeks you can opt for managed or unmanaged VPS hosting.
DDoS Protection
DDoS protection is free and guaranteed with Host4Geeks. With each pricing package that you opt for, you get a different level of high-security protocols for your website.
SEO Tools and SSL Certificate
Host4Geeks provides you with an SSL certificate and user-friendly SEO tools that you can use to optimize your website's performance.
Pricing Plans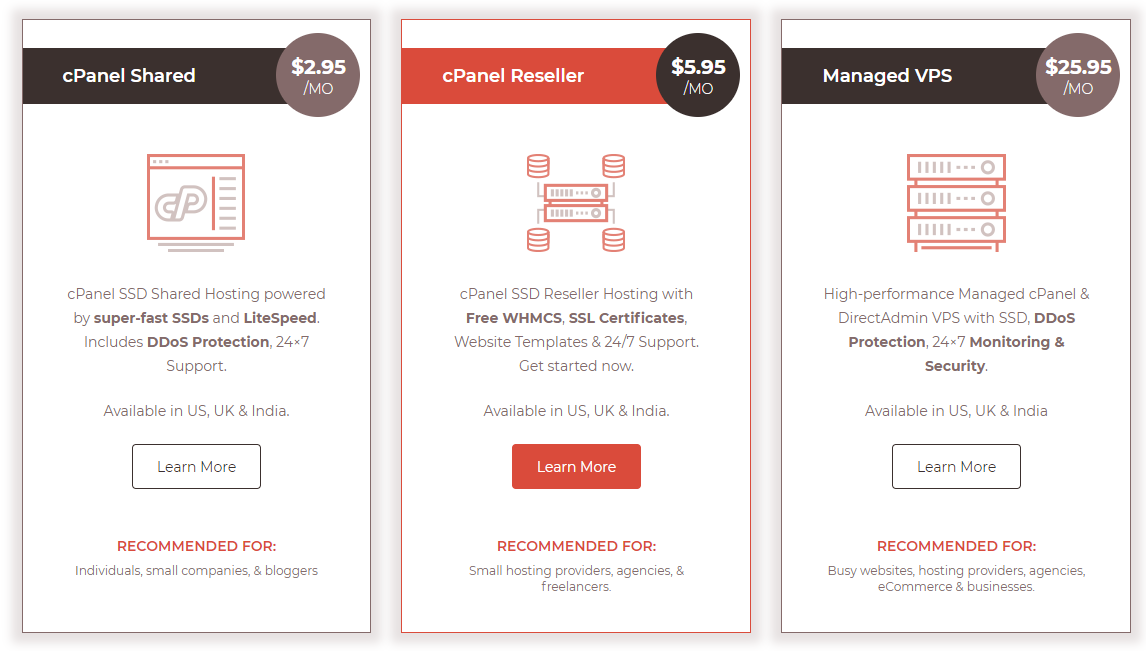 Hosting your website with Host4Geeks is a true bargain, especially when you consider all the web hosting benefits that they offer.
The cheapest pricing plan starts at only $2.95, and it provides you with more exponential features than other hosting services and for a fraction of the usual market cost. Here are some of the best features that come with it:
No hidden prices
Fast LiteSpeed Web Server
Free SSL Certificates
Free Malware Scans
Free Backups and Restores
Free DDoS Protection
Live Chat Support
4 Datacenter locations
Personalized Onboarding
Read Here Reviews about Host4Geeks on poplar websites Hostadvise Review and Website Planet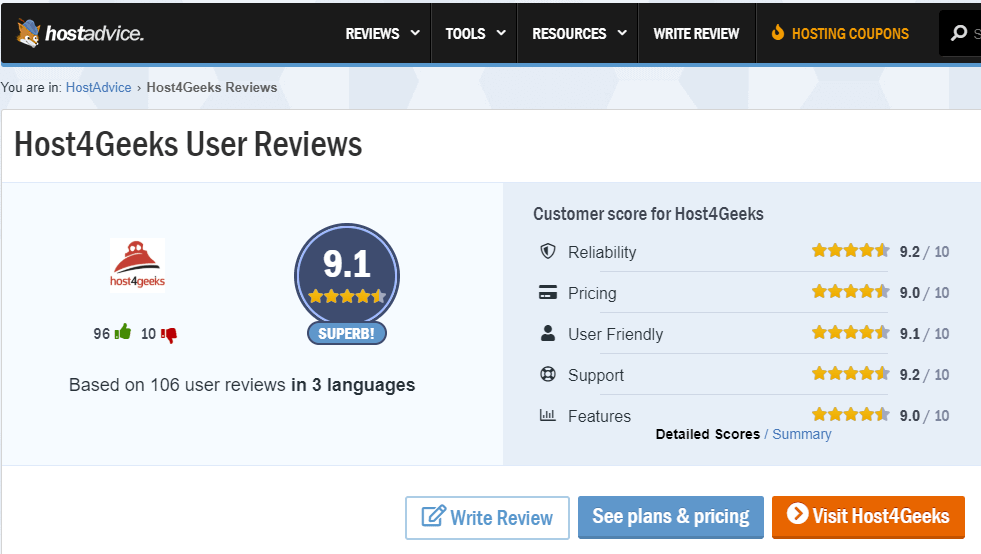 Conclusion – Why choose Host4Geeks
With the company's customer-centered approach, it has a competitive advantage over other companies in the web hosting industry. The fast network, blazing speed servers, and 24/7 customer support complete one of the best web hosting service offers on the market.
Whether you are a new website owner or you want to migrate your business site to a different hosting company, you cannot go wrong with choosing Host4Geeks!