E-commerce is an integral part of nowadays business. First of all, selling online is absolutely quicker and less expensive when compared to opening a physical shop. Secondly, it's already a real promotion of your business in the Web that is also very important. Moreover, followers of online shopping are growing into the number daily. As an example, over 2.14 billion people worldwide are expected to buy goods and services online.
So, to join the quantity of those who currently run their stores online is a very promising idea. Although, if you really want to reach good results in this area, you need to work on the quality and uniqueness of your e-commerce website.
Our Premium Shopify Themes were made accordingly to this purpose and are already packed with the most asked-for features that are irreplaceable for a powerful online store for any business Shopify themes.
As for Shopify, it's known as a leading online shop builder. Being easy in use, it's won the trust of many people all over the world. Over 500,000 online shops are enhanced with Shopify.
The Functionality of Shopify e-commerce:
Mobile-Friendly (+ the ability to create a mobile app)
Attractive Design
Customer Profiles (get more information due to built-in client accounts to get closer to understanding the needs of your target audience. Check the history of visits and purchases in order to anticipate the interests of customers)
Gift Cards, Promo Codes, and Discounts (Shopify Store is ideal for building stable communication with customers. Distribute promotional codes, hold "holiday discounts", encourage regular clients gift cards – all this will be positively reflected on your sales)
Analytics (Shopify provides a comprehensive report on sales, taxation, behavior of visitors and customers of your website and even helps to make an inventory)
Alternatives Of Using Different Languages
Blog Forms
And now, let us present you our Best 10 Shopify Templates!
m.a.l.l. – Clothing Store Shopify Theme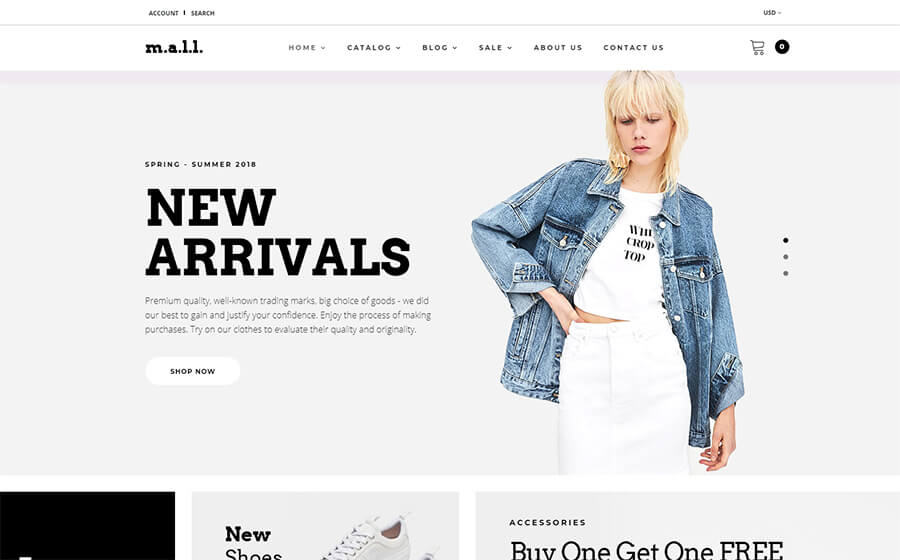 Choose this Shopify theme if you are aimed to build a powerful online shop. The m.a.l.l. template can fit any commercial purpose. No matter if you are going to open an online store to sell clothes and accessories for men or women, or for both, the modern minimalistic design of this theme is a universal background for your products that is also pleasing to eyes. So, go ahead checking it!
SuitUP – Multipurpose Online Store Shopify Theme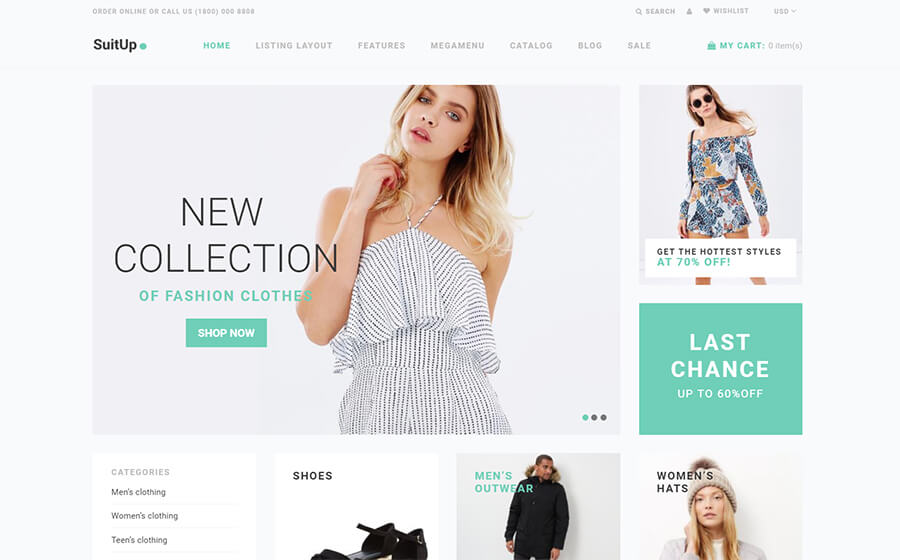 SuitUp is a really reasonable investment, especially for professionals that create turnkey websites. Just imagine, with this one multipurpose Shopify template, you get a possibility to make several different online stores for many customers without losing a minute, while SuitUp is provided with 7 ready-to-use stores with all features, 15 staring homepages, and far more.
Tronex Multipurpose Shopify Theme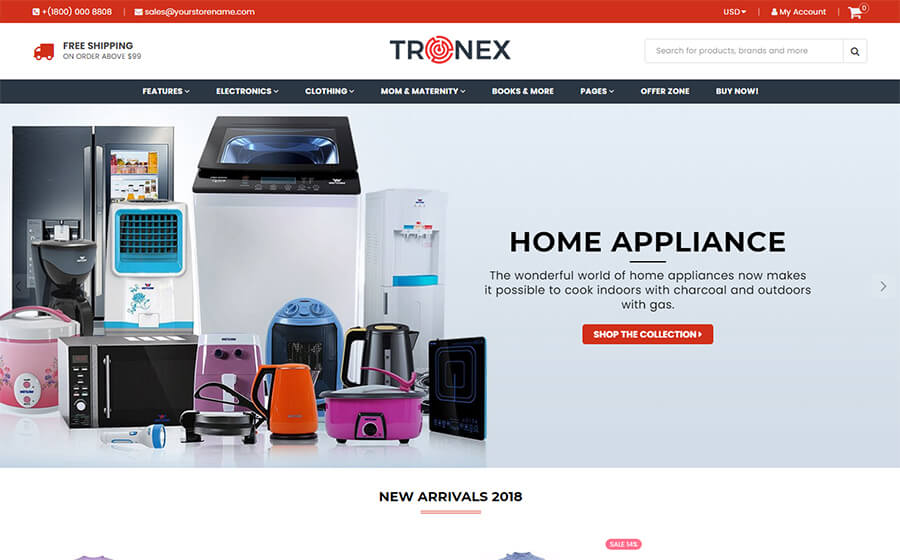 There are no doubts that Tronex Multipurpose Shopify Theme is skillfully designed to hold your clients' attention on your page so long as it's possible. Don't miss it if you want to have a clean and unique looking online store. More than that, this template is absolutely user-friendly and goes with well-commented documentation. Have a look at it!
Meeow – Cute Pet Shop Shopify Theme
Meet Meeow – Cute Pet Shop Shopify Theme! The nice design, smooth animation, verified web forms, and vivid animals photos are able to let your online store stand out from the crowd and impress your clients. So, don't hesitate to check it by yourself!
Body Builder – Sport Nutrition Shopify Theme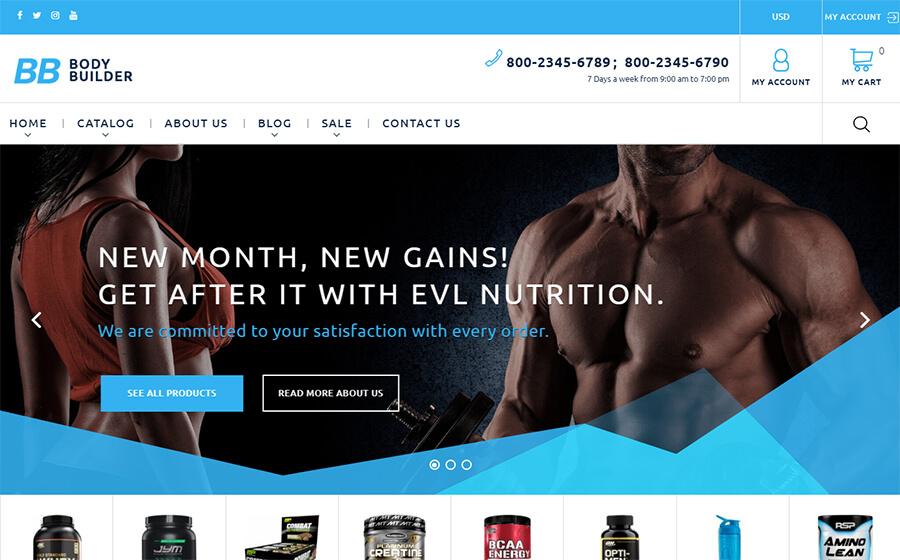 Body Builder is a modern Shopify theme made for promotion of sport nutrition products. This fully responsive template is enhanced with stylish design, modern animation effects, lookbook sections, gallery, banners, and other features. And, of course, there's a 24/7 free lifetime support for this template.
Nokshi – Handmade & Craft eCommerce Shopify Theme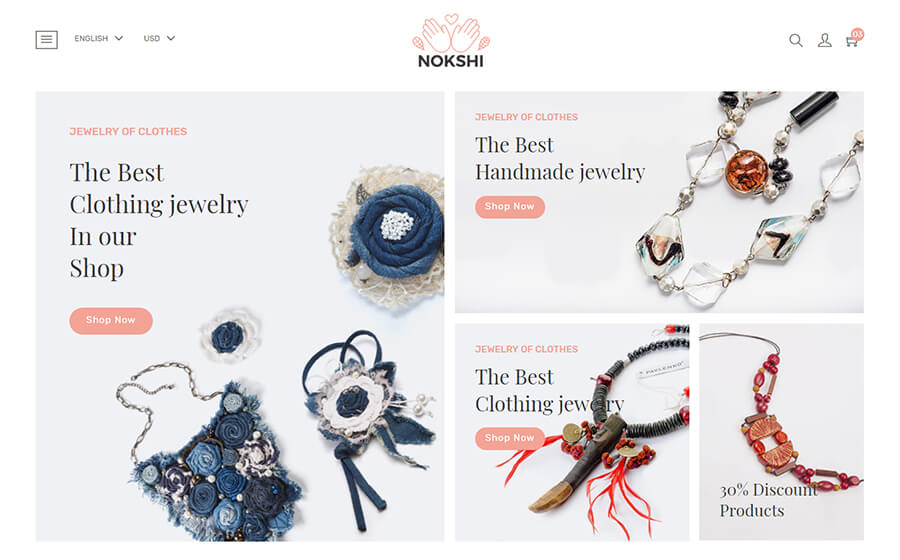 Nokshi – Handmade & Craft Shopify Theme is a perfect ready-made solution supplied with all necessary modern features. The elegant design made in light tones can highlight every tiny detail of your products. Due to Nokshi, you can start an online store related to furniture, watch, jewelry, accessories, and handmade products etc. Moreover, this template is supplied with 4 different homepages, Mega Menu, Mega Menu with Image, and Dropdown Menu, varied color options, Google Analytics, social media sharing, and far more.
Tmart – Minimalist Multipurpose Shopify Theme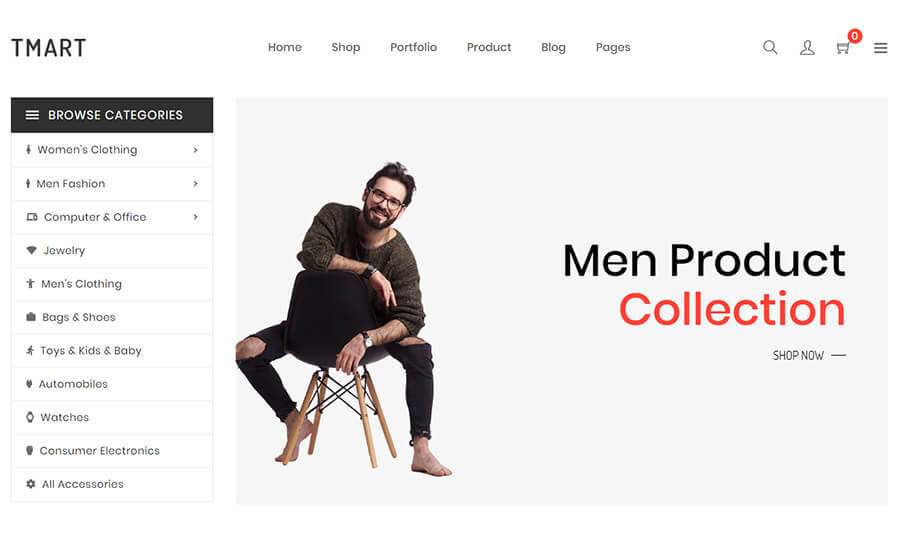 The clean and modern design of Tmart can become a good canvas for high fashion, men and women fashion, accessories, shoes and denim products online stores. This template is packed with 3+ Header Styles, 8+ Unique Sliders, 5+ Banners, 5+ Footer Content, and 15+ Preloader. So, if you are looking for a multifunctional template, try Tmart on!
Shopy Fashion Shopify Theme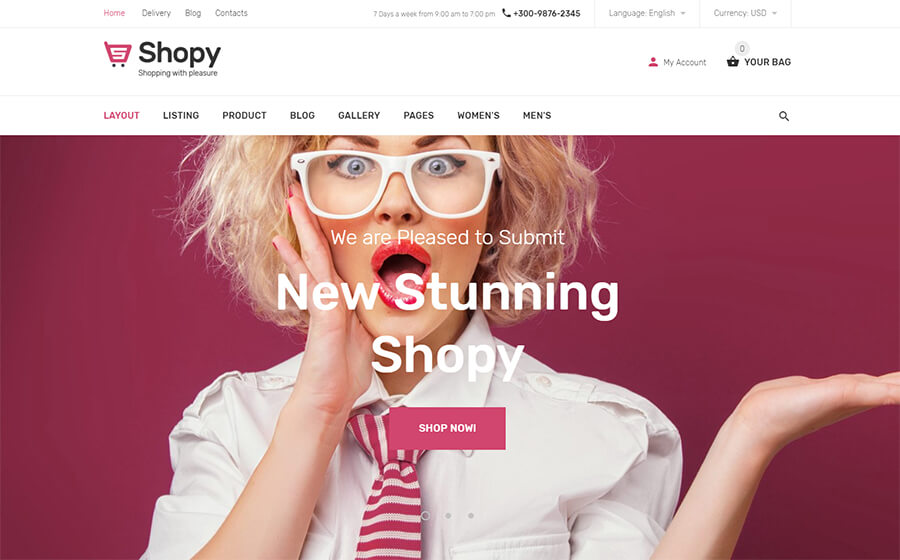 Shopy Fashion is a catchy Shopify theme created up to the latest trends and requirements. Being stylish and easy-to-use this template is the only thing you need to make a brand-new online store that can perfectly match any fashion-related purpose. Just try it for yourself!
Stuff – Furniture Shopify Theme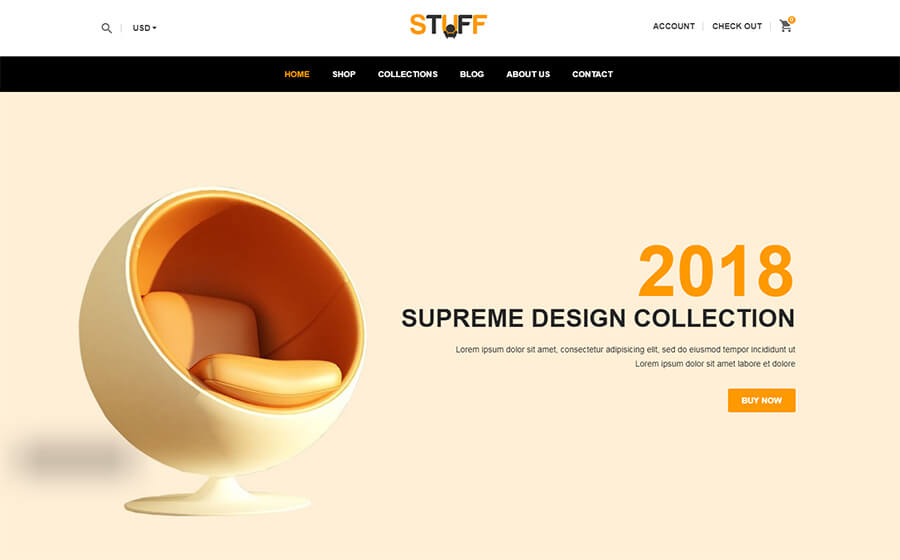 To represent all items of a big furniture shop is not easy, although it won't cost you a minute with Stuff – a flawless Shopify theme. It's provided with the strong arsenal of modern and demanded tools and options. Moreover, anyone can work with it confidently, due to its handiness and added documentation. Be sure that your clients will enjoy the way your online store look and perform.
Lilac Odor – Perfume Shop Shopify Theme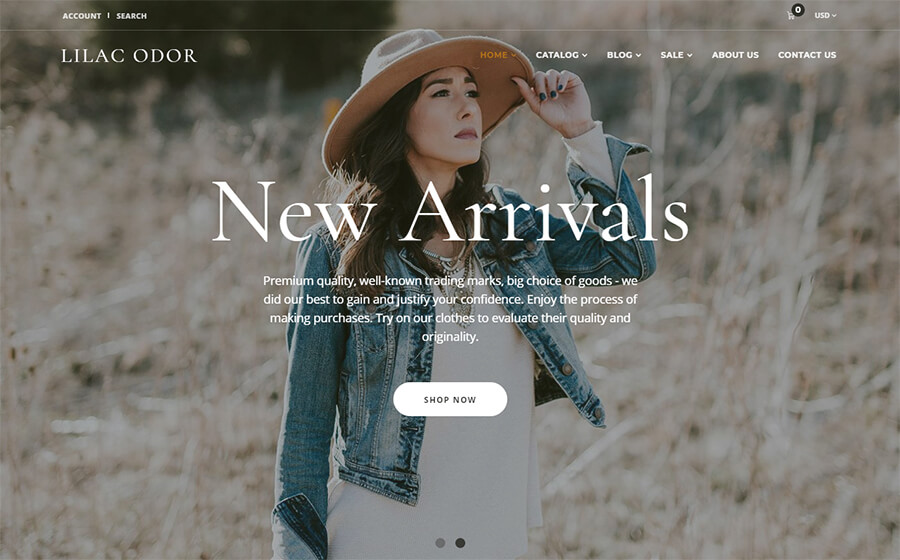 Such sophisticated things as perfumes don't need overladen background, do they? When a person knows their tastes, they don't need to close thousands of "crazy" banners and scramble through time-consuming information. That's why Lilac Odor, and elegant and clear template, is highly recommended for those who are in a search for a perfect online store theme. Make your website visitors your customers, letting them know that you value the quality of the perfumes in your shop, as well as the time of your clients.
The Final Word
As you see, the old commerce will never come back. Already widespread online shops and services are facilitators and those that raise new questions and point on keeping your eyes on your continually newborn competitors.
Hopefully, this information was useful for everyone who is interested in e-commerce. To start a business may be a risk and also a personal challenge, but hard work combined with a strong will can bring you to a desirable level. So, keep on moving, learning something new every day. Don't be afraid also to look at your work from another angle, because nowadays has bad relations with static things, demanding something unknown and extraordinary. This fact also encourages us to amend our products keeping in touch with our clients.
So, if you have any questions, contact our support team! They are always ready to help and find for you best Shopify templates, 24/7.