Hey guys, In this article, I have listed the top 5 free website builders for small businesses. So keep reading.
Creating a website can be quite a costly venture because you need to spend money on many different things that are crucial for your success. For instance, you should hire web developers, designers, pay for web hosting, etc.
The more complex the functionality of your website, the more expensive it will be. Therefore, there's no surprise that many people who want to create a website look for any opportunity to save some money.
The good news is that you can launch a website for free or almost for free. However, in this case, you should be ready for many trade-offs. For example, you can choose a generic subdomain that will be cheap.
At the same time, you will have low bandwidth and storage. Besides, your website will display ads from the provider, and you won't be able to monetize them.
When it comes to building your site, saving your money is much easier. There are many free online tools that can help you build a good-looking site even without having any knowledge of coding.
Advanced visual editors enable you to quickly create the overall design, add forms, buttons, menus, and other elements by simply using a visual drag-and-drop editor.
Some solutions even feature SEO tools and other extras so that you can improve your content or expand your site's functionality.
List of The Top 5 Free Website Builders For Small Businesses:
1. Site123
2. Wix
3. Webnode
4. Weebly
5. IM Creator
1. Site123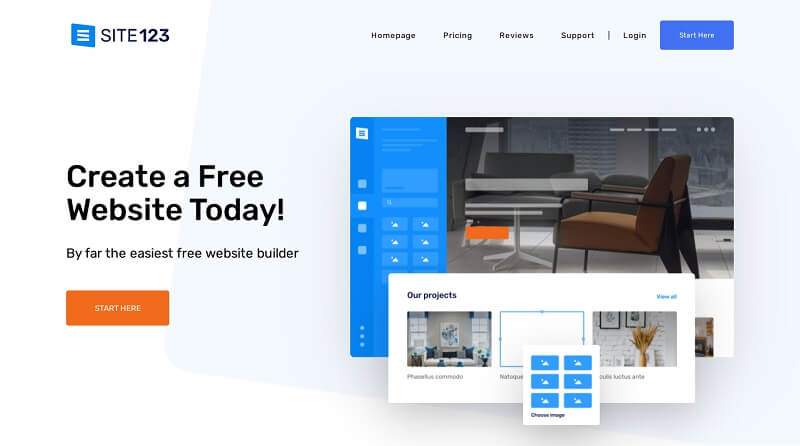 The main selling point of this website builder is the simplicity of use. Creators of this solution prioritized convenience and speed so that everyone can create a website as quickly as possible.
When using Site123, you don't even need to choose templates — you just have to complete a quick survey, and the platform will choose a template for you based on your answers. Besides, you can install Site 123 with one click.
Of course, such speed has its price. Site123 isn't the best solution for users who are looking for advanced customization options and want to be able to tweak every detail of the design.
However, this is definitely a great option for those who want to create a website quickly, especially if they've never used website builders before.
This platform also offers 24/7 support, 500 MB of storage, a free image library, unlimited pages, and an onboarding assistant.
2. Wix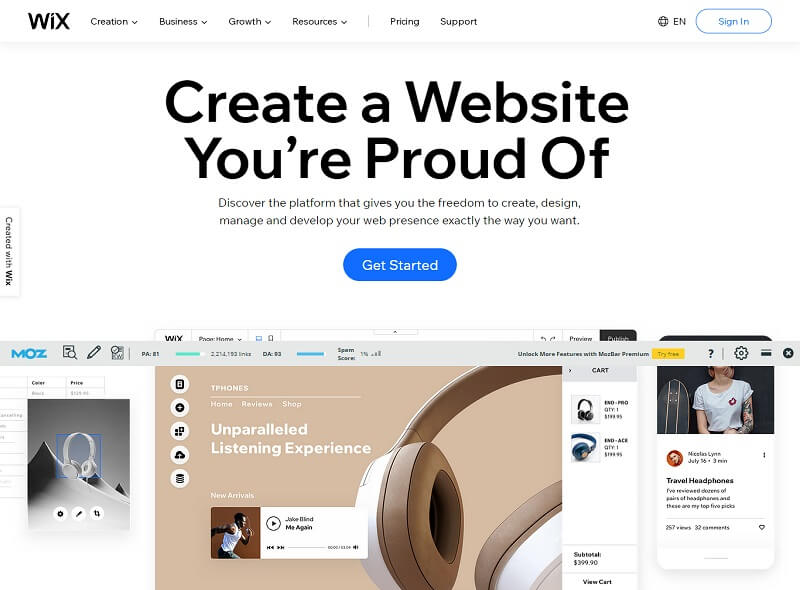 This is one of the most popular free website builders for small businesses. This platform offers many benefits for both beginners and advanced users. Wix features more than 500 templates.
You can choose a Wix template that meets your needs and customize it with a drag-and-drop editor. If you need to create a website quickly, you can get the necessary assistance from Wix Artificial Design Intelligence (ADI).
This tool will create an entire site based on your answers to different questions.
You can also choose to create a design from scratch, without using templates. This way, you can carefully adjust each detail of your website according to your needs, adding animation effects, video backgrounds, and other interesting design elements.
A great thing about Wix is that it also offers various SEO and analytics tools, as well as social media integration. You can use all these features for free.
The only downsides of the free version are that you will only be able to use a generic subdomain, and you won't be able to remove ads.
3. Webnode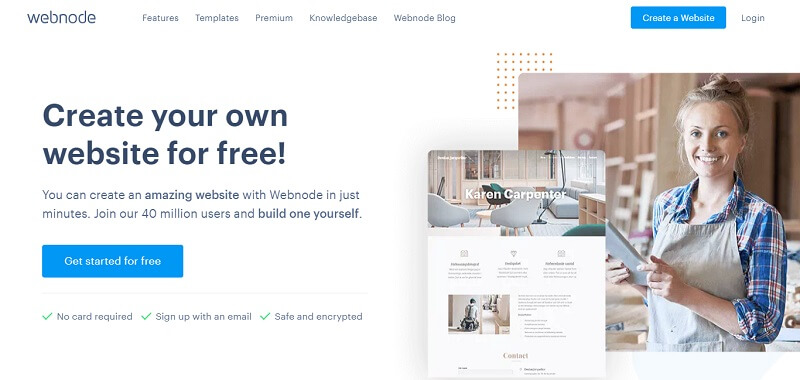 This is another simple website builder that doesn't offer impressive customization opportunities yet enables users to create a decent website quickly.
This solution will be especially appreciated by users who are looking for a clean and simple design. For instance, if you need a good-looking website for an event or an online portfolio, Webnode allows you to create it for free in just a few minutes.
Webnode offers limited customization opportunities and gives users only 100 MB of storage. However, if you create a website for free with this tool, it won't annoy you with ads — the platform will only add a small ad banner to the footer.
Once the design of the website is ready, all you have to do is just fill it with content. For example, you can check out the best writing services online and choose the best websites with professional writers familiar with your industry.
4. Weebly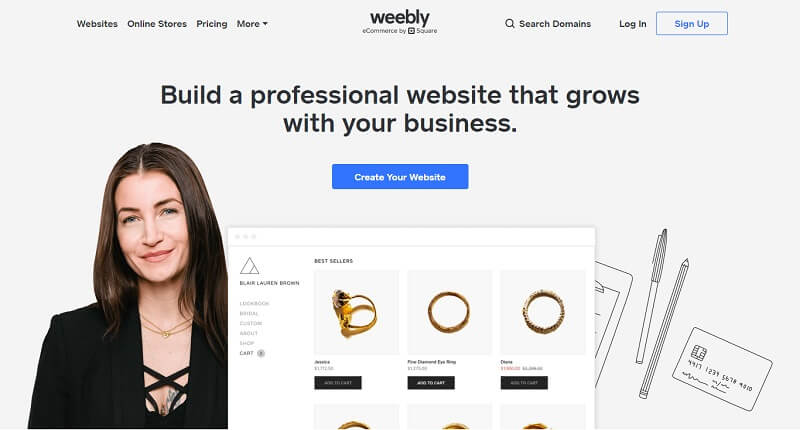 This is a fully hosted website builder that offers a variety of Weebly templates. You can choose a template that corresponds to the specifics of your website and customize it in a simple editor.
The drag-and-drop editor allows you to quickly edit the structure of your website and see the results in real-time. Besides, you can use a convenient word processor to edit your content.
Weebly is similar to Wix but it doesn't offer as many customization opportunities. However, this platform enables you to create many stylish visual effects.
For example, you can add dynamic headers and video backgrounds, or create full-width sections for a modern design. A great thing about Weebly is that it also provides eCommerce functionality.
However, eCommerce features are not available in the free package.
5. IM Creator

This is one of the simplest free website builders for small businesses. Basically, all you have to do is just choose an appropriate template, and then most elements of your website will be generated automatically.
Of course, such an approach might disappoint users who are looking for advanced customization features, but it will definitely be appreciated by those who want to make a website quickly, with minimum effort.
IM Creator offers good-looking templates with nice visuals, but these are not the main advantages of this website builder. Students, NGOs, and artists can access premium functionality for free.
If you want to get a free premium subscription, you can submit an application and check whether or not you're eligible for this offer.
Wrapping Up
Website creation often turns out to be a complex process that requires a lot of investment and takes a lot of time. However, there are also many free website builders for small businesses that allow you to create a website with minimum effort, in just a few minutes.
If you have a limited budget, solutions from our list of the top 5 free website builders for small businesses will help you. All of them offer some unique advantages so you can choose solutions with better customization opportunities or quick builders that will do all the hard work for you.
Author Bio
Melissa Mauro is a self-improvement author who is always interested in new projects. She wants to create her own writer brand, that's why Melissa is looking for fresh platforms for the implementation of her ideas.
Creativity and unique style make it possible to deliver valuable and engaging content to her ideal reader.