In this article, we will discuss windows reseller hosting as the best way to target your niche. So keep reading.
Are you giving a thought about starting your business? Why not turn the idea into reality?
You must be wondering how it is so easy for me to say that. Assuredly, I know an easier way to start a business with the most limited investment.
If you are someone from a technical background, a tech student, a web host, or someone from an entirely different field, you can still start your individual business being a reseller host.
Also, if you are a web apps developer and you develop Windows-based applications, you surely need to know about reseller hosting and Windows reseller hosting.
It is essential, you know about reseller hosting to begun:
Also, you can check How To Choose The Best Web Hosting Provider?
Reseller Hosting
Reseller hosting is a web hosting type that lets you start your web hosting business. You buy the web hosting plans in bulk from the web hosting service providers. The web hosting plans that you purchase are reseller hosting plans.
You are the one buying the reseller hosting plans, which are called the reseller host.
The company providing the web hosting plans to a reseller host is called the Merchant host.
The ones buying the web hosting plans from you are your customers or clients.
You being the reseller host have the liberty to partition the web hosting plans into portions according to the requirements of your customer.
Resources That You Get With The Reseller Hosting Plan
Whenever you buy a reseller hosting plan from the web hosting company the company provides you various resources that you provide to your customers.
The various resources include disk space, SSL certificate, bandwidth, CPU, RAM, control panels, etc.
The SSL certificate secures your and your client's websites from malicious activities over the internet.
The higher bandwidth increases the performance of your website.
Many web hosting service providers allow you to choose the operating system of your choice. You can select between Windows and Linux operating systems.
The control panel that the merchant host provides you enables you to manage domains, email addresses, and blogs, among other things. Website designers have a good choice for hosting their clients' websites with reseller hosting. People who want to start their own web hosting company, aside from web developers and designers, can start with a reseller plan.
Benefits Of Reseller Hosting
Cost Of Plan
Reseller hosting plans are reasonably priced. This is why they're a good choice for people who want to start a web hosting company. It also makes things easier because you won't have to invest in the technology, infrastructure, or equipment needed to become a web hosting service provider.
Resource Scalability
If your website receives a lot of traffic, has a lot of pages, or your company has several websites, SSD reseller hosting will give you more functionality and space. For example, instead of purchasing additional hosting plans, you can run different parts of your sites from different URLs and servers.
Focus On the Business
When you choose reseller hosting, you can concentrate on the business aspects of running a web hosting company rather than the technological aspects. This is because the web hosting service you rented or purchased is responsible for all tasks related to updates, server maintenance, networking, security, and so on.
Great Income
If you see that all of your reseller space isn't being used, you can resell it on your website to make money.
Brand Building
Reseller hosting allows you to create your own identity and brand while selling the services of another web hosting service provider. Clients would not be aware that you are renting space from a different web hosting company.
Channels where you can market reseller hosting business.
Your website
Blogs
On YouTube
SEO
Newsletter
Facebook
Google Ads
When you buy a Windows reseller hosting plan from the web hosting service provider you get the following resources.
Plesk Accounts
SSD Space
Unlimited Bandwidth
Free SSL Certificate
App Installer
Unlimited DB's
Unlimited Email Accounts
Windows Server
When you buy a Windows reseller hosting plan from the web hosting service provider you get the following features.
1. Customer Support
Most of the companies provide 24/7 client support. You get technical assistance for all the queries related to resellers and web hosting.
2. Uptime Guarantee
The web hosting service providers take charge of the performance of your and your client's websites. Many good web hosting service providers assure a 99.95 to 100% uptime guarantee.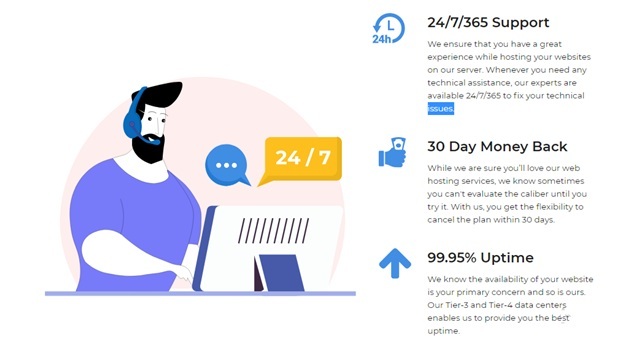 3. Money-Back Guarantee
If you are not satisfied with the plan the web host is providing you, you can get your money back.
4. Free Migration
Many web hosting service providers give you a free migration from your previous host. You do not have to pay any migration fees.
5. Free SSL Certificate
SSL certificates protect confidential data on your websites, such as payment information, credit card information, and login credentials.
6. 100% White Labeled Hosting
Web hosting companies furnish a white-labeled policy, which means you are the only host to your client's website. Your merchant host will not be a hurdle between you and your customers. Your customers are only confined to your brand name.
To Conclude:
Windows reseller hosting the best way to target your niche. Take this advantage & this is a great opportunity to start your own hosting company. It's easy to research, but it's difficult to choose, so make the right decision and start your web hosting company.
So that's all from this article. I hope you liked this article on windows reseller hosting. Also, if you like this article then please share it with your friends and social media followers.