Convenience and simplicity, the ability to make awesome one-click effects with no programming skills. We all love the Elementor page builder. This plugin immediately shows the results of your work. It opens up many possibilities. Especially if you have a tight budget, but still want your site and content to look great. You can use best business WordPress themes to create any content or page layout that you can imagine.
And what happens when you use it together with such powerful add-ons as Jet plugins? This article will be all about this combo. I'll show you the opportunities you will have with these awesome plugins compatible with Elementor.
Top 10 Elementor Plugins
Plugin

Main Features

Price

JetBlog – Blogging Package for Elementor Page Builder WordPress Plugin

Great Content
Rich Typography Settings
RTL Supported

$15

JetElements – Addon for Elementor Page Builder WordPress Plugin

High-Class Modules
Pre-Styled Blocks
Detailed Documentation

$21

JetTricks – Visual Effects Addon for Elementor WordPress Plugin

No Coding Skills
Unfolding Columns Effect
Sticky Elements

$15

JetEngine – Adding & Editing Dynamic Content with Elementor WordPress Plugin

Dynamic Field
Dynamic Terms
Stylish Layouts

$15

JetReviews – Reviews Widget for Elementor Page Builder WordPress Plugin

Attractive Typography
Rich Layouts Collection
Completely Responsive

$15

JetParallax – Addon for Elementor Page Builder WordPress Plugin

Rich Background Functionality
Fast-speed Animation
Custom Position Settings

$15

JetMenu – Mega Menu for Elementor Page Builder WordPress Plugin

Rich Content
Diverse Colors
Customizable Backgrounds

$15

JetTabs – Tabs and Accordions for Elementor Page Builder WordPress Plugin

Superb Design
RTL Supported
Vertical & Horizontal Layouts

$15

JetWooBuilder – WooCommerce Page Builder Addon for Elementor WordPress Plugin

Powerful Widgets Set
Simple Customization
Informative Documentation

$15

JetBlocks – Elementor Header & Footer Widgets WordPress Plugin

Navigation Menu
Hamburger Panel
24/7 Support

$15
Blogging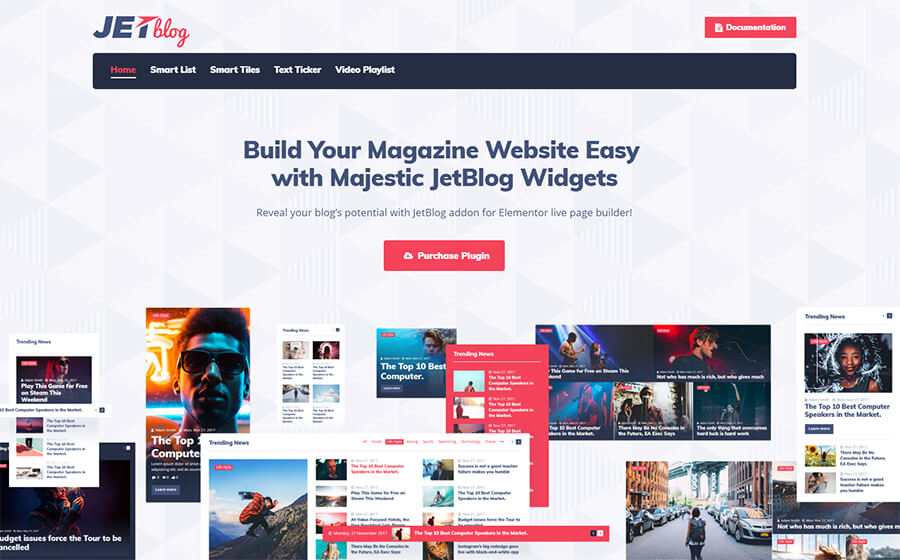 Nowadays blogging has become very popular, right? We share our thoughts, our lives with the world. Therefore, JetBlog plugin will be indispensable if you want to run a blog. Main features:
Totally Responsive;
Large Selection of Layouts;
Text Ticker;
Dynamic Blog Modules;
Smart List.
High-Class Content Elements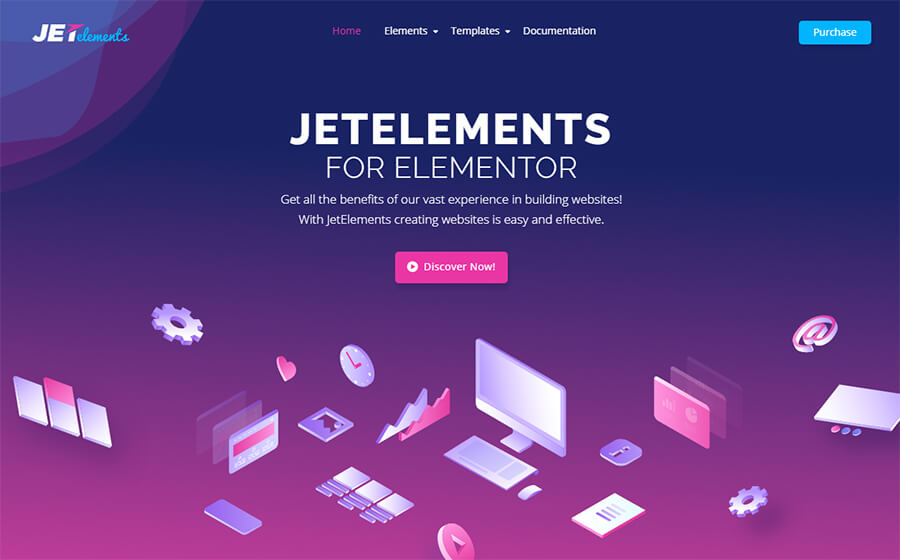 This plugin adds many modules to the existing ones. Also, it allows you to overlay web pages on several blocks of content. JetElements includes almost everything: from WooCommerce integration modules to pricing tables and countdown timers. Really invaluable! Other features:
WPML Compatible;
Video Player;
Multiple Home Page Templates;
Contact Form 7;
24/7 Support.
Stunning Visual Effects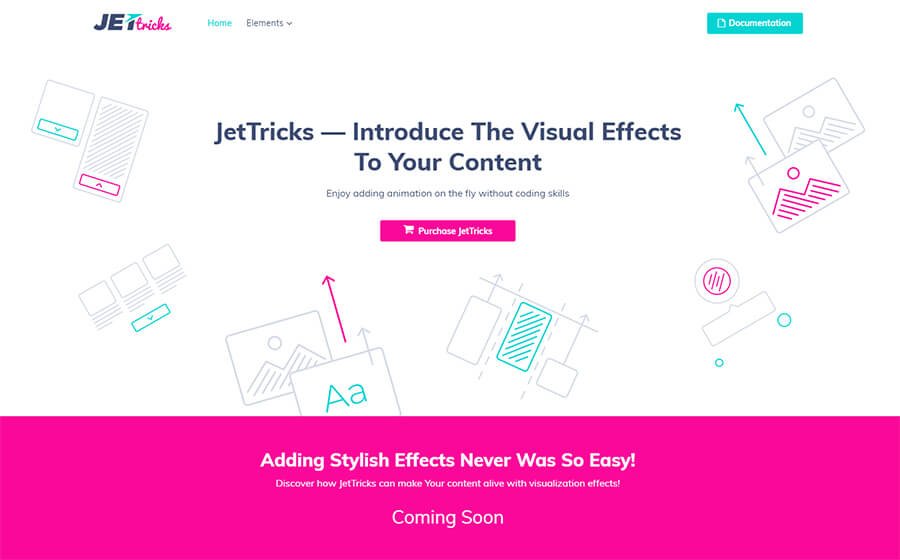 If you want to liven up a web page with stylish animation effects, JetTricks is your savior. The plugin allows you to use parallax effects not only for the background but also for any needed content. Besides that, it is easy to use and customize. Main features:
Show More button;
Hotspot Makers;
Sticky Columns;
Tooltips;
Satellite Element.
Adding Dynamic Content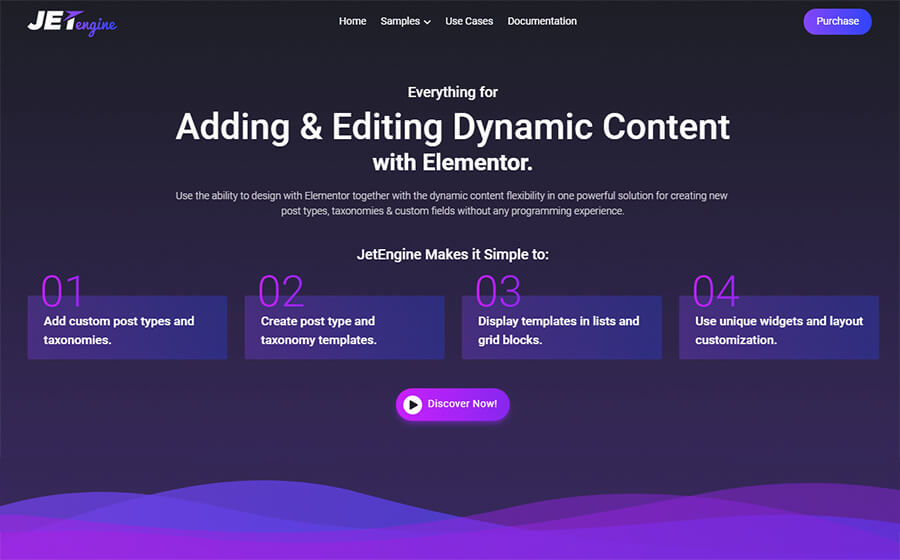 JetEngine is designed to display dynamic data in Elementor for creating even more impressive content. It brings the creation of custom taxonomies to a new level. You can see other peculiarities down below:
Ideal for creating custom message types.
Simple adding of custom fields.
Works great with archives.
Allows you to create and customize post type templates.
Provides the ability to create lists and grids layouts.
Creating Stylish Reviews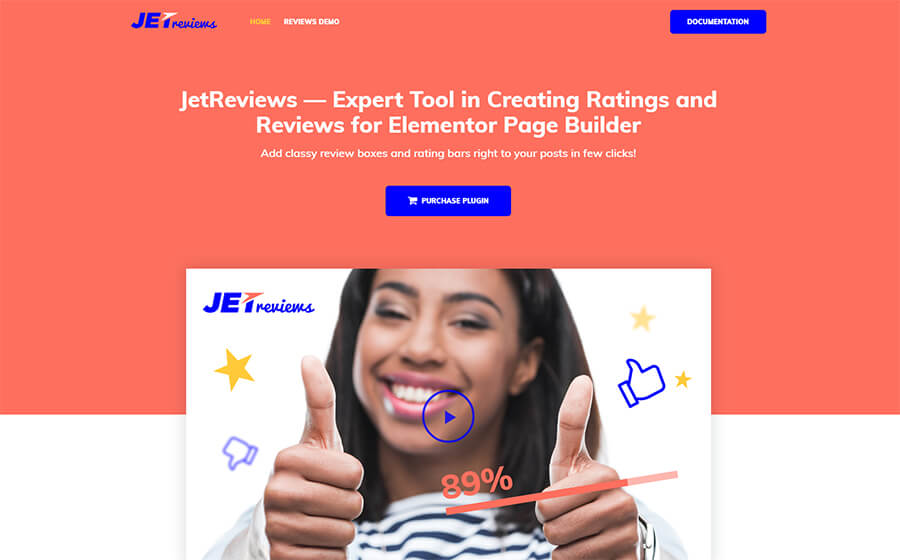 JetReviwes is what you need when thinking about adding attractive rating bars and blocks with reviews. This plugin has all the tools to deliver your ideas in just a few clicks. Main features:
Classic Design;
Customizable Look;
Variety of Color Styles;
No Coding;
Compatible with WP Review.
Jack of All trades: Online Version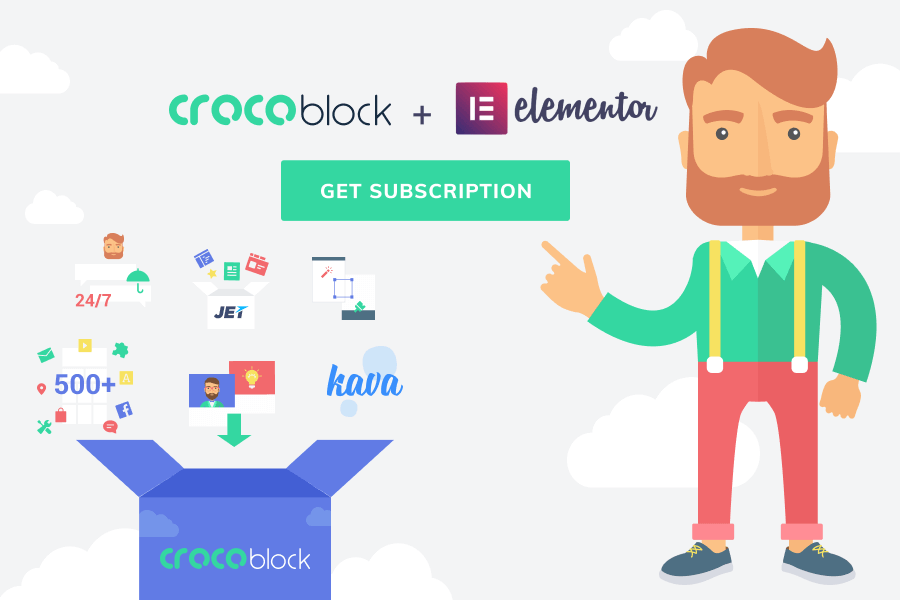 Here, I want to stop for a second and ask you one question. Nowadays, to create a high-quality and competitive website you need a lot of different tools. Isn't it annoying for you? Everybody would like to have a powerful online do-all. Therefore, I want you to know (if you still don't) it is possible already! And its name is Crocoblock.
It is a solution for creating landing pages, websites and online stores based on WordPress and Elementor. The pack includes Kava WordPress theme, a library of ready-made pages and blocks, as well as Jet family plugins. It gives users an annual subscription and a lot of possibilities.
All for Parallax Backgrounds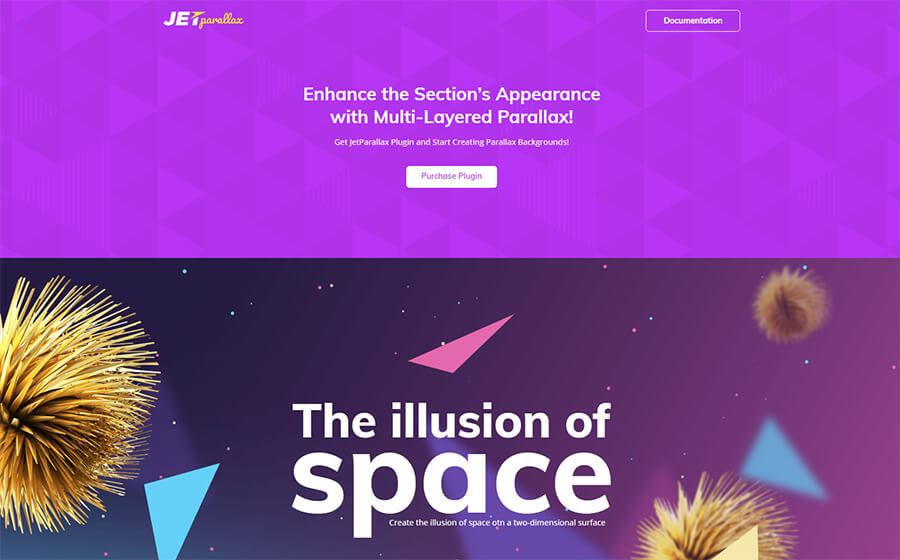 With JetParallax, you get a really easy way to create a multi-level Parallax effect. Each element has its own individual settings that can be customized according to your needs! Plugin's features:
Mouse Move and Scroll Behavior Type;
3D Depth Effect;
Effective 24/7 Support;
Well Documented.
Awesome Menus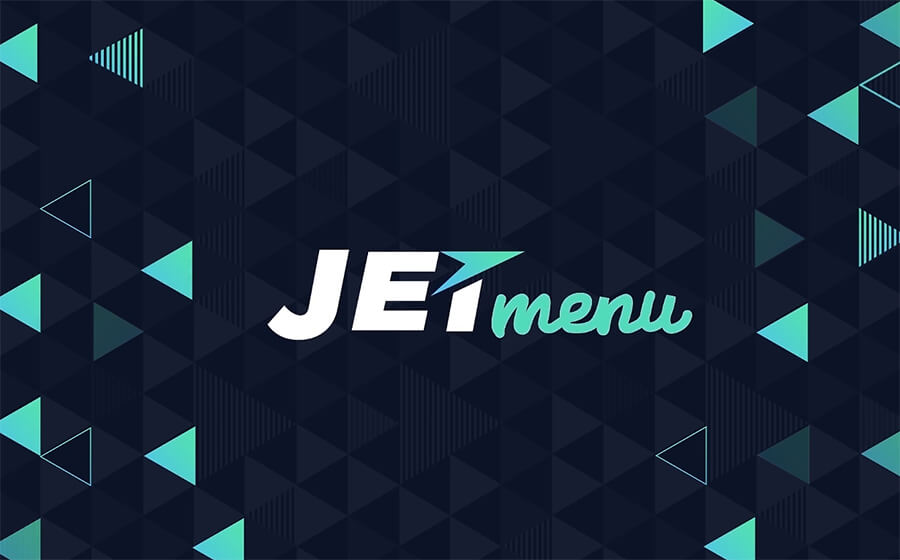 JetMenu allows you to create a fully responsive mega menu with drop-down items and supports for inserting content modules. It has all the features to help you in creating a unique style using shadows, indents, borders, and stylish icons for an attractive mega menu! More features:
User-friendly;
Beautiful badges;
Fully Responsive;
Dummy Data;
Import and Export Options;
Compatible with Premium and Free WP Themes.
Convenient Tabs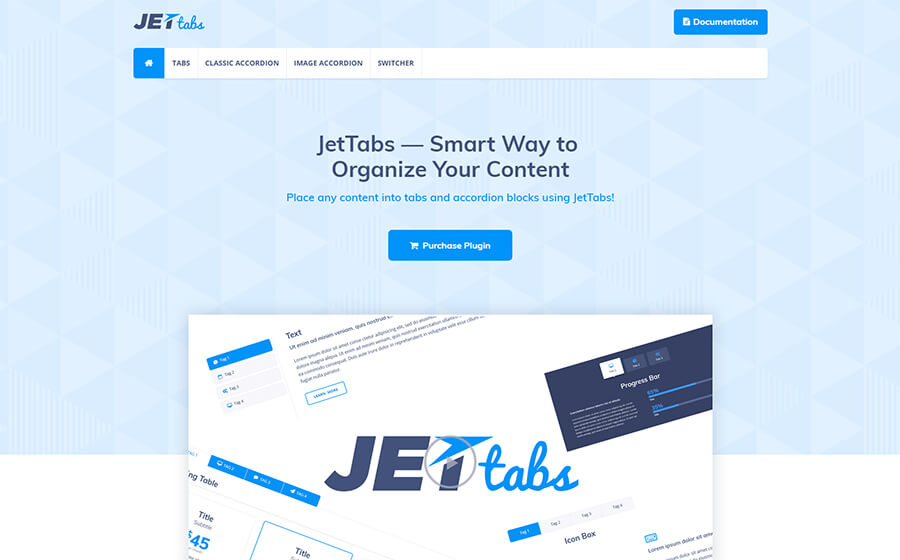 When using JetTabs, you will be surprised at how easily you can create content and place it in well-structured tabs and accordion blocks. And your webpage will stay neat and stylish. Key features:
Rich Style Settings;
Classic Accordion;
Image Accordion;
WPML-Ready;
Informative Documentation.
Building an Online Store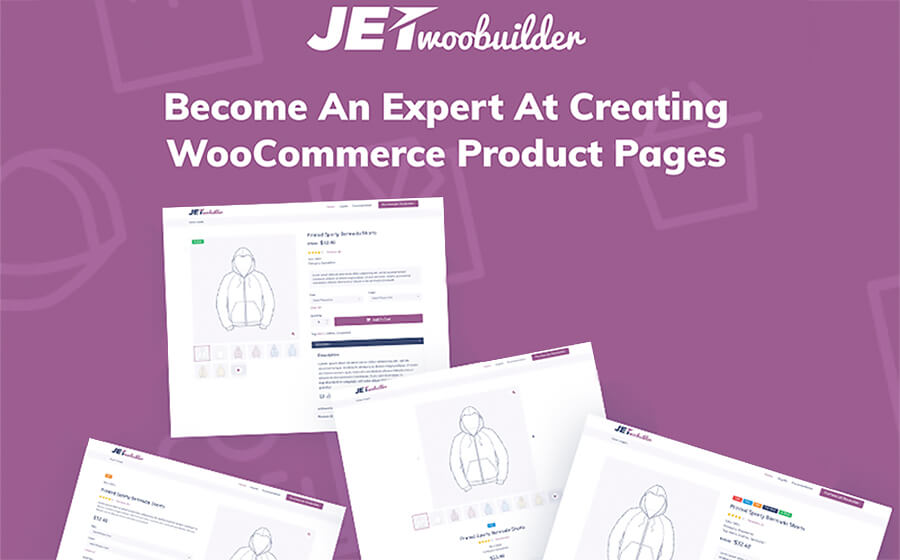 Creating content in WooCommerce becomes a very simple task with JetWooBuilder. It allows you to create page and product templates with universal layouts and structure. You will not have any restrictions when creating WooCommerce pages. Main features:
Single Product Page Template;
15 WooCommerce Widgets;
No Coding Skills;
Friendly Technical Support.
Spectacular Headers & Footers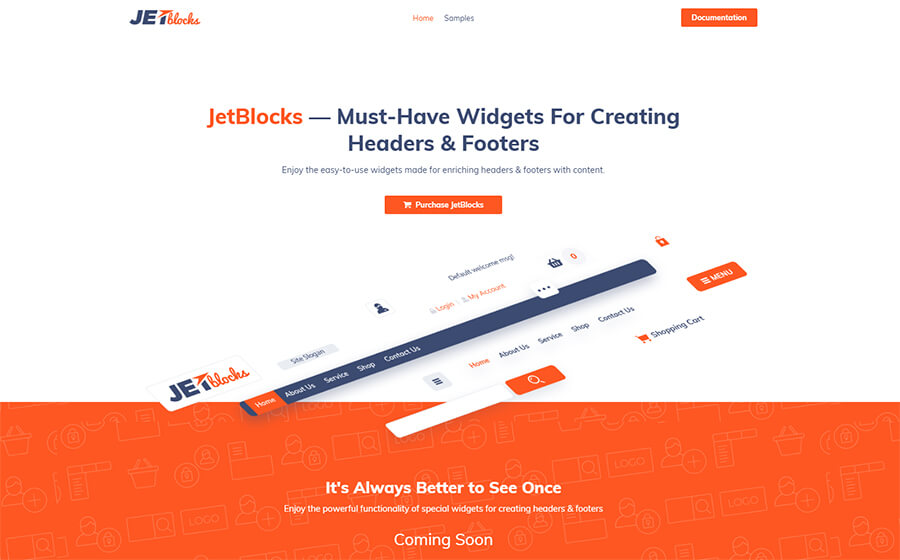 JetBlocks is a powerful Elementor addon for creating headers and footers. With this plugin, you will enjoy easy-to-use widgets designed to enrich headers and footers with content. It has such peculiarities:
Site logo;
Authorization / Registration Links;
Registration form; Search;
WooCommerce Shopping Cart.
Final Say
Not sure where to start? Choose any of Elementor WordPress templates you like and customize it for yourself. Change images, texts, move blocks and elements. You are not limited in the flight of your fantasy! I guarantee – with such powerful help, you will succeed! Have any questions? Write them in the comments below.